The dissertation section for a Ph.D. has always been similar to the ritualistic steps that one has to ascend in his search for existential and esoteric meaning. The levels of the academy — be they undergraduate, post-graduate, doctoral or post-doctoral standards — are almost akin to a secular version of ancient mystery religions and esoteric or obscure societies. This is even truer for the Ph.D. dissertation where the first methodological forays are taken into the original creation of knowledge and every step is like an initiatory enigma in the search for meaning and truth. The only difference in disseretation structure is that the student is aware of the short and long-term processes for the Ph.D. dissertation while the initiate of the cult is left in the dark about each level before him/her.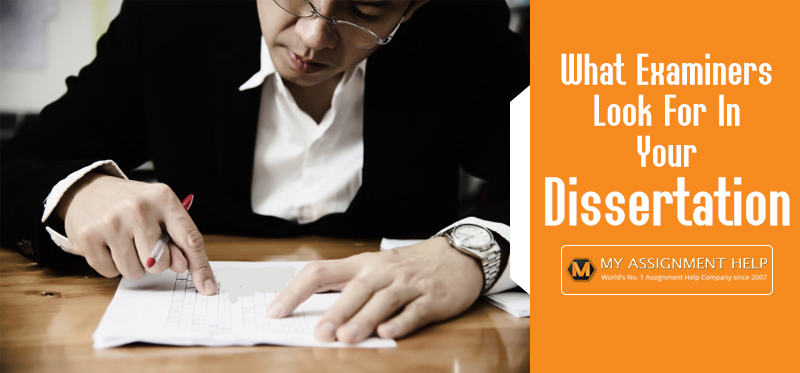 Even this structural difference is diluted at the Ph.D. defense which occurs behind closed doors and has all the elements of the arcane (understood by few) and mysterious. Here, a committee of elders (read: seasoned academics) scours through the Magnum Opus (read: dissertation) of the initiate and asks him or her extremely challenging questions about his dissertation. This blog takes a look at select aspects of the criteria through which the various steps of the Ph.D. dissertation and a dissertation in general, irrespective of level, is examined.
The Undergraduate Dissertation and Criteria for Examination
The undergraduate dissertation is the first attempt at thinking on one's own and gaining confidence and ownership over one's subject. It provides a certain degree of autonomy and also connects supervisors' research with their teaching as new knowledge is created and ideas born out of mutual interaction between the undergraduate student and the supervisor. Some researchers like Garde-Hanson & Calvert (2007) argue for the active management of a research-based curriculum through the inculcation of research values at the early stages of undergraduate learning processes. Here students are actively engaged in the construction of knowledge with their peers and experts in a collaborative way. In case of international students, young supervisors have to be sensitive of cultural backgrounds and biographies of individual students and an awareness of the development of supportive collaborative networks is required.
There have been many quantitative and qualitative surveys and studies about the supervising process. Due to the privacy of the dissertation process, these UK-based studies have mostly centered on the supervisor and only a few students. Resulting studies, Harrison and Whalley (2008), have shown the difficulty among students to manage time and knowing what is expected while studying the subject of their liking – independent fieldwork and good student-staff relationships are a necessity. Further studies, Akister, Williams and Maynard (2009), have determined the necessity of group supervision to productively resulting in better time management, greater student engagement and less 'failure driven' learning. Besides, there have been quite a few studies based on student-supervisor relation which emphasizes, among other things, a unique relationship between the two based on mutual obligations, best known as 'amiable professionalism' (Luck, 2008).
Defining an excellent undergraduate dissertation is a daunting task. Some of the tried and tested criteria for successful examination of dissertations at the undergraduate level are given below.
Accordingly, the excellent undergraduate researcher should have the following characteristics:
In an ideal scenario, an excellent undergraduate student should be self-directed, self-regulated, and able to generate and drive ideas to completion.
They should be creative and pragmatic individuals who are "focused, committed to their studies and very interested in their chosen topic."
They would be able to problematize their own questions and also could "evaluate and synthesize theory and practical applications."
Along with challenging their own ideas and established literature, they should have the ability to identify those sections of the dissertation in need of most attention and effort which would thus reflect their capacity to manage time constructively.
They should focus on their aims and not get distracted in the process of writing the dissertation.
According to the above mentioned skills, the examiners expect the following characteristics in an excellent undergraduate dissertation:
Demonstration of self-directed learning
An excellent dissertation should integrate learning from the undergraduate course and exhibit the skills and knowledge acquired, not only through what was taught in class, but also through self-directed learning.
Clarity of the dissertation
The dissertation should be clearly thought-out and the research questions have an aligned methodology. A strong rationale is necessary about why the questions are worth pursuing.
Clarity of findings and solutions
The dissertation should be clearly presented and clarity of findings, solutions and recommendations are primary.
A well-written dissertation
The dissertation should be well-written, organized and structured. It should be divided into chapters and every line of inquiry should be clearly delineated and meticulously solved.
Rich in content
The dissertation should give a comprehensive review of literature in the field of the dissertation questions. It should also have a sound methodology that is closely aligned to the field of the research questions. In addition, the dissertation should provide evidence of critical thought.
Evidence of original thinking
The conclusions should be able to relate back to research questions and objectives in so far that evidence of comparison, discussion and argument should demonstrate that the student has thought originally and not simply carried out a plagiarism of language or ideas.
The Master's and Doctoral Dissertation and Criteria of Examination
The Master's dissertation is the second step in original research using methodology that is more sophisticated. Examining the dissertation at the Master's level usually requires advanced examiners and the student has greater autonomy in collaborating with institutional and international networks. Besides, students also gain greater experience through advanced level courses and seminars. This stress on methodology and advanced level courses and seminars gains fulfillment at the doctoral level where the student learns detailed research and archival processes. There are also requirements for language learning and further collaboration through various international and domestic academic networks.
All this is geared towards making the student carry out independent and autonomous research for the dissertation. As students acquire more experience for independent work and gain autonomy, they exhibit various areas of their research as seminar and conference presentations. As they begin and head towards dissertation completion, they make the most of their learning at the conferences, seminars and advanced coursework. Extensive studies using empirical dissertation methodology and statistical computing has demonstrated what examiners tend to do when they go through the Ph.D. dissertation.
Some of these are as follows:
Examiners are consistent
Examiners indulge in common practices despite some variability. Almost all the examiners look for core qualities and offer more or less similar recommendations. Minor differences notwithstanding, their reports are fairly consistent. Even examiners having differences in opinion produce consistent reports if they get the chance to be a part of the dissertation examination committee or during verbal presentation of the dissertation.
Examiners read dissertation as a normal reader
A dissertation needs to be an enjoyable read if the examiner has to develop an interest in it. The dissertation must meet the examiner's expectation just like a 'normal' or everyday reader. They expect a dissertation to be academically sound, having great literature, relevant methodology and logical structure. In short, they expect the dissertation to be reader-friendly.
Examiners like students too want dissertation to be approved/cleared easily
Examiners, just like a student, expect a dissertation to be worthy enough of passing. They start reading a dissertation with enthusiasm and expect it to be good enough; a rewarding and enjoyable task. They hardly expect a dissertation to fail and only do so if plagiarism threatens the originality and credibility of the dissertation.
Examiners look for dissertation that could be published
The main criterion that examiners usually use while checking the dissertations regardless of discipline, institution or country is the dissertation should be worthy of becoming a publishable research. The dissertation must be original, have sufficient importance; the power to make an impact on the discipline or field.
Examiners usually judge dissertation by reading the first two chapters
The examiners usually judge the dissertation by reading the first or at maximum the second chapter which is the introduction and the literature review. At times, they judge on the basis of abstract, table of contents, introduction and conclusion. But in majority of the cases, by the time they complete reading the first two chapters, they decide whether they will continue or abandon it there itself. For the examiner, the first impression is of huge importance as it influences his decision for reading the rest of the dissertation.
Examiners get easily irked by presentation errors
Presentation errors are the chief cause of poor first impression on dissertation examiners. It makes the examiner feel that reading this dissertation would be an irritating task. On the contrary, an examiner gets a sense of relief when he or she comes across a well-presented dissertation. They main irritants for the examiners are grammatical, spelling, typographical and formatting errors which could have easily been fixed.
Examiners expect dissertation to engage with literature
Examiners expect a dissertation to exhibit comprehensive understanding of the literature. Examiners are not merely satisfied by explanations, descriptions or listings of primary and secondary literature, but they also expect students to categorize, interpret and apply this literature to draw relevant conclusions. The literature must give a rationale for the research, and also provide supporting evidence for conclusions as well as arguments and criteria to judge the contribution of the dissertation. The examiners intend to see critical engagement with both primary and secondary literature. The must students use the literature to support their claims.
Examiners also expect dissertation to engage with findings
Examiners expect a candidate to interpret, analyze, critically appraise their findings, come up with relevant conclusions and show the inferences for the research problem or question. The examiners check for overstated, misreported or misinterpreted findings, they dislike unconvincing interpretations that are not relevant to the findings. The dissertation candidate is expected to discuss critically how the findings connect with the literature.
Examiners want dissertation to have a convincing approach
Students are expected to come up with a well-explained, justified dissertation methodology in addition to clear acknowledgement of strengths and limitations rather than sticking to a pre-decided approach. The examiners look for consistency in adhering to a particular approach.
Examiners' feedback is both summative and formative
It is true that examiners make judgments based on the dissertation quality, but they do offer formative and constructive feedback too. Examiners are gatekeepers who uphold the Master's or Doctorate level courses' standards. Hence, they always provide constructive criticism or advice to students in their endeavor to become a successful researcher.
Conclusive Ruminations on What is Checked in the Dissertation
It might be said that each of the xyz dissertation, the Master's dissertation and the doctoral dissertation has its own criteria of examination. It could also be said that these criteria are based on significant empirical, quantitative and qualitative research. However, despite considerable differences with each standard, there remain certain qualities and values of originality, non-plagiarized and clarity of work that runs through all standards.
MyAssignmenthelp.com Now Offers Assistance with Valuable Feedback and Guidance With Your Dissertation
The experts at MyAssignmenthelp.com are seasoned professionals with Ph.D.s who have gone through several fellowships and doctoral experiences. They have gone through similar hurdles such as the students themselves. They are well aware of what they themselves have asked for from their students as supervisors. Having supervised hundreds of successful Ph.D.s at recognized and top universities worldwide, they are well are of the universal and specific requirements of academic supervisors from their students. Being aware of these criteria, it is possible for them to guide you through the initiatory gates of the Ph.D.
Chat with our executive for expert guidance with your dissertation at any standard.
Was this article helpful?
YesNo