You may not know there are several avenues to gain lawful residency (Green Card) in U.S. If you are temporarily in United States on student visa and wish to make your home in U.S., you may able to apply for permanent residency and citizenship. But remember obtaining permanent residency solely depends on your status and/or converting to a status that is eligible to attain      permanent residency. If you are a foreign student and giving serious thought about residing in US permanently, this is your chance to explore the ways.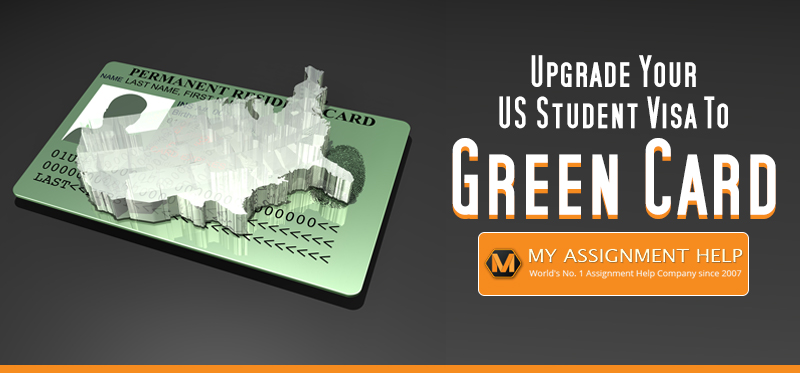 Student Visa to Green Card
The steps to becoming a Green Card holder (permanent resident) vary by category and depend on whether you currently living inside or outside the United States. Immigrant visa is awarded           based on
Preference system (refer to the various categories under which an individual is awarded permanent residency)
Priority date (is the date assigned to the residency applicant at the time of submitting the application to the Department of Labor or the Bureau of Citizenship and Immigration Services)
Until a foreign national gets the approval from United States Citizenship and Immigration Services (USCIS) and an immigration visa number, the individual cannot be recognized as a permanent resident of United States. Before jumping into the application process for permanent residency, you should be aware of few things described here.
Note: F-1 international students do not have direct path to permanent residence. Many college students use F-1 practical training experience and H-1B temporary professional visas to get some practical work experience. Then, they qualify for employment-based immigrant visa. From there, they gain the right to change their status to permanent residency.
1. Determining Eligibility of Permanent Residency
Before you apply to change your status, it is important to make sure whether you are eligible to do so. The first factor to determine the eligibility for obtaining permanent residency in US is the students' current status. On that matter, if you have completed your course and your visa has expired, your status naturally changes from legal to illegal and you cannot apply for permanent for residency in US. In that case, you need to return to your native land and apply for a new visa to re-enter U.S., and then apply for permanent residency once your status is legal again.
Conditions of applying for permanent residency in U.S.:
Sponsorship by a U.S. citizen or permanent resident relative
An offer of permanent employment
An application for asylum
Designation as a refugee
Investment and employment creation
Win green card lottery.
2. Obtaining Permanent Residency with a Valid Student Visa
If you are staying in U.S. on valid student visa, you are entitled to certain ways to obtain permanent residency. Remember, only certain categories of immigrants can apply for permanent residency. There are usually three qualifying categories:
Family-based
Work-based and
Asylum-based.
Remember, a student visa does not automatically qualify. While your status is legal, you need to convert your status to another type. For example, if you are a studying in U.S. and you have become political target of your native country, then you would be eligible for asylum status. Once you are awarded asylum status, you may then apply for permanent residency. Here are the steps to gain permanent residency in U.S.
Identify the Category
Here are three categories related to immigrant permanent residency.
1. Family-based:
Many people can get Green Cards (become permanent residents) through family members. In this category, U.S. citizen or permanent resident relative file a Form I-130, Petition for Alien Relative. You may be eligible to get a green card as,
An immediate relative of a U.S. citizen, including spouses, unmarried children under the age of 21, and parents of U.S. citizen petitioner (21 or older)
A family member of U.S. citizen, including unmarried sons and daughter at the age of 21 or older, married children at any age, and brothers and sisters of U.S. petitioners (21 or over)
A family member or Green Card holder, including spouses, unmarried children of the sponsoring Green Card holders
A member of special category, including battered spouse or child (VAWA), a K non-immigrant, a V non-immigrant, a person who is born to foreign diplomat in the United States, or a widower of U.S citizen.
Calculate your chances through this reference list —
First Preference: Adult (unmarried) sons and daughters of U.S. citizens at the age of 21 or over
Second Preference A: Spouses and the unmarried children (under the age of 21) of permanent residents
Second Preference B: Unmarried sons and daughters of permanent residents (at the age of 21 or over)
Third Preference: Married sons and daughters of U.S. citizens, their spouses and their minor children
Fourth Preference: Brothers and sisters of adult U.S. citizen, their spouses and their minor children.
2. Job or Employment-based:
Here are the main ways to immigrate based on a job offer and employment. You can get permanent residency through,
A Job Offer: Most of the categories need your employer to get Labor Certification and then file for a Form I-140, Immigration Petition for Alien Worker.
Investment: If you are an entrepreneur or investor, you may get Green Card as you are creating new U.S. jobs by investing money. You need to file a Form I-526, Immigration Petition by Alien Entrepreneur.
Self-petition: This option is available for either 'Alien with Extraordinary Ability' or certain individuals granted a National Interest Waiver.
Special Categories of Jobs: There are number of specialized jobs that may allow you stay in U.S on permanent basis.
Check your position in the following preference list:
First Preference: Priority worker, including aliens with extraordinary abilities, outstanding professors and researchers and certain multinational executives and manager
Second Preference: Professionals holding an advanced degree or persons of exceptional ability (including individuals seeking a National Interest Waiver)
Third Preference: Professionals, skilled workers and other qualified workers
Fourth Preference: Certain special immigrants
Fifth Preference: Employment certain immigration (entrepreneurs and investors).
Asylum-based:
If you are admitted to United States as a refugee or the qualifying spouse or child of a refugee, you require applying for permanent residency after one years of your entry. If you are granted asylum status or qualifying spouse or child of asylee, you need to apply for permanent residency. In both cases, you have to be present in U.S. for at least 1 year after being awarded respective status.
Diversity Visa Lottery:
There are 50,000 Green Cards available each year through the diversity visa (also known as green card lottery). But only citizens of certain countries can apply for this. The process of the application starts at the end of the year and goes on for one month. You need to apply online. As the application process is free, so millions of people apply for to get the chance.
(a) Apply for a Visa
Depending on category you may choose, you should file petition accordingly. At the same time, you can file your Form I-485.
Immediate relatives of U.S. citizens may be able to submit their Form I-485 and petition concurrently.
Most categories require first establishing yourself for the immigrant category by having an approved petition, only then you are eligible to file Form I-485. For these categories, you can't file petition concurrently.
·     Step 1 Wait for a decision on your petition:
USCIS notifies the petitioner about the results. If your petition gets approval and you are a beneficiary of the petition, living in U.S. or outside of U.S. and choose to apply for permanent visa, USCIS will then send approval to the Department of State's National Visa Center (NVC) where it will remain until you get your visa number.
·     Step 2 File Form I-485 (application to register permanent residency or adjust status)
Regardless of whether a petition must be filed or approved, you need to apply for Form I-485. You can apply before filing the petition or at the same time while submitting your petition.
·     Step 3, Wait for notification from the National Visa Center
The National Visa Center will notify petitioner about when the immigration will be available, the data of submitting additional documents and processing fees related to permanent visa.
·     Step 4, Go for your Application Support Center appointment (Fingerprint)
After filling your application, you will be informed to appear at an Application Support Center for biometrics collection, having your pictures and fingerprints taken.
·     Step 5, Go to interview
You may be notified the date, time and location at a USCIS to offer answer questions by taking oath of your application.
·     Step 6, Notify the National Visa Center regarding changes
Contact the NVC if there is a change in your personal situation or if you want to change your address. It is important to notify if you reach 21 or have changed your marital status.
·     Step 7, Get your final decision in the mail
After all your paper work has been received, interviews conducted, security checks completed, and other eligibility requirements reviewed, your case will be revised by USCIS. After revision, you will be informed in written a manner.
(b) Appeal against a Denial
In case, your application for adjustment of status is denied, the notice will let you know about your appeal rights. Remember not every decision can be appealed. Generally, if your decision can be appealed, you should file the appeal within 30 days of the service of the decision.
For more detailed information on Green Card, visit http://www.uscis.gov/greencard.
Some common frequently asked questions related to US Visa
How do I change my permanent resident status to citizenship?
Green Card holders married to a citizen of US
You qualify for citizenship if you have been
Permanant Resident ( Green Card Holder) for atleast a period of 3 years
Have been living within your spouse( marriage registered) during this 3 years
Fulfill other requirements as stated under Section 319 (a) of INA ( Immigration and Nationality Act)
Getting Citizenship through Parents
One can attain citizenship through parents in three stages (1) At birth (2) After birth but before 18 years of age.
In the following conditions citizenship is granted throough parents
One who shares genetical similarity to parents, is legitiamte or an adopted son/daughter of a US citizen
The US citizen parent must have significant presence in US over a good period of time, according to laws set.
A person born of a gestational( through ARV and others) mother and the mother is a US citizen
A person of unknown parentage , who has been represented for citizenship below 5 years of age and prior to 21 years of age.
A person born out of geographical boundaries of US and both of whose parents are US citizens. One of the parent must have outlaying possessions like a house in US.
There are many other ways of attaining citizenship through parents (refer  INA 301 or INA 309)
How long does it take to approve i130 after upgrade?
After filing form i130 , you get a reciept notice containg a case number. This helps you check the status of application using USCIS Case Status Online.
The USCIS reviews the i130 form. There are waits of several weeks or few months.
3.If everything goes well, USCIS sends the approval notice and transfers the file to appropriate place for paperwork. Several weeks or months after that , the Green Card applicant is called for interview.
For immigrants
Approval for immedeate relatives is attained within 5-12 months time frame.
Approval for family preference comes 6 months to 6 years after filing.
Can you apply for a green card while on a tourist visa?
Yes. But if you came to US on a tourist Visa , you are expected to leave after the scheduled time of stay shown on your form I-94 Arrival/Departure Record.
Can I change my b1 b2 visa to green card?
No, you cannot change b1 b2 visa to green card. The maximum duration of residing in US with b1 b2 green card is 6 months. They are strictly for temporary visits to United States.
Can a green card holder file for his child?
Yes a green card holder can file for his folliwng family members. But the preference levels according to statutes are different
Spouse ( Preferance 2A)
Unmarried children under the age of 21 ( Preference 1)
Unmarried son/daughter of any age ( Preference 2B)
Married Sons and daughter os any age of US citizens ( Preferance 3)
What happens if you overstay your tourist Visa in US?
If you overstay your Visa for 180 days or more, when you depart from Us, you would be barred from entering US for next 3 years. If the overstay is less than 180 days, you would not be barred from entry.
How do you get a green card if you overstay your visa?Can you get married if you overstay your visa?
If you have overstayed your Visa, you can still enter into a bonafide marraige with a natural US citizen and then apply for status adjustment of your Visa or apply for a green card.
What happens if you overstay your visa?
After 180 days or more of expiry of Visa, deporation proceedings start.
Is overstaying your visa a crime?
Yes.
How form I need to apply for a non-immigrant visa?
DS 160
Where can I find DS-160 form?
Consular Electronic Application Center website.
Excel in academics- With myassignmenthelp.com
Do you know the recipe of creating a good assignment? When you hire someone to do your assignment, you don't need to know the recipe. You just have to wait to receive your final solution from the writing service company. Students from all over the world now use online assignment help services as a way to relieve their academic burden. MyAssignmenthelp.com is one of the most popular names among its competitors, that provides quality assignment help.
The first thing that comes into your mind is price: are the services affordable? Yes, our pricing policies allow every student to avail expert help from professionals.
Best assignment writer for top quality assignment:
We allocate every assigned job to our best-fitted expert who has in-depth knowledge regarding the subject and is experienced to create an assignment material that helps you attain higher grades. Hence our team of writers, experts, tutors and researchers help you achieve academic excellence without facing any hassle and complication.
MyAssignmenthelp.com is a one-stop solution for all those students who think academic writing is a tough job. Here is a list of services that our in-house tutors and experts offer:
Order Now!
Was this article helpful?
YesNo