The schedule in college is quite different than that the students usually follow in high school. When you start your college life, it may seem a little odd to you when you get a break between two classes. In the college, however, it is quite normal to get a break of one hour between two classes. If you get this time, you should utilize it by doing something interesting. Here we give you 15 ways how you can spend your time between the classes without getting bored!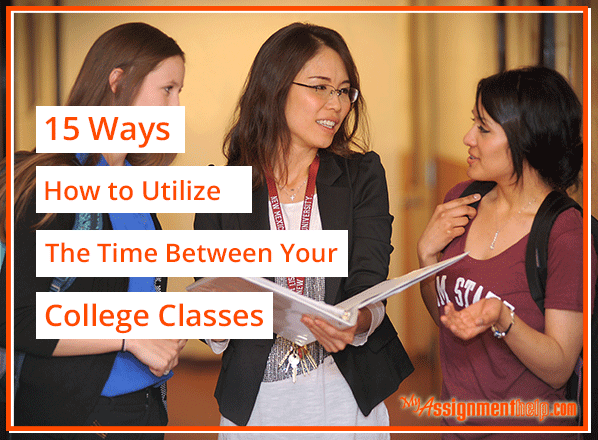 1. Know your campus
Now, you are a proud student of a prestigious college. Your college has an awesome large campus and much of it still remains unexplored by you. Go for a walk around your college campus to find out those hidden gems! Locate the canteen, the library, the student services, playgrounds, common rooms and many more. Talk to different people you come across and try to know your campus where you are going to spend the next four years of your life.
2. Study or do your homework
The academic burden at the tertiary level is much more compared to what you used to have at your high school. There are many students who feel helpless unable to tackle this academic pressure. So, you can utilize your breaks by studying the concepts that are taught by your professor in the last class. Yes, it is very hard to motivate oneself in between the classes to study. But remember studying just after the class gives you the opportunity to assess and understand the concepts afresh. You can also devote the time completing your homework. If you cannot solve the homework, you can ask your professor in the next class itself.
3. Visit your professors
If you are struggling to understand any particular chapter, go and visit your professor during this break time. Obviously, you need to take prior appointment but your professor will gladly help you. No student can get all their queries answered in the one-hour theoretical class conducted by the professors. So, doubt-clearing sessions are quite common at the college level. When you personally contact your professor and seek their assistance, you can share all your concerns. No matter how busy they are, the professors in your college will gladly help you. With their help, you can develop strong command over the subjects and secure the highest grades in the exam.
4. Get an on-campus job
These days, on-campus jobs are very popular among the students. It is a great way to kill the time between your classes and gain some valuable professional experience which will help you in future. From simple paperwork at the office to guiding the new applicants with the admission process, you can engage in any form of an on-campus job. An on-campus job does not require you to spend eight long hours regularly rather you can devote your time according to your academic routine. Most colleges have a career center where you can get the latest information about the availability of these jobs.
5. Organize
Every person keeps numerous tasks pending due to the unavailability of time. In the free time that you get between the classes, you can utilize it to complete those tasks. You can arrange your study table, take all the necessary papers and put them in definite folders, get your college paperwork done, going to the bank etc. You can also take this time to get your laundry done. Yes, you too might hate laundry like other students. But if you are staying in a student accommodation quite near to your college, it is the best time to do it.
6. Socialize
Your college is a completely new world for you where you might feel a little apprehensive in the initial days to interact with new people. But as you start communicating with people, soon you will develop new friends and acquaintances. When you get a break between the classes, start socializing with your classmates and seniors. Talk to them about different topics, both academic and non-academic to increase your knowledge. You can visit the student canteen and student lounge where you can meet your friends and spend time together. It is also necessary to build contacts through socializing which will help to get different information about placements, courses etc.
7. Join a club
In the college, there are various academic and non-academic clubs which provides you the opportunity to excel in your talent and passion. From a mathematics club to singing clubs, you can get associated with any of the clubs of your choice. During the breaks, you can visit these clubs where you will get to know different students with whom you share the same passion. If there is no club that interests you, you can also create your own with proper authorization. Joining a club will help you to keep yourself motivated in the monotonous academic life.
8. Surf the internet
It is the most convenient method for the students to spend the breaks between the classes. Nowadays, students even sneak on the internet within the classes rather than waiting for the breaks. Yes, you can definitely login into your social networking profile during the breaks but also allot some time to check your campus mail. These days it is very important to check your mail every day as the most of the departments, offices on campus and professors communicate with the students by sending emails. Sometimes they also send information notification or announcement through emails. If you neglect your official mail id, you may miss the information.
9. Visit student services
Going to the student counselor, department heads and academic advisers is a very good time-filler. Every college has its own student services which are authorized to look into every issue of the pupils. You can visit this service any time during the breaks to know about different activities, happening and upcoming events in the university. If you are facing any problem or issue, you can notify the authority. They look into every matter with placements, practical classes, accommodation, financial aids etc. But make sure, that you have enough time before your next class as it may take a longer time at these student services than planned.
10. Have a little snack
Your college has its own cafeteria and canteen. It is a very good idea to have a little but healthy snack in between the classes. If you have missed your morning breakfast and you are really hungry then you can gorge yourself on a complete meal. A fifteen minute to half an hour break is sufficient to grab a bite. There are plentiful options available to you in the canteen but what you are going to have depends completely on your choice and preferences. Always go for a healthy food and avoid which are too rich and oily. Do not forget to take your friends along with you while going to the canteen.
11. Work out
Nowadays, almost every college has a separate gymnasium and fitness centers of its own. The students can work out in these centers any time at their breaks. If you are a fitness freak, you can check these facilities. The academic life is too hectic. So, it is very important that you maintain a healthy routine and an equally healthy body. Regular work out can help you. But do not get too wild with your fitness as unnecessary work outs can lead to exhaustion which will affect your daily routine negatively.
12. Go Shopping
If you have a large chunk of time before the next class, you can consider going for a shopping to buy the essentials. If you have a supermarket or a mall within the proximity of your institution then it is obviously the best destination. You can buy the necessary college items along with your personal requirements. Always keep a few packets of instant noodles with you, they are quick and good food sources at the moments of need. But don't be a spendthrift; go for a shopping only when you really need something.
13. Read
You can carry a story book with you when you go to the college. Reading a book is the best habit when you have free time. Reading a book not only keeps you engrossed for hours but it also helps you to increase your knowledge, ideas and vocabulary. Keep up with any genre, travel, mystery, historical or romance according to your liking and choice and that book will help you to spend the break between the classes. Find a nice and a quiet place within the campus and take out your story book. If story book does not interest you, you can also read your text book and prepare yourself for the upcoming examinations.
14. Call Home
Your parents and dear ones always remain eager to hear from you. But there are times when you don't get ample scope to all your parents. During the break between two classes, you can call your parents and talk to them. Try to contact them at least once in a day. You can also make calls to your school friends whom you definitely miss a lot. Getting connected to the people you love will always make you feel good especially when you are missing them. After talking to them, you will feel invigorated and attend the next class with much more attention.
15. Power Nap
If you can't think of doing anything during the break, try taking a power nap. A power nap of half an hour is very effective to make you productive again. Most of the students have the habit of staying awake until late night. As they need to get up early next morning to attend the college, the sleep remains incomplete. Sometimes when you spend days without proper sleep, it may cause dizziness and other complications. If you also have the habit of staying awake till 3am at night, these power naps can be very useful for you. Scientists believe that power naps are very useful to improve performance and learning. Hence, next time between the classes, try a small power nap. But don't forget to switch on your alarm at the appropriate time!
In the first one or two months, the breaks in the middle of the classes may seem to be a little inconvenient to you but soon you realize that they those breaks have become an indispensable part of the college routine. Try out these 15 delightful ways to spend your college breaks. Very soon, you will yourself learn how to utilize this time on your own.
Reach MyAssignmenthelp.com to ease your academic troubles
When the students get admitted in different prestigious colleges, most of them get bewildered with the sudden change in curriculum. In the tertiary level, the students need to prepare several practical coursework along with their usual studies. Sometimes this acute academic pressure causes too much pain in their lives. MyAssignmenthelp.com – the most proficient online academic assistance portal provides coursework help to these students.
If you are scared with the assignments that you need to do in your next semester, just login to the website to receive this assistance. MyAssignmenthelp.com provides academic assistance in every English-speaking nations around the globe. It has hired a pool of academic experts who have completed their PhD degree in their respective fields from the most eminent universities in USA, UK and Australia.
Here you will get assistance with your assignment writing, essay writing, research paper help, term paper help, dissertation writing, case study help, thesis writing and many more.
Some of the most astounding features of MyAssignmenthelp.com which make it the most popular website among the students are as follows:
Timely delivery even under strictest deadlines
24×7 live help services through phone, chat and email
Top quality and completely authentic papers in every subject
Plagiarism reports from Turnitin.com on every paper at just $2
Unlimited free reworks till the students are satisfied
Affordable prices for all service with variety of lucrative offers.
The reason for taking professional academic assistance varies. Some students say the scarcity of resources while some pupils accuse the very short timeframes. But their destination is always the same. It is MyAssignmenthelp.com. So, visit MyAssigmenthelp.com and relieve yourself from all assignment writing worries.
Was this article helpful?
YesNo