After completing your studies in Australia, you have a wide range of options open in front of you. You can apply for further studies and get a job, return to your home country, extend your visa for tourism or apply for a permanent residency. In the last one decade, permanent residency has evolved as the most preferred objective for all the international students.
Permanent residency in Australia promises lucrative career opportunities for all the students.
When you are about to complete your studies then you might be thinking of staying back in this beautiful country and start your budding career here. A person who holds the permanent residency permit does not become the citizens of the country but can reside in Australia for an indefinite period and enjoy almost all the benefits of citizenship. It allows the person to stay and work anywhere in the country.
But how can the students change their visa status from a student visa to permanent resident visa?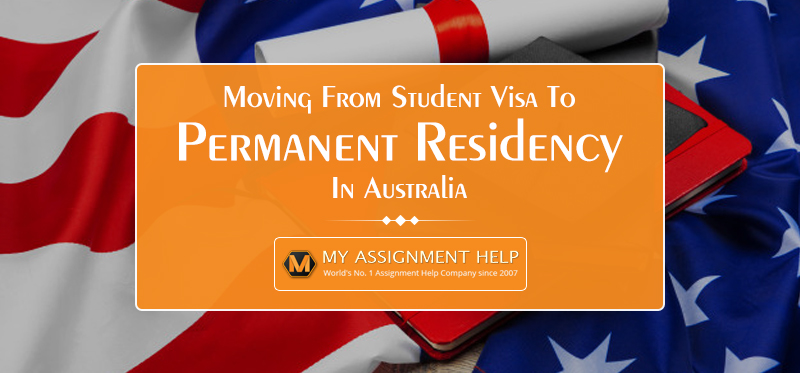 These days the transition from an international student to a permanent resident is not that simple as it was few years ago. Recently, the federal government of the country and the department of immigration have issued certain criteria which have made the process a little difficult. You need to show definite reasons while applying for the permanent resident visa in Australia and qualify on a points table.
Points system for permanent resident visa
The Australian immigration department uses a comprehensive points system to change the visa category of the international students. The points system is based on some definite criteria which are used to assess every application to find whether the person qualifies for the visa or not. The most notable yardsticks are as follows:
Expert – 20 points
Skilled – 10 points
Competent- 0 points
If you are from any English-speaking country like USA, UK and other countries, you get automatically qualified and you don't need to appear for the test.
| | |
| --- | --- |
| Age Group | Points |
| 18 – 24 | 25 points |
| 25 – 32 | 30 points |
| 33 – 39 | 25 points |
| 40 – 44 | 15 points |
| 45– 49 | 0 points |
If the person is above 49 years of age, they cannot apply for the permanent resident visa in Australia.
The working experience gained in Australia also influences the point system considerably.
| | |
| --- | --- |
| Years of Experience | Acquired Points |
| At least One Year | 5 points |
| One to Three Years | 10 points |
| Three to Five Years | 15 points |
| Five To Eight Years | 20 points |
| Eight Years and Beyond | 25 points |
Qualification of the Candidate
Doctorate Degree – 20 points
Graduation Degree – 15 points
Australian Diploma – 10 points
If the students have other qualifications, then the grading points will be based on the accreditation and significance of the course.
There are also other important criteria which determine the scores of the applicants. All the students must need to get a definite score compiled on the performance in each criterion. Then only you will be able to apply for permanent residency. To know more about it, read our detailed blog: Points Calculator for Skilled Migration in Australia
If you are lucky enough to qualify on the points table, you will have to choose from the following permanent resident visas.
Permanent resident visa options
The Australian government issues a variety of permanent resident visas depending on the individual applications and the requirement. It includes:
General Skilled Migration (Subclass 189)
If you have strong English skills and have completed your education in Australia, then you might get this visa easily. This is a permanent visa for all the point-tested skilled workers who wish to work and study in Australia. Generally all the applicants need to score at least 60 points to secure the visa overall. The subclass 189 visa carries five years of tenure which can be extended later.
With this form of visa, you will be entitled to live in Australia indefinitely and also avail the government health insurance. Later you can also apply for Australian citizenship with this visa.
Temporary Graduate 485 visa
Temporary Graduate visa is the easiest choice for all the students who are in the verge of completion of their studies in Australia. Although not counted as a permanent visa, it gives all the students ample time to gain professional experience in the country without worrying about the restrictions. The applicants must secure at least 64 points to get this visa. It gives all the applicants 18 months of residency permit or may vary depending on the pursuing course (if the applicant wishes to study further). On completing the tenure, they get entitled for the permanent visa.
With this temporary Graduate 485 visa, you will be entitled to travel, work or study further in the country. However, this visa does not guarantee you employability; you have to find it on your own.
Partner Visa (Subclass 820 and 801)
A person can apply for a permanent residency in Australia through the partner visa if his/her spouse is an Australian citizen. Initially, the applicant will receive the temporary partner visa (subclass 820) which can be transformed to a permanent student visa (subclass 801) two years later. The applicant can use his/her spouse as the sponsor if necessary and then apply for the permanent residency.
When you have this partner visa 820, you can stay in Australia for an indefinite period. It lets you study, work and enroll in the government healthcare system. However, you will not be eligible for any form of government funding.
Regional (Provisional) Sponsored Visa (subclass 489)
This visa is recognized pathway to permanent residency which allows the applicants at least four years of visa. The applicants get entitled to live, work and study in specified regional areas of Australia. It is the revised form of regional sponsored visa 487 which is currently suspended. To get this visa, the applicant must have a family member in the country. They must secure a total of 60 points to get eligible for this visa.
This visa allows you stay in Australia for four years. You can work, study and live only in the specified regional area of Australia. You can also travel outside Australia while the visa stands valid.
Skilled Regional Visa (subclass 887)
This is a permanent visa issued by the Australian authorities who have lived in the country for at least two years. They should also have the experience of working in the specified areas of regional Australia. The applicant must possess a valid skilled visa at the time of application to get this permanent residency. When approved, the applicant can further sponsor his/ her eligible relatives for their permanent resident visas.
When you get this visa, you will enjoy all the benefits of a citizen in Australia. You are also entitled to apply for Australian citizenship provided you fulfill all the other requirements and furnish all the residency obligations.
These are the main forms of permanent resident visa options which are provided by Australian authorities currently.
Advantages of permanent resident status
As already mentioned, applications for permanent resident status are rising every day. The applicants who secure this status are entitled to enormous benefits. The most significant ones are as follows:
People with permanent resident status can get employed in any sector in Australia except under the federal governmental
They can apply for the Australian citizenship after fulfilling some additional criteria
The permanent resident status holders can avail the health insurance and social security benefits provided by the Australian government to its citizens
They can sponsor the permanent residency of their relatives if they are capable of bearing their additional costs
The permanent resident status holders will get entitled for the right to travel to New Zealand without applying for the New Zealand visa (subject to certain restrictions)
The children of joint permanent resident status holders will be Australian citizens by the virtue of birth
They can also apply for Australian consular assistance services overseas in any country if they fulfill the definite requirements
If the permanent resident status holders wish to continue further studies in Australia then they will be get additional benefits.
So, if you are thinking to continue your stay in Australia then obviously the Permanent Resident Status is the ideal option.
MyAssignmenthelp.com – the ideal assignment help provider in Australia
In Australia, out of the many academic assistance providers, MyAssignmenthelp.com has earned the name of the most reliable assignment help , dissertation help and thesis help service. MyAssignmenthelp.com has the experience of more than ten years in this academic assistance services. It employs a team of more than 3000 subject experts who prepares and develops each assignment precisely based on individual requirements. All the experts are PhD qualified in their respective disciplines and provides the best academic assistance which the students need. They will always get customized content according to the specifications of their individual universities.
With the top-notch quality assignments, the students are entitled to some enthralling features:
Complete plagiarism-free content developed after in-depth research from authentic sources
Guaranteed on time delivery even under the sharpest deadlines
Plagiarism report and quality report on demand
24×7 live assistance services through mail, phone and chatting portal
Unlimited free revisions till the student is satisfied
All these assignment writing services are available in affordable prices. The students can also take the advantage of various discount offers in every booking. So, do not wait nay more! Take this assignment help and relive yourself from all academic worries.
Was this article helpful?
YesNo