According to an estimate, the number of international students in Australia has crossed half a million. Australia has evolved as one of the premium locations in the world for higher education. Although it has always remained the most cherished destination for Asian students, now a significant part of the international student population is from Europe and North America too.
All these students, however, face considerable challenges to get acquainted with the customs, academic life and culture in Australia. It is a universal problem where almost all the students face challenges when they pursue their studies in a foreign land.
But if you are planning to enhance your academic qualifications by studying in one of the top universities in Australia, the challenging issues in front of you would be very few when compared to other nations.
Obviously, this is the main reason why Australia is one of the most revered choices by international students.
So what are the main difficulties faced by international students in Australia? They are as follows:
Socio – Cultural Adjustment
Customs and Etiquettes
Australian customs, etiquettes and expectations are q uite different. Hence it sometimes becomes difficult to adjust.
Remedy:
Know about the basic etiquettes
Etiquettes
Australians may generally greet with 'G' day
They prefer to use first names even when first meeting occurs
This shows they are not very formal. So greetings are casual and relaxed.
A simple smile and handshake along with greeting each other is enough.
Australian generally use very decorated or colourful words which is quite unthinkable in other countries.
Generally when you meet an Australian , you should greet with the words  'Hello, how are you doing?'
If any Australian invites you to home for dinner, it is a basic cortesy that you should be carrying a bottle of wine or bouquets. Moreover, ensure that you arrive on time during dinner as it looks courteous.
Offer the hostess your help while she/he prepares food or clear up the dinner table.
While negotiating for business, Australians get straight down to work with a very little small talk.
Living Alone
Specifically for a Middle East or Asian guy, this becomes the tough most part. Born and brought up in closed families and colonies with never ending people and friends, the students have often complained of feeling lonely.
Even after having much little population in 2009 alone there were 2 million people aged 15 years who were living alone. According to a Survey in 2007 "Over the last twenty years, the proportion of people living alone increased from 9% to 12%.". Joint families as in Asian context are low.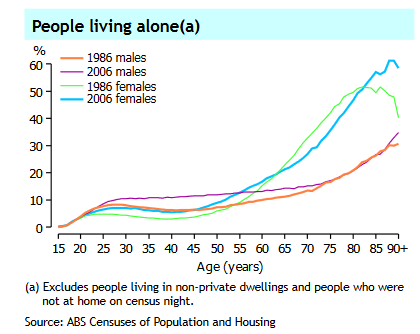 Information from the 2002 Household, Income and Labor Dynamics in Australia Survey (HILDA)  reports that  "Men aged 25–44 years, living alone were the most likely to agree with the statement 'I often feel very lonely' (33%)"
Australia though located in the eastern hemisphere has a western culture throughout the country. The students from USA and UK may feel no difference, but the students from the Asian, African and other European countries can experience a culture shock. This problem gets compounded with the way the individual living has evolved in the society.
Remedy
When In Australia join few groups which are specifically for this purpose
There are umpteen number of student bodies where you can find people of your country or origin. More important than finding people of your origin would be to find someone who fits your friend parameters.
One of the student councils where you can refer to is:
Many international students do not have proper access to accommodation that makes the situation worse. These students can use the accommodation guide in their quest for higher education.
Most of the colleges and universities have professional International Student Officers who organize workshops for the international students and provide the needful resources to the international students. They offer their assistance till the students graduate from the institutions. On-arrival reception, orientation, workshops and recreational activities help the foreign students to avoid culture shocks and slowly absorb the culture there.
2. Learn the Lingo
Australia has its own set of slangs and slants . Even people from UK and US find it difficult to understand at first.
Remedy
The only way is to make a very Good Australian friend over a period of time and ask him to help on these.
For knowing the basics of what Australians say and what it means, you can visit the link
( Need to create a page of the same)
| | |
| --- | --- |
| We say | You might say |
| Arvo | Afternoon |
| ARIA | Australian Record Industry Award – the highest honour for musicians in Australia |
| Barbie | BBQ or barbecue. Usually a relaxed social get together where food (usually meat) is cooked on a grill or hotplate. Australian men like to take charge of this aspect of cooking |
| Bikkie | Biscuit |
| Bingle | Motor vehicle accident |
| Bloke | Man, guy |
| Bluey | Bluebottle (stinging jellyfish). Bizarrely, it can also mean blue cattle dog or redheaded person |
| Boardies | Board shorts. Originally worn by surfboard riders, they are now the preferred swimwear of many 'blokes' |
| Bottle-o | Liquor shop, off-licence |
| Budgie smugglers | Tight-fitting men's swimming costume. Often the source of ridicule, especially when worn by a 'polly' |
| BYO | Restaurant or party where you 'Bring Your Own' food or drink (usually alcohol) |
| Chewy | Chewing gum |
| Chook | Chicken, usually a hen |
| Cuppa | Cup of tea or coffee |
| Digger | Soldier or ex-serviceman |
| Daks | Trousers |
| Esky | Large, insulated food/ drink container. An essential for every 'barbie' |
| Footy | Football. Usually refers to Australian Rules Football, especially popular in Victoria |
| Flat out | To be 'flat out' means to be very busy |
| G'day | Hello |
| Garbo | Garbage collector |
| Hooroo | Goodbye |
| Icy pole | Iced lolly, ice block, popsicle |
| Jaffle iron | Heated sandwich press used to make toasted sandwiches ('jaffles'), stuffed with anything from ham and cheese to baked beans |
| Kindy | Kindergarten. School attended by children around 5 years old |
| Knock | To 'knock' something means to criticise it |
| Lingo | Language, especially slang |
| Mozzies | Mosquitoes |
| Nipper | Young surf lifesaver |
| Op shop | Opportunity shop or thrift store, where second-hand goods can be bought. 'Vinnies' is a perfect example |
| Pav | Pavlova. A meringue based dessert Australia takes credit for (don't listen to anyone from New Zealand who tells you otherwise) |
| Piker | Someone who 'pikes' – that is, quits or leaves early |
| Polly | Politician |
| Plonk | Cheap wine |
| Postie | Postman |
| Rego | Registration (usually for a car) |
| RSL | Stands for Returned and Services League. Usually refers to a club where locals meet. Not just for 'diggers' |
| Sanger | Sandwich |
| Schooner | Glass of beer. Varies in size according to which state or territory you're in |
| Smoko | Cigarette or coffee break |
| Shout | 'My shout' means 'my turn to pay' or 'my treat' |
| Stoked | Pleased or delighted. Originally a surfer's term |
| Servo | Service station, where petrol (gas) can be bought, and other basic goods |
| Sunnies | Sunglasses |
| Sook | Person who is tame, pathetic, or sorry for themselves |
| Thongs | Cheap rubber footwear, known as flip-flops or jandles. Not to be confused with a skimpy form of underwear |
| Togs | Swimming costume. Also called 'cozzie' |
| Tool | Idiotic person |
| Tradies | Tradesmen (plumbers, electricity |
What students need to do?
There are many students who feel a little low in the initial months. If you feel so, give yourself time. Soon you will make friends and acquaintances which will again make you feel lively and spirited. You should try to adopt the practices of the local community which will help you to feel home, even if you remain a thousand miles apart.
·    Language
Most of the international students do not have English as their first language. Although all of them must have qualified in English proficiency test to get the Australian visa, still the Australian accent, lexical differences and the style of speech trouble them considerably.
The students receive their lectures, tutorials and notes in this medium only. Some of the international students complain that the professors speak too fast or use certain idioms, terms and abbreviations with which they are not familiar.
Apart from the academic need, the students need to speak strict Australian English even when they are going to buy a burger! Having to speak English all the time is itself a challenge for the international students.
What is the remedy?
Learning and Teaching Unit of the respective college or university campus organizes special programs for the international students to make them familiar and sharpen their English language skills. The International Student Officers conduct these classes which are termed as 'Language, Literacy and Learning' or 3L. This service is formulated according to the need and demands of the students which ensure the maximum benefit and effectiveness to them.
What students need to do?
The experts opine that no student should feel embarrassed due to his/her limited English language skills. If you feel that your performance is getting affected due to limited knowledge of English, try to compensate by attending special classes and spending time with the professors. Try to speak more to the native students which will help you to overcome this challenge in quick time.
Educational Expectations
The educational system in Australia varies from other countries. Australia too has its own distinctiveness which encourages autonomous learning, critical thinking, problem solving abilities and confident communication. However, the international students coming from varied backgrounds feel a little confused in this form of learning customs. The students may be directed to work independently or in specified groups to complete their tasks and assignments. The students are required to critically evaluate every situation and present a suitable solution. Many students fail to co-ordinate properly and their performance deteriorates.
What is the remedy?
Just like every college has International Student Officers, it employs Academic Developers too. These Academic Developers work with the college staff to help the international students. They help those who face difficulty in understanding the lectures in the theoretical classes. They act as a useful bridge between the international students and the professors. They talk to the students to find out their personal need and ensure that no student suffers due to educational or study shock.
What students need to do?
All the students will need some time to adjust to the new academic world. So, all the international students may expect a little more leniency in the initial months from their professors. But within this time, you should make considerable efforts to make yourself familiar with the academic system. The institutions will provide you specific norms and expectations and definitely the rationale behind each of them. So, everything will be clear from the beginning.
·    Homesickness, Climate ….
This is common for all the aspiring pupils wherever they go and they are not distinct for the international students intending to visit Australia. There are thousands of students who feel homesick especially those who don't have the habit of staying away from their families and parents. They may spend hours thinking about the families back home. There are also a significant number of foreign students who fall ill due to the climatic changes. Australia is located in the southern hemisphere where the seasonal changes are just the opposite of the northern hemisphere. It may prove to be a major challenge for all the international students.
Remedy:
For homesickness: There is no clear remedy for homesickness. But try to get familiar with the new friends, roommates or your landlord. They are your solace in this foreign land. You can also take a walk around the city and explore this new country. It will help you to conquer your homesickness.
For climate changes: Australia exhibits sharp climatic differences even when you travel from one province to another. It is the sixth largest country in the world and the largest in the southern hemisphere. Some regions are cooler while some are hotter. You should start following the temperatures, climate and other conditions before you land in the city.
What the students need to do?
For homesickness: In these days of tremendous technological advancement, you can talk or video chat with your family members any time. So, don't worry!
For climate changes: Follow the dressing style which will suit the best in those climate conditions and take all the necessary medicines along with you.
All the problems and the difficulties look frightening at the first stage. But when they are addressed properly, it becomes very easy to overcome them. The challenges will remain, but your primary objective in Australia is education and good results. Overcome all these difficulties which are just temporary hitches. Remember not all get the chance to study in Australia. You have got the opportunity. Make sure you come out with the best results! Last but not the least, if any of these problems persists, take the assistance of the student counselors. They are the best source to give you the ideal suggestion and guidance in this foreign land.
MyAssignmenthelp.com provides the ideal academic assistance in Australia
Many international students, other than facing the common difficulties, remain worried with the practical tasks given to them. The students are required to write research assignments, essays, case studies, term papers and dissertations when they are pursuing their higher education in Australia. If these practical tasks are troubling you, then you can visit MyAssignmenthelp.com – the proficient online academic writing assistance service.
MyAssignmenthelp.com is one of the pioneering service providers in Australia. It has the experience of providing assistance service for more than 10 years. With countless satisfied student-customers, it has received accolades and acknowledgment for its top quality academic writing service. A 3000+ dedicated team of Ph.D. qualified assignment writing experts has made this possible. It promises all the students:
Impeccable quality content every time developed by native Australian writing experts
Timely delivery even under the sharpest deadlines given by the students
Authentic content every time with plagiarism report from Turnitin.com on demand
24×7 online assistance through email, online chatting and phone
Expert service in all the subjects studied at the tertiary level
Affordable prices with plenty of discount offers.
These enthralling features have made the assistance services of MyAssignmenthelp.com very popular among the international as well as the native students. So, when you are feeling helpless with your practical coursework, do not lose crucial time. Log in to MyAssignmenthelp.com to get the best solutions and to relieve yourself from all worries.
Was this article helpful?
YesNo