International students in UK can be easily identified. You will often see them at the border control, clutching their landing cards and biting their lips with anticipation. If they are seen in some hangouts like local pub, their accent makes them stand out in the crowd. Maybe it is your best friend or maybe it is you in the description. For all international students, life becomes little more challenging compared to national students. Let's not give up yet. You cannot afford to give up on the world-class education that UK has to offer you. So, read the following methods that will help you to accustom yourself in an alien culture and the surroundings in UK.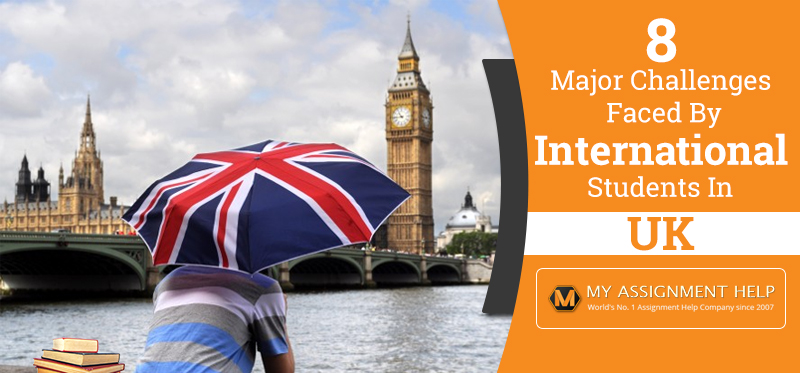 According to an estimate, 15 percent of all university students in UK are international students, so there are certain common problems that almost every international student counters.
Homesickness:
Are you missing your family and friends ever since you moved abroad? Don't worry, it is a very normal feeling to have in a foreign land. When you are studying in a new country, city or place, especially when your life is undergoing many changes, you may feel like returning to your homeland.
Is there any solution?
Yes, there are few remedies to reduce the homesickness. Getting through homesickness can be easy if you go through the following tips,
Open the doors and get out of your room:
It is OK to stay put in your room and have long conversations with your family and friends over Skype. But don't make it into an unhealthy habit. Go to a coffee shop on campus, take some books with you or head to the computer lab to write a paper.
Turn your college into home away from home:
Your college will never replace your home that you left. But you can think about the things that you loved most about your pre-college life and re-create those things. Did you have great friends? Try to make new friends. Were you involved in community services? Become a volunteer with a campus volunteer center.
You may think that you are the only one who is encountering homesickness, but that's not true. Reach out to other people who are having the same feeling. Invite some friends, grab some snacks and watch DVD at night or volunteer for a women's shelter, you will understand how precious it is to have a family.
Language Barrier:
The most common issue faced by international students is the sudden realization — the moment they arrive in UK — that despite their language qualification, they still find it difficult to understand what others say and also others find it difficult to understand them. As consequence, international students become self-conscious which eventually leads them to isolation and avoiding talking to other people.
Is there a solution?
When there is a problem, there is a solution too. You just have to find it. Here are few effective methods that work perfectly to overcome the language barrier.
It is the best way to improve foreign language skills. Participate in social and academic life. Dive right in with native speakers and tell them about events and organizations you have attended recently. Be sure that you attend inductions offered by University academic services.
Give yourself time to understand:
When possible, take out your lecture notes or handouts at least a day before the lecture and read them. This way, you may help yourself not only understand the content of the lecture but also focus on the language during the lecture itself.
Ask your teacher or professor to hand in samples of well-written text in your field so that you can understand what is required from you in terms of writing. Consult with your teachers how your writing can be improved. Set up your own small reading and discussion group with other international students so that you can help each other.
Cultural Shock:
Cultural shock is a physical and mental discomfort suffered by a person who moves to the new place or country. When you move to a new country, you are alien to its culture; you may not know the unwritten rules of your host nation. This may lead you to isolation, sadness and insomnia and many other things that will greatly affect your academic performance.
Is there a solution?
If you are already experiencing mood swing, depression, vulnerable feeling, anger, irritability resentment, you need to help yourself by doing few simple things mentioned below:
Console yourself by believing what you are experiencing is normal
Have familiar things that has personal meaning in your life around you, like ornaments and photos
Learn to include a regular form of activity into your daily routine
Take time to find out what services your university offers you
Check out what's happening in students union and its societies
If you are stressed, search for professional help on campus (students services are available in many forms)
Maintain contact with local students.
Racial Discrimination:
Often, international students counter racial discrimination in campus premises and off-campus. Dealing with racial discrimination is a tough job for international students because complaints made by them may not appear to have much 'substance'. Racial discrimination can be verbal and physical abuse. It is, therefore, more important to take students' complaints and take immediate action against them. It will cause tension and stress both in the social environment and social.
Is there a solution?
UK government has to take few measures in order to make studying experience for the international students a pleasant one. Being an international student, you should know your basic rights. You should avoid engaging in any kind of quarrel or argument. The educational institutions should have advisory body to give advice on available support concerning the safety of international students.
There are many innovative ideas that universities can adopt to make the international students comfortable in the new environment.
Finance:
Needless to say that higher education is very expensive. Foreign students face financial hardship during their studies. It could be that something unexpected happened that has affected your funding or you have to cover additional costs that you did not expect to have. The problem is, unlike UK students, you as an international student are not eligible to have statutory funding from UK government. So you need to find alternatives.
Is there a solution?
If you find, you do not have enough money to complete your studies or facing financial hardships, you need to try these alternatives.
Taking a side-job to alleviate shortage of money can help you in short-term basis. Be careful to ensure that it does not affect your studies, which would be self-defeating.
External or other sources of funding:
If you are a member of a local faith group, you are eligible to get funding from religious organizations. If you are involved in any activities with local community, the community groups can help you with finances. You can also go to a private benefactor.
Getting scholarship fund can provide a quick solution to your financial hardships, but you should be prepared for the scholarship interview or your scholarship essay should have the capability to win the heart of scholarship committee. Students who are seeking funding for subsequent years may be able to apply for scholarships in UK like Overseas Research Students Award Scheme (ORSAS).
Trust funds and charities:
In UK, charitable trusts assist students with a small amount of around £200-£300 or maximum £500. These organizations help the students for whom the money will make the difference between completing the course and not completing it.
Create a realistic budget:
Budgeting is the key to money management. So work out on weekly and daily budget that helps to plan ahead for the year. Your budget should include allowances for everything, starting from fuel bills, food, laundry, personal care, accommodation, etc.
Maximizing income and reducing liabilities:
Part of budgeting process also includes adopting cheaper methods of payment, for example direct debit for utility bills.
Academic differences:
Educational culture in higher education in UK follows the idea of student's independency, individuality along with the emphasis placed on the value of self-expression and originality. This may be very different for the students who come from structured authoritarian educational backgrounds. They would wonder why they are not 'taught'. This makes difficult for the international students to perform in their field of interest. Inadequate English skills add to this problem.
Is there a solution?
Follow the methods described here if you want to get rid of the academic differences:
If you are struggling with writing papers, you should visit the college's writing center. There you may able to find free tutoring and help with your research, writing and editing. Many writing services offer personalized help to international students. MyAssignmenthelp.com is one of them.
Keep an open mind to course:
When you receive your subject schedule, you may realize there are few subjects which are unnecessary. But when you start pursuing your elective subjects, you will be exposed to the topics you would not have otherwise pursued. You may discover an academic passion that you never had.
Seminars in your field may help you with structured discussions formats. This activity encourages students to be more interested in engaging classroom exercises and be more willing to answer.
Build a relation with supervisor:
It can be extremely irritating when you don't understand your tutors during lectures. If your supervisor does not have enough time to have regular meeting with you, you can change the supervisor.
Work Experience:
Unlike the British and European Union (EU)-nationals, non-EU students have only four years after completion of their course and find a job or face deportation. Most non-EU graduates take the flight back home, while many others apply for Tier-2 Visa. While finding a suitable job, international students experience stigma associated with being a foreigner.
Is a there a solution?
Here are few tips to get you a suitable job according to your qualification and capability,
Many companies have long recruitment process. So apply for a job in the final year. Take help from career services to help you with your CV.
Use internationalization to your advantage:
Think about the traits that sets you apart as an international graduate. You may be good at numbers, try to play with your strength.
Search for an employer who sponsors students:
While applying for a Tier-2 Visa, you can check if there is any employer on the Home Office list of Registered UK employer sponsors.
Use your university career services or go to international student-focused career fairs and introduce yourself. If possible, talk to the alumni of your university.
Have a backup plan if you can't stay in UK:
If you are struggling to find a job in UK, it is good to have backup option in your home countries.
Safety:
It is obvious concern that international students and their family experience while studying abroad. These concerns are shaped by the information and experiences gained from many sources. But a recent online poll conducted by The Student Room Online Forum found that over 800 students from more than 80 countries recognize UK as the safest place to live while studying aboard. But still being an international student, you may feel panic-stricken when you have to live all by yourself.
Is there a solution?
Prevention is better than cure! Employ these tips to avoid being in an unwanted situation.
Make sure you know where you will be living in the next four years. Understand the route from your place to university; if faced with problems, ask your roommates.
Don't carry a huge amount of cash with you when in UK. £50 is limit of carrying cash. Use plastic cards to pay for things.
Make sure you have medical insurance that covers you abroad.
Keep a photocopy of your travel documents with you in case you need to show it to the authorities.
Keep the contact number of your college/university/department handy, in case you need to call for help.
When you push through all these challenges, you will feel a sense of achievement and that's what matters. If something does work out for you, look at the bright side, you will have a bag of interesting stories to tell when you get back home. But keep trying, everything works out in the end.
How can MyAssignmenthelp.com be a helping hand in foreign land?
As an international student, you are surrounded by many obstacles while studying overseas. Writing academic assignments in many forms is one of the significant hurdles that every student has to overcome. International students struggle the most because they have remote idea about the academic obligations they are expected to fulfill. Moreover, UK universities put emphasis on individual work like assignment writing and encourage its students to become more active with their research, writing and critical skills. That's when students feel most vulnerable and they eventually lose interest in studying as they continue fail to meet the expectations of teachers. But with MyAssignmenthelp.com, you can overcome these academic differences easily.
How we can help?
We boast a wide range of assignment writing services that help students to finish their due assignments within deadline while keeping the quality intact. Thanks to our 3000+ experts who work round the clock to provide best-written and authentic plagiarism-free assignment that fetches you the best remarks from your teachers, and also guide you through the stages of assignment writing. When you request us to write something or advice on something, we select the best expert suited for the job. The extensive range of services provided by MyAssignmenthelp.com include,
If you are interested in taking help in any of above form, you just need to place an order by giving us the details of the assignments. Then make the payment and receive the completed assignment in your account.
Come, join MyAssignmenthelp.com to elevate your academic skills and obtain higher grades in academic writing. Do not forget to go through our lucrative discounts under the section of 'offers'.
Was this article helpful?
YesNo