When Stacy's parents saw her struggling with a complex essay topic, they didn't get anxious, and chose to encourage their child instead. They came up with informative write-ups, searched the internet, took expert's help and assisted Stacy in framing the paper in a better way. On the contrary, Jason's father on finding his son stuck with a tricky essay topic, simply sat down to write the entire paper and "helped" his kid get the desired result. Now this is bad parenting, and shouldn't be a way to help your children with assignments and college essays. They aren't learning anything end of the day, without proper explanations of the various terminologies used in the copy.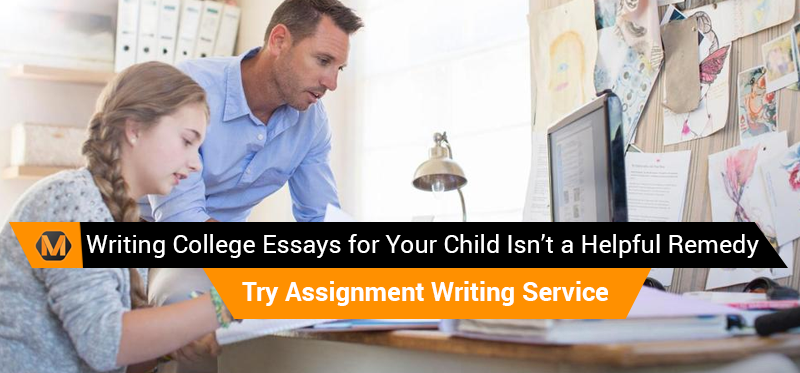 In certain cases, essays play a crucial role in taking admissions in colleges. During such situations, parents often try to help their children get admitted by preparing the paper by including top-notch jargon's, impressive terminologies and vocabularies to which their children perhaps are not accustomed. This might help your child get college admissions, but what's the point getting admitted like this? It would only make your child become more dependent in the near future. If you have faced a similar situation and wondered what can be a possible remedy that can actually help your child with college essays then take some time out to read this informative blog. It would prove to be genuinely helpful in the long run.
Assist your child to be genuine with the story they tell
When your child is supposed to come up with unique essays that can help him/her to stand out from the crowd, then the best thing to consider in this matter is being honest with the content being added in the paper. The college admission officers are required to go through a plethora of essay papers. So, the idea is to impress their eyes with unique content so that getting selected becomes easier for your child. Choosing essay subjects haphazardly and coming up with dishonest write-ups are not going to help as the admission officers can differentiate between genuine and fake write-ups. Thus, instead of writing the essay for them, parents should ask their children to come up with genuine contents written on their own.
Try enlightening your child with your knowledge on the assigned topic
If you are aware of the assigned topic beforehand, then try enlightening your child with the knowledge you've acquired. This will help them receive useful information which can be used in order to frame the paper well. On the contrary, if you simply choose to get the paper written straightaway, without explaining the important terminologies and various other crucial aspects of the topic assigned, then your child will simply develop a habit of seeking easy help without gaining useful knowledge on the topic or a particular subject. Thus, the idea is to make your child knowledgeable and overcome the complexities of the essay topic. So, every potential parent is expected to follow the same and do what's needful and beneficial for their children.
Refrain from providing your children with easy solutions
If one fine morning you see your daughter in an anxious state of mind, struggling with a complex History essay, what will you do? It is suggested that one should never provide easy solutions until and unless the issue is a crucial one. If your daughter or son is asking for their college essay help, take some time out to sit by their side, go through the topic carefully and ask them to prepare an initial draft. Once they are done with it; check and confirm the fact whether they have successfully included every required detail and vital points in the copy. Guide them with the technical aspects and advise your child with other valuable add-ons that can be implemented in order to make the paper look perfect.
A brainstorm session is always helpful
If it's been a while that you have been noticing your child in dilemma, concerning complex college essays topic, then you might just consider calling them for a brainstorm session. Take some time out from your busy corporate schedule and ask your child to sit with you for this interesting exercise. You can introduce your kid to a more explanative aspect of the topic and guide him/her with every vital point to be noted and taken care of. If it's a debatable topic, then ask your child to present his/her view on the matter and see how relevant are their perspectives. Correct them if your feel the need for the same, but never come up with a customized solution, without allowing your children to present their personal point of view. That would again go down the drain, with no significant help in the long run.
Show them the path, but refrain from accompanying
To simplify the idea further, it is to be noted that parents should always help their children with the solution required to be implemented, but should also refrain from hand feeding them. Let them figure things out on their own. This is one of the best ways of learning and getting introduced to the complexities and fixing things up eventually. If your child is asking you to explain the meaning of a certain terminology, do the needful, but restrict yourself from overdoing things, for instance by explaining every other complex areas even if your child isn't asking for the same. If at all you think that your kid is going to ruin the paper with misconceptions, then teach them how to come up with the right content on the basis of research and analysis. Show them how it's done and instruct them to follow the suggestions henceforth.
Proofreading certainly plays a crucial role
While it is true that writing college essays for your children is wrong decision, but one shouldn't miss out proofreading the essay paper, once his/her child is done with writing the essay. Invest some significant amount of time in proofreading the essay paper and helping your child in the matter of rectifying errors. This will help them understand things better with contextual rectifications and addition of words and phrases relevant to the topic. Good proofreading is all about concentrating on the minor details and confirming that the paper is a totally error-free one with no technical drawbacks. For a helpful proofreading, it is crucial that the parents themselves have good grammar and spelling skills. Otherwise, the purpose won't be solved in the long run.
Some essay writing tips are always helpful
If you see your child struggling with essays, then assist them to have a better grip on the various useful essay writing tips. Ask your child to choose the topic wisely, and in case the topic is pre-assigned, then advise them to secure a perfect outline prior to the commencement of writing. Similar essay writing tips such as to prioritize framing Introduction, Body and Conclusion, along with coming up with different writing tone for various essay categories are some of the useful suggestions that can always be implemented in order to help your children write brilliant college essays.
Help them learn screenwriting structures
Getting hold of an effective concept of screenwriting is always helpful for college essays that are related to some sort of story writing and likewise exercise. This will help your child in coming up with better visual ideas and thoughts that can be utilized while writing descriptive or story based essays.
Encourage your child to read more books and journals
The more you read, the more you know. Always encourage young college goers to read more and more books of various genres. Parents must help their children in the matter of developing better knowledge, ideas and awareness on various topics. Apart from plain story books, one should also consider keeping track of current affairs including latest news on sports, politics, science and more. Knowledge acquired in the process will get counted during the time of essay writing and preparing copies based on recent affairs and debatable topics.
Ask your child to be creative
Creativity and essay writing should go hand in hand. The more creative you're, better will be the scopes for you to come up with engaging contents having interesting perspectives. Thus, the prospective parents instead of writing college essays for their children can simply ask them to be creative and assist with every required tips and guidance that can help an individual explore his/her creative side. Although creativity is mostly a natural phenomenon, however come useful suggestions and ideas can simply help your child develop the quality more effectively.
Seeking Expert's Help Is, However, The Best Option
These days there are several online assignment and essay help experts available. If you find your child stuck with college essays for long, then get in touch with the online service providers and ask the experts to help your child develop better ideas and come up with helpful college essays, and every other complex academic assignments.
These days, academic curriculum and assignment formats keep changing, keeping pace with the global education scenario. While the aforementioned suggestions are useful, but in order to help your child come up with flawless and well-constructed college essays, getting in touch with the industry experts who are aware of the latest writing style is certainly a wise idea to follow.
Instead of writing your child's college essay, choose to get connected to the online assignment experts in order to receive effective solutions and instant essay writing help services.
Having a Tough Time Coping with College Essays? Here's MyAssignmenthelp.com at Your Service
As far as college essays are concerned, one cannot afford to take them lightly. If you aren't aware of the latest scenario and writing styles, coming up with a satisfactory paper may seem to be a difficult job. We have the best industry experts working round the clock. The team of assignment writers associated with MyAssignmenthelp.com has some of the eminent essayists available 24×7. So, getting in touch with them, during any convenient time of the day will definitely help you impress the admission officers/academic heads.
Apart from helping students with essays, we excel in the matter of providing amazing academic help services for case studies, coursework, thesis, school homework, programming, dissertation, research and more. With an expertise on a plethora of academic subjects including English, Geography, History, Science, Commerce, Management, Law, Biotechnology, Economics, Auditing, Statistics and more, helping the potential students with flawless college essays and other assignments isn't an issue for us.
Our firm has certain perks such as the 24×7 availability of live chat, unlimited revisions, provision for completely referenced papers, in-house proofreading and editing services and more. So, give us a call today and place orders right away to bring home impressive and absolutely flawless papers within the stipulated time frame.
Was this article helpful?
YesNo