You want to develop leadership qualities? Have you thought what kind of degree you would need to be a leader? Does your success get affected after graduation by your experience at university? But what is success? It is achieving a certain level of responsibility in one's career. Again, there are many successful people who did not follow the formal path of education. What does this imply? This implies that the route to success is not only through higher education and a bunch of degrees. Mark Zuckerberg and Richard Branson, two of the most successful businessmen in the world do not possess a university degree. But that doesn't mean education should be ignored because experience gained through higher education can help in contributing to success.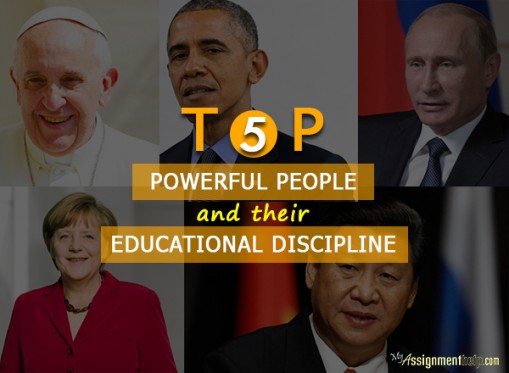 Social Sciences or Humanities
According to studies, majority of the successful leaders of the world had a bachelor's degree either in social sciences or humanities. Those who are in government jobs had most probably studied social sciences. Humanities are favored by those working in non-profit organizations. Younger leaders (below age 45) were more likely to have pursued their degrees in humanities or social sciences. Those leaders who are over 45 may have pursued their degrees in engineering, science, technology or math.
No Single Subject Equals Career Success
Nobody can guarantee that a particular educational discipline may lead the path to success. However, it may be possible that leaders belonging from technical fields like energy, health, environment, or defence and security have a higher probability of having a STEM background. Those who are in government jobs may likely have a social sciences background and those working in non-profit organizations may have a humanities background. The idea is not to compare among the educational disciplines but to achieve professional success either with a STEM, social sciences or humanities degree.
Engaging in Extracurricular Activities at University may also boost your Career Success
Higher education is not just about direct learning and producing it in the examination. One should look beyond the walls of academic study too. There are plenty of opportunities to learn new skilled expertise from activities and experiences that are not included in the academic study. For example, one can develop the competitive drive through practicing sports. University is a place of amalgamation of different cultures and exposure to it may also be extremely helpful. Environment is also an important factor in helping to develop entrepreneurship skills and inventiveness. One needs to recognize such opportunities, take advantage of them and use them to build their networks, which is not only valuable for their professional lives but also helps them to become culturally confident.
Why is International Experience Important?
Most of the successful leaders of the world have some international experience. This can either be overseas study or some sort of work experience in abroad. It is an advantage to pursue a master's degree or PhD abroad. The US is one of the most popular study destinations, with UK following it.  People with international experience tend to develop important skills such as communication skills, suppleness, diverse cultural understanding and the potential to unravel problems.
5 Most Successful Leaders of the World
You are in awe of the most successful leaders in today's world and you wonder how they turned every obstacle, which thwarts you, into launching pads for themselves. What do these leaders possess that makes them different from ordinary people? They have not drunk any magic potion or are not born with any extraordinary skills. They follow a simple rule – a plan for accepting, acknowledging and acting upon those obstacles that life throws at them. These pressures transformed these individuals. They accepted the challenges and chose to fight against all odds. Successful individuals, just like successful companies, transform their weakness into their strength. These personalities used what held them back and used them in a positive sense and marched ahead. The obstacles acted as a fuel to drive their ambition.
According to their ranks, the top 5 most successful people in today's world include-
• Vladimir Putin – Russian President
• Angela Merkel – Chancellor of Germany
• Barack Obama – US President
• Lord Pope Francis – Pope of The Roman Catholic Church
• Xi Jinping – President of People's Republic of China.
What Educational Discipline did each of these Successful People choose and How did they Create History?
• Vladimir Putin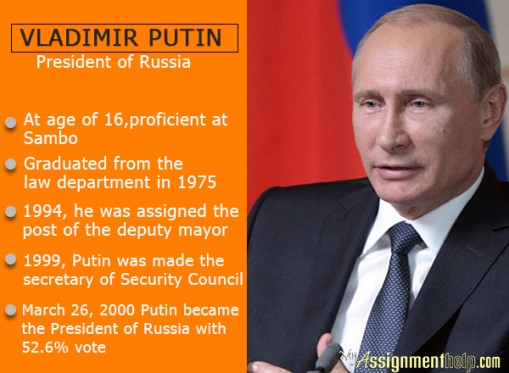 • A former Soviet intelligence agent and now the current President of Russia
• By the age of 16, Putin was proficient at sambo which was a combination of wrestling and judo.
• He completed his schooling from School 281 which was a prestigious school that accepted only those students with excellent academic grades.
• From a very young age, Putin was captivated with detective shows and aspired to be a specialized KGB agent.
• Putin graduated from the law department in 1975, from the Leningrad State University. He graduated with good grades but not with great grades.
• As was his dream, Putin landed a job with the KGB instead of opting for the law field.
• According to some reports, he first joined the First Chief Directorate which was the foreign intelligence arm of KGB. Some reports claim that his initial position was in the Service Number One department.
• In 1984, he joined the Red Banner Institute of Intelligence where he did extremely well in German and learnt English too. This was part of his preparation for an intercontinental mission.
• Putin was assigned to Eastern Germany by the KGB in 1985 where he lived there as undercover Mr Adamov, as the executive of Soviet-German House of Friendship.
• In 1989, with the much anticipated fall of the Berlin Wall, Putin was disappointed because it had occurred amidst chaos and the Soviet leadership had failed to manage it in a better way.
• In 1990, on coming back to Leningrad, he took a job at his alma mater in the department of international affairs.
• In 1991, Putin resigned from the KGB to join politics. He wanted to be an integral part of the changes that were taking place in Russia.
• In 1994, he was assigned the post of the deputy mayor.
• In 1998, he left his post of deputy chief administrator and went on to suit the head of Federal Security Service.
• In 1999, Putin was made the secretary of Security Council, a council that gives advice to the president on matters pertaining to foreign policy of the country, law enforcement as well as military and national security.
• In 1999, on the New Year's Eve, Yeltsin stepped down from his presidential post and made Putin the acting president.
• On March 26, 2000 Putin became the President of Russia with 52.6% vote in his favor.
• On May 7th of the same year, Putin was sworn in as the second president of Russia.
• Angela Merkel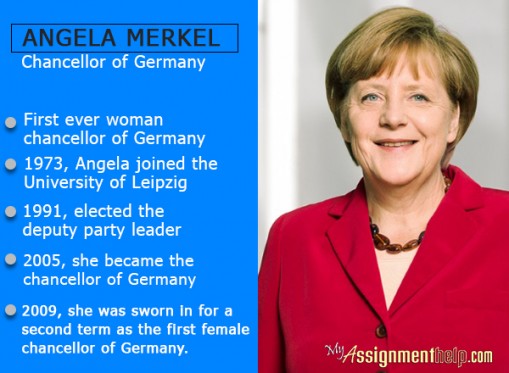 • Angela Merkel is the first ever woman chancellor of Germany.
• Merkel was a meticulous student who excelled in different languages and she even won a trip to Moscow as a prize.
• She chose to take up sciences because she felt that physics, in that political turmoil, was risk-free and uncontroversial.
• In 1973, Angela joined the University of Leipzig and later went on to pursue her doctorate in quantum chemistry in Berlin Academy of Sciences.
• In 1986, she pursued her doctorate degree and remained affiliated as a researcher with the Central Institute for Physical Chemistry.
• In 1989 when prodemocracy groups were being allowed to operate in GDR cities and Berlin, Merkel chose to join them.
• In March of 1990, Merkel was assigned the post of deputy spokesperson for Maiziere's government.
• In October of 1990, when the post-reunification elections of the parliament were held, Merkel won a seat in Germany's lower house. Merkel became a fast emerging star when the party's leader made her his dependent.
• In 1991, due to Kohl's support, her party leader, she was elected the deputy party leader.
• In 1994, she became the minister for environment and reactor safety and two weeks later she was elected as the secretary-general of CDU.
• In 2000, she eventually became the first woman in the history of the nation to lead the party.
• In November 2005, she became the chancellor of Germany after an alliance between her and Schroder.
• In 2009, she was sworn in for a second term as the first female chancellor of Germany.
• Barack Obama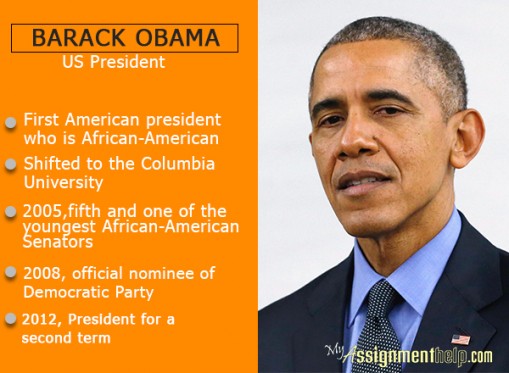 • He is the first American president who is African-American.
• At the age of ten, he went to an esteemed private academy, called the Punahou School and he was even involved with drugs like marijuana and cocaine for a while.
• Obama went to the Occidental College in Los Angeles after graduating from Panhou and decided to become more focused about studies.
• He shifted to the Columbia University in New York City midway.
• He pursued his undergraduate degree in political science
• In the meantime, he worked at a few organizations and eventually went to the Harvard Law School, which was one of the top three law schools in the US.
• After graduation, even though he got offers with starting salary of $100,000 a year he decided to return to Chicago. He wanted to start his political career from Chicago.
• When Obama won the elections in 1996, he became a member of the Senate chambers in Springfield.
• In 2000 he made his first proposition for the US congress to book a seat in the US House of Representatives.
• In 2005, in the history of the US, Obama became the fifth and one of the youngest African-American Senators.
• In February 2007, he took the world by surprise when he announced himself as a candidate for the Democratic presidential nomination to be held on 2008.
• On June 2008, he was announced as the official nominee of Democratic Party after a firm battle with Hillary Clinton.
• On November 2008, winning by 52.9%, Barack Obama became the 44th president of the US.
• In 2010, he gave his first State of the Union speech.
• In 2012, he was re-installed as the President for a second term and he received more than five million votes against his Republican opponent Mitt Romney.
• Lord Pope Francis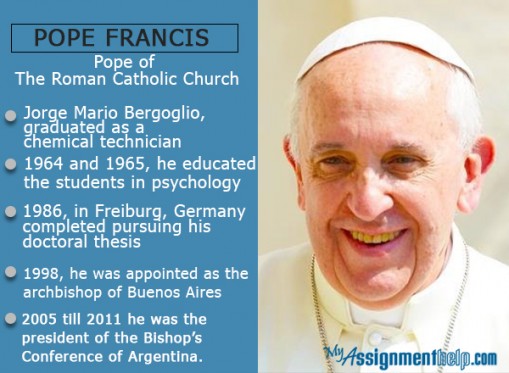 • Jorge Mario Bergoglio, graduated as a chemical technician from a technical school.
• After graduation he started his preparation at the Diocesan Seminary of Villa Devoto.
• On March of 1958, he took the initiative to enter the novitiate of the Society of Jesus.
• In 1964 and 1965, he educated the students in psychology and literature in Santa Fe's Immaculate Conception College.
• In 1966, the same subjects were taught by him at Colegio del Salvatore in Buenos Aires.
• From 1967-70, he pursued his grade from the Colegio of San Jose in theology.
• In 1986, in Freiburg, Germany, he completed pursuing his doctoral thesis in theology.
• Despite of his mother's initial disapproval of his decision to entering into priesthood, Bergoglio was named as Auca's titular bishop and support of Buenos Aires. A week later he was designed into that post.
• In 1998, he was appointed as the archbishop of Buenos Aires.
• In 2001, he was named as the fundamental priest of Saint Robert Bellarmino.
• From 2005 till 2011 he was the president of the Bishop's Conference of Argentina.
• Jorge Bergoglio secured his position as the 226th Pope of the Roman Catholic Church on March 13, 2013.
• On July 22, 2013, he made his first international visit by arriving at GIG airport, in Brazil.
• He was one of the nominees for the Nobel Peace Prize in 2014.
• Xi Jinping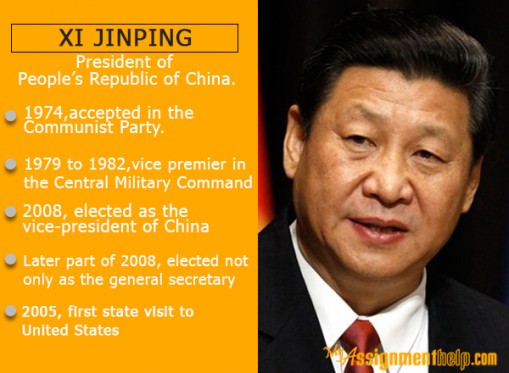 • One of the top leaders in the Communist Party as well as the president of China is Xi Jinping.
• When Communist China's was established by Mao Zedong and the Cultural Revolution broke out, Xi Jinping's education was suddenly cut short and he was sent to a remote farming village for seven years.
• In that village, Jenping had to perform labor-intensive chores and managed to survive on rice gruel.
• In 1974, after many failed attempts, he was eventually accepted in the Communist Party.
• He earned a degree in chemical engineering in 1979, after studying at Beijing's Tsinghua University.
• In the meantime, between 1979 to 1982, he served as the vice premier in the Central Military Command and gained much beneficial experience from it.
• From 1983 to 2007, in four provinces including Hebei, he served in the leadership position.
• In 2007 he not only became the governor of Zhejiang and Fujian but he also became the party secretary.
• In 2008 he became an even more prominent figure by being elected as the vice-president of China and by receiving the huge responsibility of being in charge of the Summer Olympics in Beijing.
• In the later part of 2008, he was elected not only as the general secretary, i.e. the GS of the Communist Party but also the chairperson of Central Military Commission.
• Jinping's ascent to the peak of success eventually occurred on March 14, 2013 when he was elected by the people of the People's Republic of China as it's president.
• He made his first state visit in 2005, to the United States, where he addressed the general assembly of the UN.
What are the life purposes of the most successful people and what can you learn from them?
So do you feel inspired after having read the enormous list of achievements made by the 5 most successful people of the world today? Do you want to know what their life purposes are?
• One of the initial steps towards success is to prepare yourself to face any challenge.
• Life tests your endurance at every test, and the more steady you keep your mind, the greater the chances of gaining success.
• Turn your weakness into your strength and polish your skills further to identify your best qualities.
• People striving to become successful keep themselves away from all those things that can act as a distracter.
• Life is all about taking risks. You need to calculate the pros and cons and take risks in life.
• If you have a positive mindset nothing can stop you from becoming successful.
• Walking towards the path of success does not mean abandoning the important relationships in life. Success is not only professional but also personal.
All the successful people in the world were just ordinary like you at one point. But they were determined and dedicated and they identified their field of interest and sharpened their skills in that particular discipline. They did not let success get into their head and strived towards perfection every single day. The secret to being successful is being successful, but keeping in mind the fact that there is always room for improvement.
MyAssignmenthelp.com is the Best Assignment Writing Service for solving all Assignment related Dilemmas
We provide high quality material for essays, dissertation, term papers and research papers. Our service is proficient in providing high quality essays in every academic field. After precise and in-depth planning our experienced writers construct essay from scratch. In an affordable price, we provide absolutely original content, free from plagiarism. We are an in-house team of 3000+ academic experts from US, UK and Australia. We provide assignments in 100+ subjects which are flawless. Free revisions are made till the time you are satisfied. We provide assignments much before the stipulated time.
The assignments are prepared by PhD qualified writers who have considerable understanding of the subject. All of the assignments writers are renowned professors, lecturers and industry practitioners.
In case of any queries on your part, our relationship manager will contact you back to resolve them. We guarantee privacy and your identity remains secured with us. If you are apprehensive about payment options, we assure that payments are made only through Paypal and bank which are absolutely secure. In case you are wondering about the status of your assignment, you will get free SMS updates on your phone.
Was this article helpful?
YesNo