With the general elections of UK scheduled in May, prominent political parties have intensified their election campaigning. During one such campaigning, Liberal Democrat leader Nick Clegg attacked Michael Gove, one of the most influential Conservative leaders, for his educational policies. Clegg accused Gove of 'misusing' educational system of UK for political gains.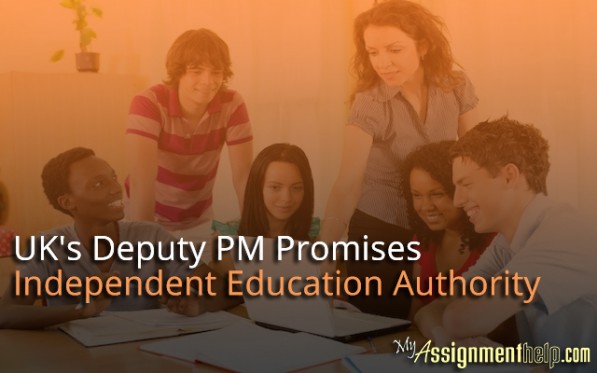 Clegg, who is the incumbent deputy Prime Minister of UK, is known as a vocal critic who holds firm and sturdy opinions in every matter. Recently, during a visit to a school — St Austell and Newquay — at Cornwall, Clegg criticized Gove's tenure as an education secretary. Clegg said that he wants to "keep politics out of the classroom". He promised to develop a comprehensive plan to block every micro intervention by the ministers. He opined that these unwanted interventions had detrimental effects on the independence of education system in UK.
The political rivalry between Clegg and Gove is not new. Clegg has always been critical of the new policies that were initiated by Gove as the educational secretary. One of the close aides of Clegg described these policies as 'sudden whims' of Gove which had no significance in the rational world.
Clegg claimed that the Liberal Democratic Party had designed an education policy which would substitute the present "farcical situation". He proposed to make an independent body which would design the curriculum and set the examination standards in each subject. This autonomous body would comprise of academic experts and renowned professors who had profound knowledge about the British curriculum. A party spokesperson commented that this body would be known as the Educational Standards Authority. He claimed that only a small portion of the educational funding was enough to establish this prospective body. The Conservatives, however, rejected this type of "bureaucratic body" and said that the decisive powers should remain within the hands of the elected people.
Other than the formation of this independent educational board, Clegg also highlighted other four important measures which his party would take if it comes to power. They are as follows:
Increase the education budget to protect the per pupil education spending in real terms.
Qualified Teacher Status (QTS) for all the teachers who are working in state-funded schools by the end of September 2016.
Establish a Royal College of Professors and Teachers to oversee the QTS and professional development of the teachers.
Establish a National Leadership Institute to promote the quality of learning in the most deprived areas.
Clegg told that he was proud of the amount of work done in the last five years but he also expressed his concern about the areas that needed improvement. Liberal Democrats are expected to perform better this time. They have also guaranteed to involve more investment in education by the year 2020 in comparison to what the Labour Party and the Conservative have promised to the people.
MyAssignmenthelp.com provides the best online educational assistance in UK
With countless satisfied customers, MyAssignmenthelp.com has evolved as the most popular online assignment assistance provider in UK. A team of 3000 plus PhD qualified professionals is competent enough to provide impeccable coursework in any subject. From Business Law assignments to Computer Programming cases, our experts are proficient in every field.
So, if you are stuck with your assignments, essays, dissertations or case studies, just log in to our website and receive the best quality write-ups without any hassles.
Was this article helpful?
YesNo