With the Oscar season round the corner, we're sure you're binge-watching the movies you missed out on last year. While some amazing films have made the cut for the awards such as La La Land, Hacksaw Ridge and Manchester By The Sea to name a few, we suggest that you take a little break from this list.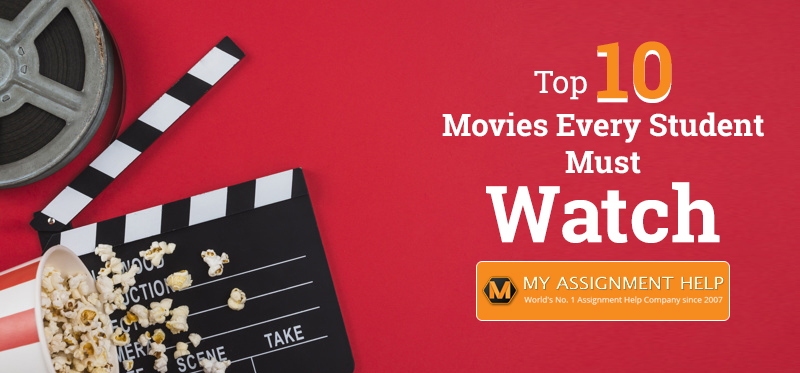 No, we're not telling you to take a break and go study. We just want you to divert your attention to some of other student-centric Oscar winners of yore (and some who didn't bag the golden statuette). These movies are a must-watch if your current status is that of a student. And even if you're not one, watch these to relive the nostalgia of those magical days because student days will forever be the best days of your life.
Statutory Warning: Some of these movies are going to be absolute tear-jerkers so keep your tissues ready. However, we promise there'll be a few in there to make you laugh as well. Without further ado, let's get started.
1. Dead Poets Society
The number one on our list is the amazingly inspiring Dead Poets Society. Once you've seen it, you'll never be able to forget John Keating's (aka the late Robin Williams) legendary and moving rendition of Walt Whitman's famous poem 'Oh Captain! My Captan!' This timeless movie is about a teacher whose sole purpose is to motivate his students to flow against the tides of the status quo and live with their heads held high. It comes as no surprise that the movie won the Oscar for the best Original Screenplay in the year 1990.
Fun To Know: Since most of the actors of this movie were also students in real life, the director, Peter Weir, put the four leads in a room together so that they could bond.
2. Mona Lisa Smile
This is like the feminist version of Dead Poets Society. Starring the stunning Julia Roberts as the central lead, the movie is set in an all-female school in a 1950s America. Roberts, much like Williams in the Dead Poets Society, is a non-conformist and a teacher who tries to inspire her students to fight for their rights. She encourages them to break out of the mould that society has shaped women into. Watch it if you, like us, believe that school is not a place where girls are groomed for marriage.
Fun To Know: We all know Roberts is a dedicated actress. And to prepare for this film, she regularly shadowed history classes at the New York University.
3. Spirited Away
Next on our list is a coming of age, animated flick beautifully entitled, Spirited Away. This anime fantasy is about a young girl Chihiro who's traveling with her parents when they come across an old and dilapidated amusement park. Chihiro's parents get caught in the supernatural world of the park, and it is up to her to free them from this mess. How Chihiro grows from an immature and lost girl into a patient person who'll do anything to save her family is awe-inspiring. Spirited Away had won the Academy Award for the best animated feature film in the year 2002.
Fun To Know: In a particular scene in the movie, Chihiro had to force-feed medicines to a dragon. To enact that scene in an animated form, the director of the movie made his animators analyze the eating pattern of a dog while his lower jaw was held by a vet.
4. Good Will Hunting
How can a movie list exist without this cult classic? Matt Damon portrays the central character of Will Hunting: a boy genius who doesn't give a damn about school and prefers chilling with his friends instead. He even takes up a janitor's job at MIT because he can't stand attending classes. But that changes when he solves a complex math problem and then decides to pursue higher studies while being in therapy to help overcome certain issues. Good Will Hunting is an Oscar winner as well, getting the statuette for the best original screenplay.
Fun To Know: Matt Damon loves this movie so much that he calls it his personal favorite of all time, with his second favorite being The Talented Mr. Ripley.
5. 10 Things I Hate About You
Let's face it. No student's life is quite complete without romance. And there's no better romantic movie to celebrate teenage love than 10 Things I Hate About You. Inspired by Shakespeare's drama, The Taming of the Shrew, this movie focuses on the love-hate relationship between the good girl and the bad boy. Full of some super sweet moments, we suggest you watch this movie with your bae on a date night.
Fun To Know: We bet most of you didn't know that 10 Things I Hate About You is, Heath Ledger, the Australia-born actor's, first American film.
6. Freedom Writers
Here's an interesting one that's quite different from the rest. While you can contradict us by saying that this movie too focuses on a teacher inspiring her students to do better in life, there's a twist. A play on the phrase 'freedom fighters,' Hillary Swank brilliantly portrays the role of a fearless teacher in this movie, who despite being a mentor to a divided group of troubled kids, encourages them to pursue higher studies no matter the odds.
Fun To Know: In this movie, there's a scene where the teacher takes the kids to a Holocaust museum, after which they hit a hotel for food. There they encounter Holocaust survivors. All the people shown in this scene are actually real survivors of the Holocaust.
7. Boyhood
This one was nominated for the best motion picture 2015, but it lost out by a whisker to Birdman. However, Patricia Arquette did win the best supporting actress Oscar for this movie. Boyhood is an emotional journey, capturing the wonder years of a boy called Mason (played by Ellar Coltrane) right up till the moment he becomes a freshman in college. It deals with the ordeals of growing up, portraying every stage of childhood and teenage.
Fun To Know: Boyhood was actually shot over a period of 12 years. Ellar Coltrane was 7 when he started work on this movie, and by the time it was over, he had grown up to be 19.
8. The Great Debaters
If you've been lacking some inspiration to study lately, give this one a shot. The Great Debaters is not your average teacher-motivates-student movie. It's a biography based on the true story of the Wiley College Debate Team, one of the oldest African-American colleges in the history of America. Prof. Melvin B. Tolson, played by Denzel Washington, works hard and stirs his students to boldly form the first all-black debate team in the history of the country. Eventually, this team beats the Harvard University team to emerge as the champions. The movie openly promotes racial tolerance which is probably needed in the Trump era we are under. While it may not have won any Oscars, the movie got several NAACP Image Awards and BET Awards.
Fun To Know: No movies had been shot at Harvard since 1979. The Great Debaters finally broke the spell and is the first one to be shot on campus in 2007. 
9. Fast Times At Ridgemont High
A list like this would be incomplete without one of those teenage comedies. While there are many recent ones out there such as American Pie, Mean Girls or Superbad, our pick is the one that kick-started this genre of movie. Fast Times At Ridgemont High is more of a satire than a comedy, exploring teenage issues such as sexuality at adolescence, a general sense of rebellion and unplanned pregnancy. However, all's well that ends well, and this movie has a somewhat happy yet realistic ending.
Fun To Know: Sean Penn, one of the several stars of this movie, played the iconic character, Spicoli. He got so much into this character that he put the label of Spicoli on his dressing room and answered only to the call of Spicoli.
10. The Theory of Everything
The Theory of Everything will teach you how to make your dreams come true despite the odds stacked against you. A chronicle of the extremely inspiring story of the world-famous scientist, Stephen Hawking, this movie depicts his difficult journey right to the top. Hawking never quit studying despite being diagnosed with motor neuron disease. He continued pushing his mind beyond its limit to become what he is today. Eddie Redmayne was so convincing in his portrayal of the legendary science genius that he ended up winning the best actor Oscar for it.
Fun To Know: Stephen Hawking was very impressed with Eddie Redmayne's performance. So much so that he emailed the director of the movie, James Marsh, and told him he felt as he was watching himself on the silver screen. 
Special Mention: The Harry Potter and High School Musical Series
The Harry Potter series, even though it presents a school of witchcraft and wizardry, still manages to capture student life in all its glory and all its darkness in the best possible manner. You have fights with best friends, pranks, love stories, enmities, sports, examination and everything else in between that student life is all about. Go on a marathon session and watch all eight parts together if you can. This is one series that will transport you to another world and yet be able to teach you all the essential student values.
And if you want something more realistic and relatable, watch High School Musical. This is a heartwarming series of the small struggles of student life packed with some hum-worthy tunes that'll keep playing in your mind all day long. However, once the series is over, you would've learned everything about friendship and love during student years.
Well, this was our list of the movies we believe you should watch if you're a student. Sure there are other movies too such as Mean Girls, School of Rock, To Sir With Love, The Breakfast Club and many more. But we recommend you start with these and then move on to the rest.
Happy watching!
On A Movie Marathon Session With No Time Left For Your Assignment? MyAssignmenthelp.com Will Do It For You
It's the Oscar season so we really can't blame you for watching movies back to back. However, your assignment is equally important. And if you forgot all about it or have no time left to do it, you must contact MyAssignmenthelp.com immediately. We'll do your assignment at the most affordable rate without compromising on quality. We have a team of 3000+ PhD writers who always succeed in writing plagiarism-free papers even on the hardest of topics. We provide services for over 100 subjects so call us on +61340000033 if you want our help.
Was this article helpful?
YesNo