There's only one war that matters to students – Exams. And it is here! Are you going to fall on your knees or defeat your enemy on the battleground? This is yet to be known. But your bigger concern now is to respond to the messages that your friends and family are showering you with. You have trails of unanswered messages from your mother and BFF asking about the exam preparation. And you are not sure how to reply them. We know it's not easy to ignore them. So take a deep breath and do a little exercise with us.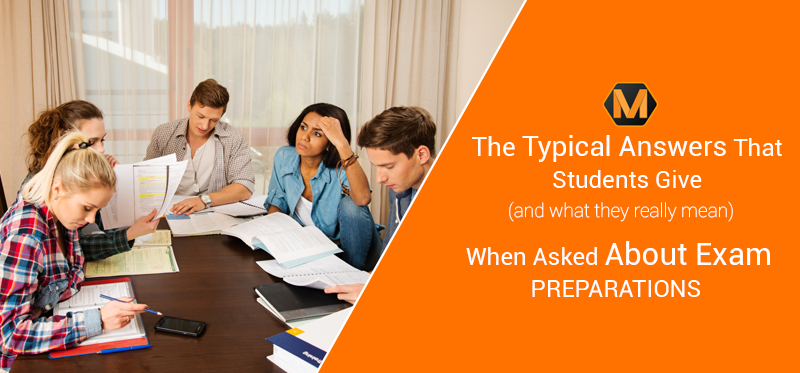 Note: We are not asking you to lie, just to stretch the truth a little bit to reassure family and friends.
I have been studying 6-7 hours a day
Your mother has been worrying about how's your preparation coming up. You can assure her that every day you are taking 6-7 hours to fill your brain with study material.
In reality: Whenever I sit to study, I remember all important stuff
Yes, important things like watching your favorite TV series for 2 hours, taking a nap for an hour, cleaning the toilet that you never do or doing exercise to keep your mind and body healthy.
I have completed the chapter and about to take the practice exam
We all hate that classmate who keeps on enquiring whether you have completed the 'blah blah' chapter. You know he or she is not concerned about the preparation, he or she wants to know how much progress you have made. So, give the answer that they don't. Tell them you have completed the chapter and moving on to the next.
In reality: I have not done even a single bit
You don't even know what chapter that fellow is talking about and which subject that belongs to. The best way to clear your doubt is to Google the term, that way you can save yourself from awkwardness.
Sorry, buddy I need to finish that chapter today!
That should be the answer when your BFF asks you to meet up. No matter how gutted you are, you have to do it. Or else, he or she might think you are not studying. Alternatively, this can put an end to endless invitations from your BFF as you need some time alone for preparations.
In reality: I can play video games to kill the time
You have all day to spend. And you cannot study all day. That will be stupid. You need something to get your mind off from the boring study material. Sometimes, all you need is some distraction to get back to the real work.
Yes, that was so hard, taken me a few hours to understand
And here comes the brainy one who talks some alien language that you have never heard about. It is hard to reply the question 'how have you have managed to learn that chapter' when you have no idea what they are talking about. But don't give up, look confident and reassure them that it was the hardest chapter you have come across.
In reality: I have no clue what you are saying
You desperately need subtitles because things they are talking about have not been introduced to you. You just have started and know fewer terms that are in the first chapters of the textbook. So understanding the advanced terms would be too much for you.
Norris, I have not really got the theory yet!
When your teacher throws up a surprise discussion session at you! Your teacher comes in and starts asking about how you guys taking the preparation for the exam and decides to have a question-answer round. That is really scary and awkward when you are exposed in front of the whole class. So it is better you behave like a curious one. Teachers always like that lot.
In reality: what subject it belongs to?
When your teacher tries her best to explain the theory that she has already described to the class, you stress your brain nerves and try to remember where you have heard that word or have you ever heard that word in your entire life. It is good if you get that answer, or else you have Google.
Stay cool, it will be over soon!
You reassure your family members when they get anxious about your performance in the exam. They fear that you will experience stress and nervousness, which will restrain you from performing in the exam. You assure them you are doing good, utilizing your time wisely in preparing for the exam and happy about the performance so far. We are sure they will buy it.
In reality: I am not going to survive this!
You have given up already. As you have tried studying for hours, you realized there's a sea of information you need to swim through before exam strikes you. And that is now impossible for you because you have lost too much time. You can see no ray of hope. Only some miracle will save you this time.
I think I will do well in the exams
Now, coming to the universal question that every student has to face – 'how you are going to fare in the exams?' This can be your friend, overanxious mother, suspicious teacher or irritating classmate. No matter who it is, you reassure them you are confident about doing well in the exam.
In reality: When exactly will the exam start?
When someone tells you about the exam, the first thing that strikes your mind is when does it begin? So you can revise the existing plans for good or make plans if you don't have any so far. At least you are thinking about exams, not anything else. You are forming a foundation so you are ready to get to work, whenever that is.
So remember these answers! Hush-hush now, it is our little secret. Don't let anyone know about this. Now go on, do your exam preparation!
Exams are nearing and you still have assignments to complete? Let experts of MyAssignmenthelp.com do the task for you as you prepare for the exams
It is that time of the year again when you drown yourself in the book and cannot see the daylight. The exam is around the corner and you have not started preparing yet because you still have the assignment burden on you. You need to accomplish those due tasks in order to complete coursework. And that is where MyAssignmenthelp.com comes into the picture. We have a team of highly qualified and skilled experts who are dedicated to helping students in their needed moments. All they have to do is convey their requirements and let our experts do the rest for you. In the end, they receive completed assignment in their accounts.
Quality, affordability and professionalism are three pillars of our services. In order to keep up the quality of delivered papers, we have assembled a quality management team. When it comes to affordability, we provide assignment help at the lowest price. But it does not mean, we compromise with the quality to provide cheap academic assistance. It is our guarantee that all our customers will receive top-quality expertly written paper. We never make false promises. This is why we are acknowledged as the most reputed assignment help provider.
Benefits of availing of our services:
Place an order and get rid of all tension of producing an assignment paper right before the exam.
Was this article helpful?
YesNo