We love to reflect every time we get a chance. You may think about certain things that have happened, why they happened, and whether you handled it well or not. In a reflective essay, you need to formalise your reflections to help your readers learn something new.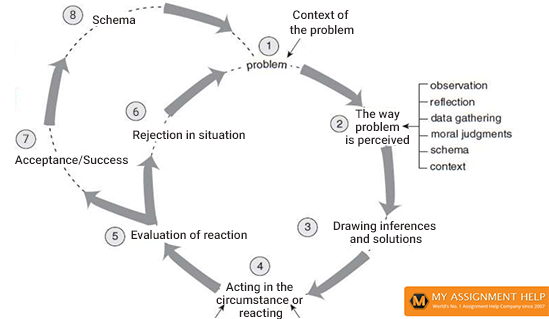 Give this blog a read and make things 10X simpler for you.
Writing a reflective essay: An overview
Writing a reflective essay can be quite a task for many students. Before learning how to write a reflective essay, it important to know what a reflective essay is. The image given below will help you to understand the components of a stellar essay.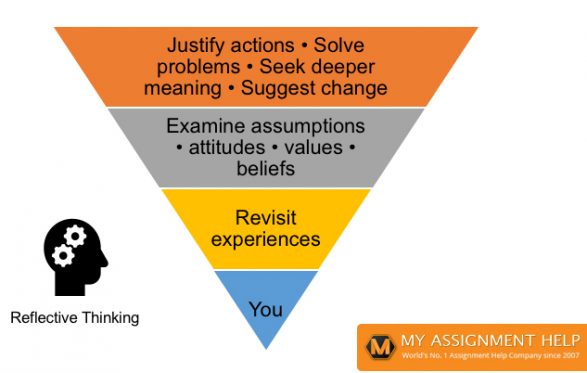 A reflective essay is evidence of your reflective thinking. Your essay can be based on anything, such as:
Looking back at an event that has profound importance in your life.
Thinking carefully about the event that took place.
Analysing the event in depth and forming unique perspectives about it.
A reflective essay is more personal than any other forms of essay. You need to pen down your everyday thoughts in a storytelling format. Check out the easy and simple tricks to nail your reflective essay like a pro.
How To Write A Reflection Paper?
No matter what your reflective essay topics are, make sure it interrogates your learning and demonstrates the ability to apply conceptual processes and other theories to your practice. Whether you aspire to become a health specialist or an engineer, you will be expected to be a reflective practitioner.
How to write a reflective essay:
The basic elements of a reflective essay include:
Demonstration of your familiarity with relevant literature
Critical evaluation of the existing sources
A deeper meaning to your reflections
Different aspects of your perspectives that are relevant to the topic
Now that you know what your reflective essay should consist of, let us begin with the tips.
1.Keep your notes close at hand
I always suggest my students keep a journal and record interesting things that happen in your life. It's okay if you are not a good essay writer. Just keep on writing. Practise will eventually make you perfect. The notes will help you provide valuable examples in the paper. Your professors love examples in reflective essays. Try to reflect on your examples as you go. This will help you create unique perspectives easily on different events.
Let's say you had a funny encounter with a stranger when you went for mountain climbing. Suppose your reflective essay topic is, 'The day when you want mountain climbing.' Just imagine the quality of your write-up when you can include the real incident that actually happened with you. Examples will help you score high grades, even if your writing quality is average. Make your professors think that you have really worked hard on this essay.
2.Choose an interesting topic
At times, your professors may give you certain reflective essay topics for the semester. Now what to do if you are asked to choose a topic on your own? Well, you can brainstorm. You need to brainstorm every topic or problem that interests you in your discipline. Make a list of the topics and ask for a recommendation from your professors. Just make sure you have enough sources or experience to write on that topic.
10 Reflective essay topics:
The night I lost my temper with my parents
When were you discouraged by something you said?
Describe the moment when your parents felt proud of you
Have your parents ever punished you unfairly?
Describe the moment when someone special comforted you in your time of sorrow?
What do you remember about your childhood friends?
Who is always there for you in your family?
Did you ever help someone in need?
Describe an unforgettable family reunion
A horrible house party
Imagine you have picked a topic 'Smelling a rare flower' for your essay. But, you neither have sources nor real life experience to describe the topic. Result? A panic attack when you sit to write the essay. You can avoid this scenario if you choose the topic that you have some real-life experience with or if it has enough sources on the Internet.
3. Follow relevant literature
Okay, here is some bad news for you. You can't just pick a topic because you can relate one incident that has occurred to you relevant to that topic. It is crucial for you to choose a journal of books and articles. The books, journals and articles will let you get familiar with the most relevant and credible literature on the subject. Your essay should not remind anyone of the stone age. They must relate to it.
Say you have chosen a topic 'Out in the Woods' for your reflective paper. It must be about your experience in nature and your reflective thoughts about it. Collect as many resources as you can. Pick your favourite poet or author and read their biographies to come up with relevant facts. Find out existing theories that can help you enhance the quality of your essay.
4. Research deep
Remember that a reflective essay is about day-to-day experiences. You need to go beyond mere descriptions and use the critical thinking model. This model will help you develop a deeper analysis of things that happened around you. You must also limit descriptions to the elements that need reflective comment. The essay should be planned beforehand.
Here is an example:
My experience of working as a historical film's assistant director has shaken my faith in history. I realised that history is just a mere objective and a detached record of the past. I spent a lot of time getting angry and writing frustrating rants in my journal because the elements of subjectivity challenged my urge to convey the truth. After reading Rosenstone's work on a history film, I realised that I could have done way better with a more open mind.
5. Brainstorm and write experiences
As shown in the above example, you can write and brainstorm about your critical assessment of experiences. But, that doesn't mean that you can imply the negatives. You are allowed to question your choices. At the same time, you need to stand back, consider alternative perspectives and demonstrate how and what you can learn from the experience.
Check out this example:
While completing my first term at a reputed University in the United States, I was able to benefit myself from a lot of things. Initially, time management was the biggest hurdle for me. Being a procrastinator, I started working on assignments just before the due date. At times, I failed to submit the paper on time. Other times, I wasted time by messing with the Internet. With time, I worked on my daily schedule and got over procrastination really well. I am glad I could manage it finally by the end of the semester.
Address the following questions in write-up and during brainstorming
Why the event or topic is important for you?
How you were involved in the event?
Why can the experience be considered unique?
How did others who were there experience the same event?
Where your perspective of the event differed from others?
What you could have done better or different in the sphere?
Was this something similar to what you have experienced earlier?. Cite facts.
What skills did you acquire?
How would you apply your learnings from the event?
How the event shaped your views?
How emotionally intense was the event?
Parts of a Reflective Paper
 Introduction: It should contain a thesis statement that would act as pivot for the whole paper. The rest of the paper should be dealing with the thesis statement , supported by evidence. You need to introduce the topic in 5-10 sentences of the first paragraph. Always introduce in first person.
3 paragraph body : Describe each part of your topic in a paragraph. Take unique slants and perspectives while reflecting on the topic. That ensures your reflection is genuine and class apart. Support all the refelctive points with instances and evidences.
The Who, Why, When, Which, What and How
( 4Ws and 1H of Reflective Essays)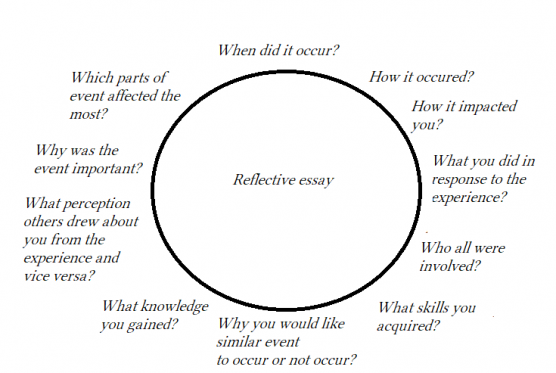 Conclusion: In the conclusion part , discuss how the event shaped your life, what experiences or knowledge from the event you found useful. This has to be done after a very brief recap of the highlights of the essay.
Hopefully, these tips will help you write a proper reflective essay without any stress. Keep an open mind about what you learn from your experiences. Everything doesn't have to be useful. But, you can always demonstrate a sense of journey that you have gained in the experience. Good Luck!
Need Help With Your Reflective Essay? Visit MyAssignmenthelp.com
MyAssignmenthelp.com is the epitome of perfection. We have a special team of writers who have expertise in writing reflective essays. No matter what your topic is, we will fill the paper up with valuable details, credible sources and emotions. We make sure your readers understand the depth of the paper and give you an A+ immediately. Apart from an A+, you can also enjoy:
Cheap service packages
Attractive discounts
On-time submissions
Referral points and loyalty rewards
Round the clock availability
Live chat response
What are you waiting for? We have the right experts to take care of your reflective essays. Just ask them "how to write reflective essay"?
Was this article helpful?
YesNo