Adult Education in England is likely to disappear by the end of 2020 as warned by the college leaders. More than 190,000-course places will wipe out by the end of 2015/2016 itself due to continued cuts in adult skills funding, a research published by AoC (Association of Colleges) has revealed.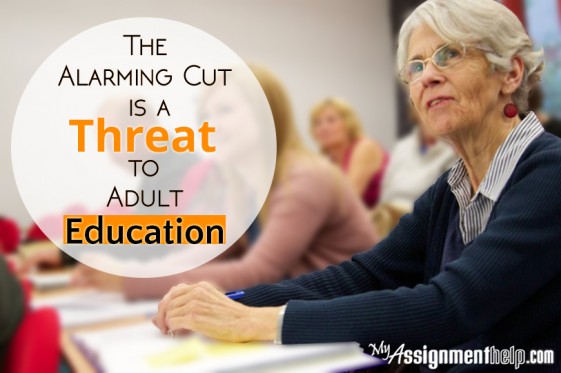 According to Martin Doel, the chief executive of AoC, adult education and training was being decimated at a fast pace. These cuts would result in an end of the vital courses that provide skilled employees for the workforce such as social care workers and nurses. He concluded that the decimation of adult education and training was a big loss for both the individuals and wider economy.
So what are the reasons behind such a drastic funding slash?
The University and College Union (UCU) have made an active participation in the argument giving alarming verdicts on the issue. Sally Hunt, the UCU General Secretary,  states that there are a number of students who do not need or want to study an apprenticeship; however colleges are being forced to prioritize these courses  over adult learning.
She further added that this approach of the government would shut the doors for thousands of people who wanted to utilize adult education as a spring board for improvement of their skills.
The AoC produced a realistic analysis of the petrifying impact of budget trends in adult education. Let's have a look on the verdict produced by Professor Ewart Keep, HOD of Education at Oxford University.
According to Ewart, cumulative cuts and reductions of such magnitude would raise the prospect of adult education to a tipping point, making it difficult for recovery. Colleges, having strong focus on adult learners, would either go out of business or would impart their attention on younger candidates, like pre-19 students, he added.
We would throw some light on the take of David Hughes on this particular issue as well. The chief executive of National Institute of Adult Continuing Education pinpointed that funding cuts on adult education since 2010 had disappeared more than one million opportunities so far.
In contrary to this, the AoC rightly sets out that more cuts will completely dissipate the opportunities.
On analyzing the fact, we have come across the two big challenges faced by businesses. First is the skills shortage and low productivity, particularly at intermediate levels. The second is threat to people willing to work beyond the retirement age subsequently reducing the need for re-training.
As a whole, we reach a reasonable conclusion that funding cuts will hit people who want to work hard for their living. It is indeed a great menace to the economic and social growth of businesses. Exhaustive budget cut is an advance threat to the next government which will need to implement strategic plans to improve the skills of retired or unemployed learners. This is why in response to the AoC survey, the government has prioritized the total funding on areas that have maximum impact such as apprenticeship, traineeship and support with Mathematics and English.
Why MyAssignmenthelp.com is the desirable platform for all?
It is difficult to wrap up several tasks simultaneously; a little help from MyAsssignmenthelp.com may work wonder for you in this regard. You may need to prepare physics assignment, write a law paper or review a dissertation all at one go. These situations may happen too often in your academic life; however the best way to combat the situation is by taking professional online assignment writing help.
Perhaps you are unaware of the various beneficial aspects of online essay help from MyAssignmenthelp.com. I will get you through them in a comprehensive manner.
Get customized essay help written from the scratch
Punctual delivery with no unexpected delay
Round the clock assistance and doubt clearing sessions
Affordable rates, special discounts and loyalty incentives.
Was this article helpful?
YesNo