Nearing your high school or university graduation? You must have heard the term 'capstone project' being thrown around a lot, and grumbled. Another project you have to do; as if the multiple others you had to do weren't enough already. Well, the thing is that a capstone project is not your average project. While you may feel a sense of futility when doing the rest of your assignments, you won't be getting that feeling when do your capstone project. This is because this assignment actually has a strong purpose.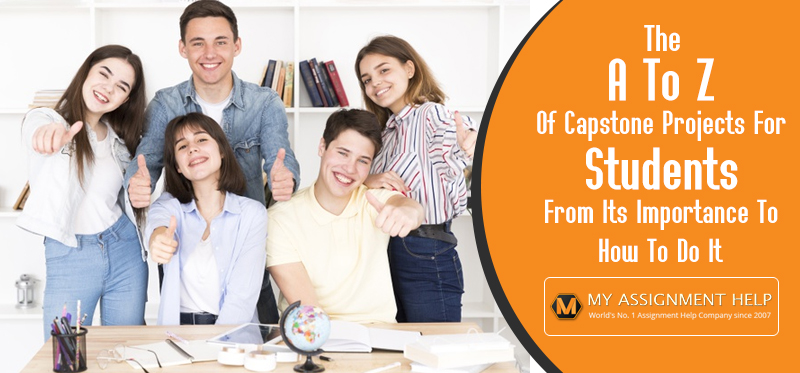 What Is A Capstone Project? 
A capstone project, also commonly referred to as a culminating project, a capstone experience or even a senior exhibition is a kind of project that you are assigned when you're in the final year of your high school or your graduation (even post-graduation in some cases). This assignment is multifaceted in its nature and is meant to serve as a culmination of your academic experience. You can almost call it a cousin of the thesis due to the similarities they possess. However, a capstone project is still more than a research paper.
It's kind of a long-term project that is investigative in nature. They are also kind of experiential in the sense that you are supposed to encapsulate your entire academic experience in this project rather than just present your research and your viewpoint on a particular topic. That is not to say that capstone projects are devoid of topics and just an account of your personal experience. What you need to do is apply whatever you've learned throughout those years to a specific idea or topic.
Why is it called 'Capstone'?
Well, the philosophy behind it is quite simple and interesting as well. A capstone, in architectural terms, is the final stone that is laid right on top of a concrete structure to symbolize the completion of the said structure. Apply that to academics, and capstone project becomes the final stone in the path of your education, signifying its successful end.
Why is a Capstone Project Important?
The entire purpose of a capstone project is career advancement. This project has been designed to prepare you for future challenges that come across in your career. In fact, even the topics you are assigned (or even the ones you choose for yourself) are meant to help you analyze real-life problems so that you can find out suitable solutions for them, thereby adding to your wisdom, knowledge and problem-solving skills.
A capstone project can also expose you to the latest trends in your field as you will have to carry out extensive research to come up with the solution of the problem you intend to address in your paper. This project can teach you to think critically and analyze the concerned problem from each and every angle so that you can view it objectively. This, in turn, can help boost your reasoning skills too. Besides, if you do well in a capstone project, you get the chance to build up a very impressive CV.
Which Academic Disciplines require you to do a Capstone Project?
If you have been assigned a capstone project at the high school level, then you will have to do it irrespective of the stream you are in. At the graduate or post graduate level though, capstone projects are mostly assigned to students who have taken up subjects such as public administration, social services, liberal arts and mass communication. The reason behind this is that these courses are vocation-oriented and hence, students need to be tested for their ability to apply theory to practical situations.
What are the Different Types of Capstone Project?
Capstone projects are of many types, and your school/university has the authority over deciding which type of project you are assigned. Some of the common types of capstone projects include the following –
Case studies
Outcome-based evaluation
Program evaluations
Focus groups
Surveys etc.
There can be other kinds too depending on what your school or university prefers. However, program evaluations and case studies are the commonest forms, at least in terms of assignment writing.
As for the non-assignment based ones, these include:
Writing or directing a public service announcement that airs on a television channel
Designing a product that helps abate a real-life problem and building that product up
Doing an internship at an NGO or other non-profit organizations in order to gain knowledge about policies and strategies that have been devised to address social problems such as homelessness or poverty
Carrying out scientific research over a long period of time to discover the impact of environmental change.
Business research can also be a part of this. You should consult with your assessors to find out what you will be assigned.
What are the Steps students need to take to do a Capstone Project?
Irrespective of the form of the capstone project you have been assigned, you will have to take certain steps to complete your project. In this section, we will discuss the important steps you need to take.
Step #1: Choose a topic
Whether you have been asked to write an assignment or make an ad film or anything else, you will have to pick a topic. But be wise when choosing one. Experts suggest that you do not choose topics which involve the analysis of statistical data as well as of complex concepts and ideas that are too hard to fathom for the readers. Instead, you should choose topics that focus on real life situations and one that involves the application of a specific principle that you learned during your course.
Step #2: Submit your proposal
Once your fix on a topic, you will have to come up with a proposal and submit it to your supervisor, or advisor. Yes, much like the thesis or the dissertation, you have an advisor for your capstone project too. Your proposal should be nearly 40 pages long, and it should adequately introduce the topic you have chosen. You will also have to state the pre-existing theories on your topic as well as your own hypothesis in this proposal. The sections of literature review and methodology will also be a part of it. You should also try to make an alternative proposal in case this one is rejected.
Step #3: Start working on your capstone project
If your proposal gets accepted, you should start working on your capstone project immediately. You may have to conduct a little bit more research than you already have. Start writing/filming/interning immediately as well as finishing a capstone project will take a very long time. This is because these projects can be listed as courses in the academic catalog of your school/university's academic catalog, and you will have to devote a semester to a year to it.
Handy Tips and Tricks for your Capstone Project
In the last section of this blog, we will present to you a handful of tips and tricks that can help you when you start doing your capstone project. Let's take a look at these handy hacks.
Learn to manage your time
Your capstone project, as you know is a long-term one, so it may become very easy to get frustrated with it. This is why you need to manage your time wisely. Devote small portions of your time to it each day or spend long hours pouring over it during the weekend. Do not, in any case, try to finish it at the last moment as that you would ruin your project and have a negative impact on your career. This is why it is important that you be smart and set realistic deadlines for yourself.
Be careful with the research material you use
Wikipedia is not an appropriate source. We repeat: Wikipedia is not an appropriate source. Even though you can use to get some quick info on related topics and terms, you should not use it as a scholarly source for your capstone project. The same goes for eHow and other such pop sites. Our experts suggest that you use JSTOR and Academic Search Premier and other such online tools for your project. Your school/university library is also a great place to research. If you are stuck or confused, you can always take your librarian's help.
Coordinate with your supervisor/advisor regularly
While doing a project of this scale and level, you can get stuck. Instead of trying to deal with your problem entirely on your own, have a one on one chat session with your supervisor/advisor. Remember it's always good to seek advice and guidance at the initial stages than later as it can get too late to change things. Besides, if you do not communicate with your facilitator at all, chances are that you may end up making more mistakes than anyone else when doing your project. Hence, be wise and stay in touch with your advisor.
Don't focus just on presentation but content as well
Undoubtedly, the presentation of your capstone project is very important, but the presentation is not the only thing you should focus on. The content you present is even more important than its presentation. So when you are actually writing, make sure to check if your content actually answers certain vital questions such as-
Does your content explain why you choose your topic?
Does your content adequately present the problem you plan to present?
Does it include methodologies, literature review, recommendations and future steps?
If you can positively answer all of the above questions, then that means your content is well-written and does not need many changes.
Plan and practice for an oral presentation
There's a possibility that you may be asked for an oral presentation for your capstone project; which is why you need to plan, prepare and practice from beforehand. You need to plan what exactly you will say if you are asked, and then prepare a presentation accordingly. Once you have prepared one, keep practicing it till you feel confident enough. These practice sessions will also help you polish up your oral presentation skills. 
Pay attention to formatting
Yes, we know that just in one of the points above we told you not to pay so much attention to appearances and more attention to the content; but we also told you that presentation is indeed very important. So that means you will have to make sure your project is neat, clean and easy to understand. It should be well organized, with clearly marked sections and a 'contents' page to walk readers through all that you have written.
Have fun as long as it lasts
Writing your capstone project is going to be a memorable experience for you. So instead of sulking around, wondering why you have to do it and feeling pressurized by the task, make sure you enjoy it as you progress. A positive attitude will help you make an even better capstone project than you thought you could as your mind would be clear and thus able to think logically and present arguments lucidly.
Be ready to give your all to your capstone project. This once in a lifetime academic task holds real importance when it comes to your career advancement. Make sure you present your project professionally and keep the entire thing interesting so that your audience is hooked from the very first word. Most importantly, keep things simple, and you'll find yourself sailing smoothly on the capstone project sea.
Need Extra Help with Your Capstone Project? MyAssignmenthelp.com's Experts Have Your Back!
 A capstone project is indeed one of the most difficult academic tasks you will undertake. Hence, if you feel that you need extra help, do not hesitate to contact MyAssignmenthelp.com's smart and talented experts. We can make any kind of capstone project for you, ensuring the delivery of an original piece of work, which you will not find anywhere else. Plus, our prices are quite easy on your pocket. So pick up your phone, dial our number, which is +61-3-4000-0033, and get a totally mind-blowing capstone project today!
Was this article helpful?
YesNo