The Stanford Graduate School of Business (GSB) or just simply GSB is one of the seven schools under the Stanford University. Stanford GSB offers a Master of Business Administration (MBA) degree, which is a general management degree, along with a full-time MSx Program and also a Ph.D. program, along with a few joint degrees in collaboration with other schools at Stanford.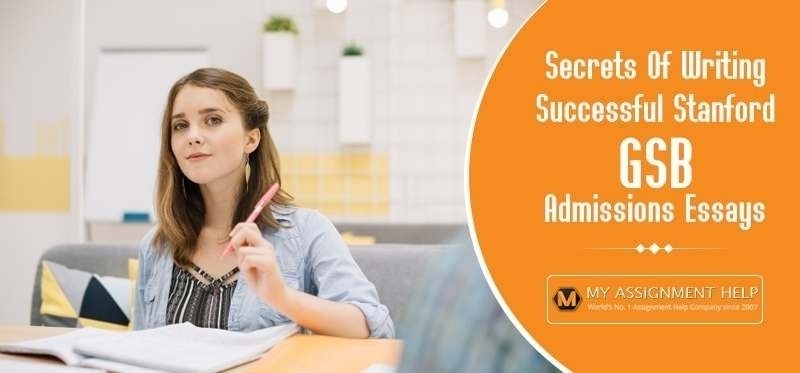 Now that we know the basics about the Stanford Business School, let us concentrate on the admission essay that plays a crucial role in securing a berth in this elite institution.
Stanford GSB Admission Essays
The Stanford GSB admission procedure entitles the student to write two essays on personal topic reflecting the applicant's personality. The intimate essays should give the admission committee a proper insight into your character, hopes and future aspirations. In each essay, the admission officers want to hear your own genuine voice.
Why the Admission Essay is Important
Application essays help the professors get to know the applicant better as a person and know what instigated him or her in joining Stanford GSB. The goal of these admission essays is to figure out clearly what factors motivates you in life and how you have become the person you are today. In addition, they are interested in knowing in what way the applicants thinks the Stanford GSB Program can help him better his future prospects. In other words, they want to know what matters most to the applicant, and why they want to join the program now and why is it not some other business school? What are your personal as well as professional objectives, and how you think will the Stanford GSB Program help you achieve your future dreams?
The admission essays should ideally reflect the applicant's philosophy towards life at large. These essays should help the admission committee to gauge you as a person rather than solely on what you have achieved so far.  The officers expect from the applicants a reflective and insightful essay to clearly visualize the face behind the writing. They want to see the original individual behind the mask of degrees and certificates, have a feel of all of the experiences and accomplishments that they have read about and are already aware of as they appeared elsewhere in the application..
How to write a High Grade Admission Essay
While auxiliary parts of the application gives a perception about your academic and professional achievements and accomplishments so far, the admission essays expose the true character behind those feats.
When manuscripting your essays, abstain from the common and natural instinct to position yourself as what you think Stanford wants and demands from you as this will only create impediment for the professors from understanding who you are in reality and what you are capable of achieving and want to accomplish in future. The most impressive essays have a distinct style of their own. Authenticity is the forte of any good admission essay.
Your Stanford GSB admission essays bestow on you an golden opportunity to reflect on your own interests and future aspirations. While the reference letters from others are the stories about you from other people's viewpoint, these essays gives you a scope to tell your own story and should be treated as an excellent opportunity to impress the reader and ensure your admission.
You should treat your Stanford essays as a conversation between you and the assessor. The tone should be conversational. Tell them your story in the most natural and genuine way possible so that the reader feels that he knows you well. He should feel familiar with your hopes and aspirations.
Questions to Answer in the Admission Essays
Before we concentrate on the most desirable and perfect answers to GSB admissions essay question, we must first consider few of the most commonly asked questions in the GSB admission tests for the last few years. Below are two model sample questions asked in the admission test:
Essay 1: What matters most to you and why?
It is clear that for this particular essay, Stanford would like the applicants to:
Engage in some in-depth and honest self-introspection so that you can clarify to the reader who you are and how you turn out to be the successful person that you are today.
Share all your life lessons, meaningful insights and interesting experiences, that have helped you to shape an overview and philosophy of life, rather than focusing merely on a boring account of what you have done or achieved in life so far.
Listen to your heart while writing, and give examples of how any individual, situation, or any significant episode has influenced you.
Essay 2: Why have you chosen Stanford for your MBA degree?
Enlighten us on how earning your MBA at Stanford will enable you to realize your ambitions.
Try to explain and justify in details your decision to pursue graduate education in management
Explain in length the distinctive and unique opportunities you think you will get to go after at Stanford.
If you are planning to apply for both the MBA and also the MSx programs, you can very well use Essay B to show your interest in both the programs.
The two essay questions are apparently straightforward and not tricky ones. Now let's concentrate on the tentative answers.
What are some of the Best Answers to Stanford GSB Admissions Essay Question?
The most valuable piece of advice that one can give while writing on these essays is extremely simple: answer all the sub questions. Each one of the question should be answered individually with lots of care. Do your homework properly..
We will now discuss the two essays individually.
Essay 1: What matters most to you and why?
This apparently unequivocal question has been Stanford's favorite first essay option for at least the last one decade, and no wonder it is undoubtedly one of the most complicated, if not the most tricky MBA admission essay questions set for the applicants. Superficial responses are bound to fail. The prompt provided by the Stanford authority also demands serious introspection. Keep in mind that Stanford authority is not interested to hear about your past business experience in this first personal essay. In this first personal essay try to consociate all the individuals, settings, and events in your life with the values you cling to dearly and the life choices you have made so far. Take this essay as a terrific opportunity to learn about yourself! Before you start writing, reflect on what your values are, why you give them so much importance and how you have acted upon those principles until now. Stanford's advice urges reflection from the student and you should diligently follow their advice. The most common trait among our many successful Stanford clients is their habit of taking initiative in the face of need. They are always the ones who revealed that they never ever run away when they face any sort of problem, big or small or when the need for vigorous action arises. They catch hold of the opportunity with open hands when faced with a situation that allows them to contribute positively. They are very comfortable in expressing their true emotions and their values. Their actions are reflection of their heart, mind and brain. Always remember, more than anything else, sincere initiative and knowledge about ones capabilities characterizes the successful Stanford applicant. Please be assured that Stanford business school do appreciate and reward thoughtful self-assessment and proper levels of self-disclosure.
Now let us concentrate on Essay 2.
Essay 2: Why Stanford? Enlighten us on how earning your MBA at Stanford will enable you to realize your ambitions.
This essay question is another variation of a standard MBA goals admission question, as reflected in the bullet points that follows it. Take advantage of the fact that Stanford is giving you a broad license to envision your future. For this question, you need to clearly explain why you want to be an MBA; that is why you have chosen MBA for your future. The best way to answer this essay is to highlight your desired post-MBA professional direction and goals. Then you should explain how you think Stanford's program specifically will help you to achieve your goal. Please note the emphasis in the bullet points is on the "distinctive opportunities you will pursue at Stanford." You should be always ready with proper homework on the university. You need to be aware of all the minute details and what the unique features of the Stanford MBA program are or you simply won't be able to  answer the essay.
Understand and highlight more on the elasticity inherent in Stanford's syllabus, its combined approach towards management studies, the way it promote entrepreneurial environment and culture, and how all these features and others will help you to achieve your career goals. You need to remember that Stanford's allows its curriculum to be custom made to suit your needs depending on your goal, your past experience and your previous business education. A clear MBA goal in your mind and an in-depth understanding of Stanford GSB's curriculum will make it easier for you to answer these essay questions.
Also keep in mind an additional and important straightforward approach towards your essay writing: think a lot before you write down any point. Stanford wants an overall, holistic view of you as a person and a peek inside you to know your inherent values, dominant passions, bright ideas, unique experiences, and real aspirations.
Ideal Length of the Essay
There is no specific word limit or any restriction on the length of your essays in the Stanford GSB admission application essay. This is because they want you to use as many words as you feel necessary to convey your message. But don't forget these are business school essays, and good business writing demands it to be succinct, crisp and to the point. If you are applying for the combined Stanford MSx and MBA programs, you should limit your responses to the essays to 1200 words. Suggested below is a tentative figure of word count, based on what we normally see:
Essay 1: Within 750 words
Essay 2: Within 400 words
Essay 2 (if applying to both the MBA and MSx programs): Within 450 words
Formatting
12-pt. font size should be maintained
Double-spacing is advised
Arial, Courier, or Times New Roman font is recommended
Point out the question number of the essay you are answering at the beginning of each essay. Please note that does not count toward the word limit.
Pages should be numbered
Ensure that a soft copy of your essays is saved and preview the uploaded document to ensure that the above-mentioned formatting pattern is maintained throughout.
Upload one document that includes both the essays..
Editing the Essays
Begin work on the essays early, even when you have not completed writing, to give yourself enough time to reflect on the topic, write, and edit judiciously. Revise your essays a number of times and make suitable changes wherever possible. Avoid spelling mistakes and grammatical errors. The language should be as lucent as possible.
It is unethical, improper and a complete contravention of the terms of Stanford GSB application process to have someone else to write or translate your essays. Such unwanted action will result either in cancellation of your application or withdrawal of your admission offer. They have strict policies against plagiarism and expect 100 percent plagiarism free essays from the applicants.
Stanford gives a ton of advice and guideline on its website as to what they are looking for in their admission essays. Try to go through those advices minutely in addition to reviewing the above suggestions.
Excel in Stanford GSB Admission Essay writing with Assistance from MyAssignmenthelp.com experts
Admission essays plays a key role in deciding the future of an applicant seeking admission in Stanford Business School. We are here to help you with your admission essays. MyAssignmenthelp.com houses a team of highly qualified experts who are extremely skilled and experienced in their respective fields. Their aim is to keep students one step ahead of others so that they can perform well in the entrance exam. They provide top quality assignment help as well as guidance in essay writing to the students across the world seeking admission in Stanford Business School. They are also extremely strict about keeping the students assignments plagiarism-free. Besides, MyAssignmenthelp.com offers the cheapest priced guidance for essay writing service in the market and no wonder it is the most preferred help portal among the students. Our service is available round the clock and we deliver the best essay writing guidance in the shortest possible time. If you like to avail any professional guidance with your Stanford GSB admission essay, please try out MyAssignmenthelp.com, which include advising, editing, and interview coaching for the Stanford GSB application. Get into a live chat with us through our chat option on the website to know more about our services. For additional help, students can send a mail their query at [email protected] We will be more than happy to hear from you.
Was this article helpful?
YesNo