Finding a decent accommodation in foreign land can give you the biggest headache. You are not alone! Most of the students who plan to pursue their higher education abroad feel a bit apprehensive when it comes to selection of residence. But planning ahead can rinse off most of your potential worries. So here are some guidelines for you if are looking for a residence abroad.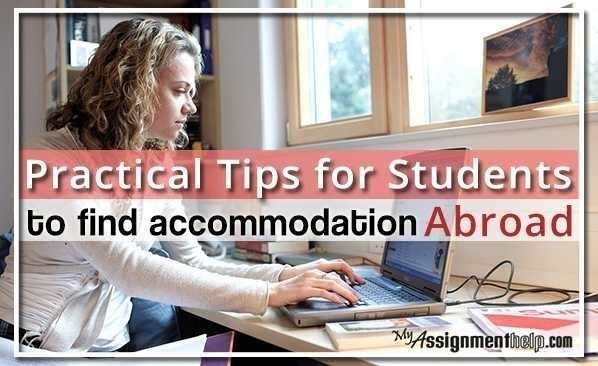 A. What to choose?
You should start planning for the living arrangements well in advance. In this age of technological evolution, you can connect to any part of the world in seconds. You can do it simply by using your smart phone. During the initial few weeks, you might have to manage in dormitories or residence halls. Nothing to worry! They are perfectly reasonable and safe for someone new in the country.
B. How to choose?
Most of the universities of UK, USA and Australia have hostel facilities for in-house students. However, sometimes these hostels remain completely occupied and don't have sufficient empty rooms for all the freshers. If it happens, do not get anxious. Have a look at the respective website of the college. You will find a comfortable list of accommodations there. Choose according to your preference.
C. Where to choose?
When you are going abroad to study, the location of your residence becomes very important. It is always better to settle somewhere near your college. Try to know your locality from the first day itself. Is it close to the local groceries, supermarket and other basic amenities? If not, then you might have to think about re-locating to somewhere more convenient.
But do remember, most of the cities of UK, USA and Australia are well connected with an extensive chain of public transport facilities. So, you will never feel unsafe or isolated!
Still if you feel apprehensive and the above-mentioned ideas do not content you, here are some more effective tips to make your navigation simpler:
Start your forage as soon as you receive the confirmation of your further studies abroad. Do not hesitate to ask your new host university for suggestions. If you need more options, find out the compilation of the varied options of accommodations in different websites. Follow these websites regularly for any recent development or update.
You can contact the students of your imminent university through different social networking websites who can provide you valuable suggestions. The just-qualified students as well as the four-year veterans can give you effective recommendations. Always remember, you are not alone. Countless students will be moving abroad at the same time. And simultaneously, an almost equal number of students will also be heading back to their homes. So, you will find a lot of people with the advertisement, "Anybody needs an apartment in Boston?"
The student housing is not the only option for you. Apart from the student's hostel, you can choose to stay with a family residing near your college or university. The reason is many of you may feel a little awkward to stay in these hostels, especially if you have had a fancy and comfortable family life. Besides, most of the local students visit their families during the weekend. It can be really daunting for you in these situations when the hostel turns into a desolate island.
Be vigilant of the dodgy deals
Found yourself a perfect flat in the vicinity of your institution? That's great! But don't be decisive. Online photos can sometimes be misleading. Compare the prices of different accommodations to ensure that you are not ripped off by your landlord. Always emphasize on having a proper contract with a hard copy provided to you. Before finalizing the deal, make sure you have definite information about the facilities provided to you.
You still didn't find some place to stay? Don't get nervous. It is not the end of the world. Stay in a cheap hotel or manage yourself in any of your friends or relatives' home (if you have any) for couple of weeks. In the meantime, your host institution will provide you a decent accommodation.
Remember, studying abroad is a rewarding experience of life. But this special phase is also full of challenges. It begins with finding a proper accommodation itself. So these exclusive tips will help to make your task a little easier!
Get instant academic assistance from MyAssignmenthelp.com
MyAssignmenthelp.com is the most trusted and reliable online educational assistance service in the world. The students in UK, USA and Australia always rely on the academic experts of MyAssignmenthelp.com when they face troubles with their academic tasks. The Ph.D. qualified academic experts of this proficient academic assistance provide an array of service that includes:
The international students who visit these western countries to pursue their higher education can also receive online tutoring from MyAssignmenthelp.com. Being the pioneer of this industry, it is committed to provide the best content in the affordable prices. It has never failed a deadline and delivers the practical tasks with an anti-plagiarism report from Turnitin.
To know more about it, the students can call the 24-hour customer services anytime according to their convenience.
Was this article helpful?
YesNo