President Donald Trump's daughter Ivanka Trump has launched a White House initiative to end a glaring mismatch between job vacancies and the skills of US workers. In an op-ed published in New York Post, Ivanka who is also one of the senior advisors in the Trump administration has put up an argument why children should be introduced to science education at an early age.
"The fact is that, in 2017, nearly every industry is a 'tech industry'" – She has written in her piece.
Her words in the article have reflected the real world scenario. With the Fourth Industrial Revolution transforming economies like never before, the unprecedented speed of change as well as the breadth and depth of many radical changes, technology is really taking over the world. To second her own thoughts, she has pointed that more than two-thirds of all technology jobs are now outside the direct tech sector. She points out that all sectors be it health, sports or manufacturing, are using programming as a weapon to expand their business functionality, productivity or to improve products and services. But due to skilled manpower shortage, technological advancements are not being employed the way they are proposed. And that was her main concern she prompted in the article.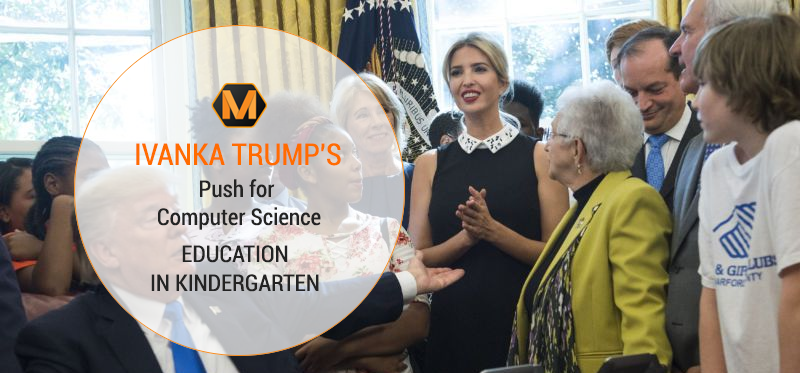 Ms Trump said that the US had 6 million job vacancies, which is the highest on the record with the requirement of 50,000 skilled personnel in coding and computer science sector. To fill in the increasing gap, she proposed the technology education 'must begin well before college or trade school'. In order to turn this thought into a reality, President Trump has already announced a $200m a year initiative to launch computer coding programs in USA. schools on a priority basis. For funding the initiative, the Trump Government has decided to distribute the money that already has been appropriated to the Education Department.
Ms Trump, on her part, travelled to Detroit to join the Internet Association, which was also attended by CEO of Quicken Loans, Dan Gilbert and Marillyn Hewson, CEO of Lockheed Martin. During this event, all leading members of technology sector including Facebook, Google, Microsoft, General Motors pledged $300m to advance the computer education programs across the country.
Following this event, Ms Trump went to Virginia to join Hadi Partovi, the founder of Code.org (a non-profit organization dedicated to expanding access to computer science and increasing participation by women and underrepresented minorities in the field) and Microsoft president Brad Smith in Middleburg Community Charter School to discuss the importance of coding computer science at early education. During her visit she made a speech to encourage the students. "It is such an important and foundational skill for all of you to have, regardless of what you decide to do with your lives. Technology is reinventing every sector," she said. The purpose of this visit was to participate in Code-org's Hour of Code event with fourth and fifth graders. She was glad to see the enthusiasm and drive in those young students while learning to code.
Through successful implementation of ideas, she hopes students will get more exposure to computer science compared to 60% K-12 schools having a single computer science course at present.
"Unfortunately, the women participation in the technology industry is moving in the wrong direction,'' she further wrote in the op-ed.
Ivanka gave out the facts that 47% of the total workforce is women but only represent 22% of professionals in the technology sector.
Ms Trump assured that she would work closely with the Departments of Education and Labor to close "growing gap between the skills of the children and workers' need to succeed and the quality of education they were receiving."
She envisioned the U.S citizens taking the right path to a job through computer advanced K-12 curricula, vocational and skilled-based training and apprentice programs including the re-training of displaced workers.
'There's no silver bullet, rather, we need a comprehensive set of solutions,' she concluded.
Aspire to be a professional coder? MyAssignmenthelp.com can ease your way to academic success
If you are inspired to become a coder or join technology sector, you need to complete the course with good academic grades. In order to do be spotted by potential employers, you need to perform well in academics. And any student's performance greatly depends on the quality of assignment they submit. So it is important that students pay close attention while doing assignment writing. But most of the students pursuing computer science course struggle to produce good quality papers. They need external help in order to complete their tasks, and who can be a better company that MyAssignmenthelp.com which boasts of more than a decade of experience in assignment writing.
We strive to help students with their academic issues, be it writing assignments, understanding complex concepts or revising already written copies. We have emerged as the one-stop solution for all students. Students can now aim for higher grades without fearing the pressure of handling the immense amount of academic tasks. Our wide range of services help students in the best possible way –
Was this article helpful?
YesNo