According to a survey report of American Association of Colleges of Nursing (AACN), nursing is one of the largest healthcare professions with more than 3.1 million nurses and 2.6 million licensed registered nurses (RNs) across the world. Nursing industry, however, has to counter numerous legal, ethical and moral issues in the world of healthcare. The issues affect both today's nurse managers and tomorrow's nurse leaders. Nursing students should have a comprehensive knowledge about these problems so that they can deal with it effectively during their professional life. Professional life is lead by academics which included nursing assignments and help for nursing assignments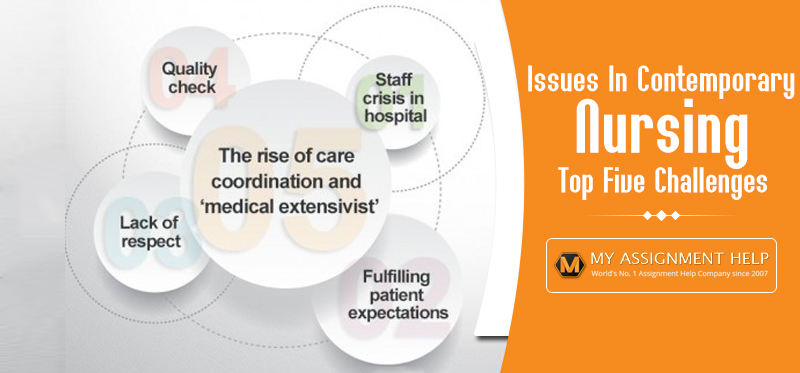 Five issues in contemporary nursing
Nursing as a profession can be rewarding and at the same time challenging too. Nurses comprise majority of the workforce in the healthcare industry and hence are often targeted when a hospital needs to lay off its staff as cost-cutting measure. In addition to retrenchment, nurses confront many others problems and most are becoming worse day by day owing to lack of legislation.  Let us discuss in details the top five issues plaguing contemporary nursing.
1. Staff crisis in hospital:
Staff crisis is badly affecting healthcare. The issue is aggravating as the hospital management is investing more in advance medical equipments and ignoring maintenance of adequate staff. As a result, the safety and care of the patients are being compromised. The number of patients that a single nurse has to take care of is rising. The issue can be addressed if other states follow California's lead in adopting a Safe Staffing RN Ratios Law. California, however, took 12 years to have this legislation approved. So it is not an easy job.
2. Fulfilling patient expectations:
Meeting the expectation of patients is considered as a priority in healthcare industry and it is hard enough to achieve. Nurses have to stretch beyond their normal duties to fulfill the needs and demands of the patients. They are held accountable for all the complaints the patients have.
3. Lack of respect:
Nurses experience lack of respect from the patients, doctors, administrators and even from their co-workers. According to Medscape's online survey, 31.4 percent of the respondents interviewed complained of 'lack of respect from other healthcare providers/non-nurses.' ANA 2011 Health and Safety Survey showed that physical assault and verbal abuse have gone down, but the issue still remains a concern. The survey revealed that within a 12-month period, 11 percent of RNs were assaulted physically and 52 percent were either threatened or verbally abused.
4. Quality check:
The healthcare industry always aims at improving quality in some way or the other. But patients face inadequate quality in nursing services. The nurses claim inadequate supplies and poor team spirit among colleagues for this issue.
5. The rise of care coordination and 'medical extensivist':
The word 'extensivist' first caught attention when it featured in the top 13 healthcare buzzwords of 2013. Extensivist is a kind of advanced practice in nursing where a nurse takes the practice outside the hospital and into the home. The aim is to help people suffering from chronic illness healthy outside the hospital. But this means added responsibilities on nurses.
These are the five major problems faced by nurses today. But since the healthcare industry is constantly evolving, it is expected that more problems will emerge in contemporary nursing in the near future.
Why do students need help in writing on contemporary nursing?
Global health, community health, health policies, medicine are closely related to this topic. These subjects have complex areas in which students need assignment help. Expert help in academic writing is always a better option for students if they wish to secure good grades.
Are you looking for Assignment Help with 100% accuracy, My assignment help .com have 3000+ Professional Writers are here to help with your Assignment Writing & also provide 24×7 Online Support.
How myassignmenthelp.com can help?
Myassignmenthelp.com provides you the opportunity to get expert advice on the steps of essay help and assignment writing. The professional writers offer online assignment help, so that you can present well-documented case study in front of your university tutors. The experts make sure that your order is written from the scratch, and it has all elements of a good essay or dissertation.
Related Blog:
Was this article helpful?
YesNo