Starting a new project is always difficult. It can be a little petrifying too, if you can't figure out where to start or if you are scared about failure. But sometimes you just feel really lazy and keep sulking. One part of your brain keeps yelling, "Stop procrastinating. Just get on with the task!" while another part screams, "I don't feel like doing it." The project may or may not be significant but it keeps niggling at the back of your mind. It can leave you stressed out or annoyed. The truth is: you cannot live in peace until you finish off with the project. Did I hear you asking me, "Why?" Well, it's because the Ziegarnik effect is at full blast. Ziegarnik effect is the tendency human beings have about fretting over something they have started but haven't yet
Lack of motivation is the primary reason why you fail to accomplish the task. Maybe it's the new job you don't feel like searching for, maybe it's the book you have been planning to pen down or maybe it's the talent you are wasting sitting on the bean bag and watching a Netflix marathon.
Generally , according to the renowned Vroom's expectancy model, we find ourself posed with three questions.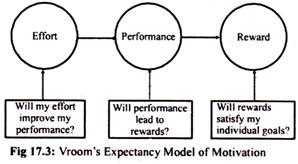 These questions though seemingly one liner affects a lot. It creates a whole sort of sub questions and problems like
An example of the sub questions that accompany these broad questions have been mentioned below
Will my effort improve my performance?
(a) Am I eligible to put the required effort
(b) Will I have time and other opportunity to put the effort?
(c ) Will people cooperate in putting the effort? Etc.
The whole mosaic of questions generally lead to self doubt and loss of confidence or interests  making one lose motivation.
Generally a person gets demotivated if the need for achievement, need for power and need for recognition of what he has achieved is not present.
Here are some practical solutions to get over the universal motivational problem and start the New Year with a bang!
1. Get a Good Start to the Day
Each new day is a blank page in the diary of your life. So, make the most of this blank page and get a good start to the day. Nothing will sap your motivation more than getting up late. You will stay more motivated if you get up at 8 am and start working by 8:30 am rather than sliding out of bed at 10 am. It is quite a task to motivate yourself to work after a long hectic day. True, it's difficult to get up early in the morning but keep trying each day and it will turn into a habit eventually!
2. Limit your To-Do-List
A never ending to-do-list is bound to limit your motivation. If you have helluva lot of task to do even before you begin, an easy decision is to do very little in a day. After all, if you are not going to complete the entire task, how is a little less going to harm you in any way? Therefore, set a realistic to-do-list! Now before you start saying that you are neck deep in too many tasks and cannot limit your list, listen to the blatant truth: merely putting up things in the to-do-list will not get them done. Deadline based to-do-lists should not be made unless there is absolute necessity. It can lead to unnecessary stress and frustration. Try completing the most significant task first, regardless of how much time it consumes, then move on to the next most important one.
3. Have a "done" List with You
Nothing can give you more satisfaction than crossing off items on a to-do-list. As stated in the above point, you do not want to face an endless list of task but still want to get plenty done. This way is for those who feel motivated by a big to-do-list. Instead of preparing a normal to-do-list, you can opt for a "done" list. How will you maintain it? Quite easy: before starting with any new task, write it down on a piece of paper. When you complete the task, cross it off your "done" list and write down the next one. This has an awesome psychological effect as you are always motivated to cross off the latest item on your list. You also feel encouraged to finish off as many items as possible, so you have a wealth of crossed-off items at the end of the day.
4. KISS (Keep It Simple Silly!)
You know that momentum right, when you are on a roll and getting things done? You will feel motivated and encouraged to deal with far more complicated tasks if you have a good hold on productivity. You should start your extended period of work with a few simple tasks initially. Get accustomed to the work, and shift gears only when you have gained the momentum.
5. Create Variety in Your Work
When you are working on a task for more than 8 hours every day, try to create a variety in it. You might be working on the computer, attending a meeting, interacting with colleagues, negotiating on the phone or driving. Following the same schedule may lower your motivation, so walk away from a task sometimes and complete it in another time. Though it may not be possible practically, try creating variety in each task so that it varies from its predecessor. As they say, variety is the spice of life!
6. Find your Motivational Switch
You need more motivation for amorphous tasks than for those that are clearly defined. If you are facing a lack of motivation, take a step back and ask yourself 'why'. Ask yourself which part of the task do you find uninteresting and try answering it. When you clarify what the task demands, you will find the necessary motivation to get it done. You can also try switching on your motivation by participating in a group discussion or by praising your own effort.
7. Follow the "30" Rule
If you think you cannot hold up your concentration for a long time, make a deal with yourself to work just for 30 minutes. It is relatively a smaller period of time and you will have no trouble in making a start. If 30 minutes passes and you want to take a break, call it quits and do so. You can take a small walk in the garden or make yourself a cup of hot chocolate. However, if you are content to work for more than 30 minutes, do so until you cannot concentrate anymore.
8. Take Breaks and Reward Yourself
Once you get accustomed to working, you can go up to 45-90 minutes at a time before your concentration starts to wane. You cannot compel yourself to work through distraction, your work will be sub-standard and you will have to struggle to keep yourself motivated. Take breaks at regular intervals and as many as you need to keep yourself focused. Some days you might take too many breaks and on others you might take only a few. Let yourself to go with the flow till your breaks are productive. You can watch TV for 10 minutes or play the piano to calm your senses. Remember: you have done a good job, it's allowed to cut yourself some slack.
9. Avoid Avoidance
If the upcoming item in your list is complicated, DO NOT AVOID IT! You will have to take it up at some point, so why not now? Why not put up a brave face and get done with it? It may seem satisfying to avoid difficult tasks and take up simpler ones, but it will not do any good to your motivation in the long run. The more you avoid the task, the more it will step ahead to swallow you whole. Probably the tasks are not as difficult as you envisage them to be. They may demand wee bit more of critical thinking and time. Devoting more time to an important task is fair trade!
10. Surround Yourself with Activity
One of the primary reasons why you are lacking motivation is because you are working in the same old environment. It may be as simple as getting up from the couch and sitting at the coffee table or you can step out of the damned house and work from a coffee shop or local library.  When you surround yourself with activity (by activity we mean people who are working too), you will feel more keyed up and motivated to work. Once you get in the library and take a look at everyone around you, carrying on with their own work, you will be able to fuel your own motivation. You can discuss your project with friends who are constantly working and piggyback on their driven spirit.
11. Remove Distractions
Distraction is a serial killer when it comes to getting work done. You must be acquainted with it by now! You must remove those that you consider to be distraction and retain things that facilitate a productive working environment. Make it a point to keep yourself away from social media till you are done with your day's work. You can visit a crowded Starbucks, order your favorite Salted Caramel Mocha, plug in your headphones and start working. The music will help you to disconnect from the hurly burly and create a magical productivity 'bubble' around you. Remember that one person's distraction can serve to be another person's productivity tool.
12. Take a Quick Nap
Some underlying psychological issues may be the reason behind your sudden lack of motivation. It is difficult to work when you are tired, which is why power nap can prove to be a really effective way. The power nap solution is simple: set your alarm for 20-25 minutes from the exact moment you lie down. You may be unable to get a sound sleep in the small period of time but it doesn't matter – you will feel far more rejuvenated afterwards. If you are drop dead tired, it may be literally a battle to pull yourself up from the cozy bed after 20 minutes. You may feel like giving up everything to sleep for 5 more minutes. The brief period of grogginess will wear off once you splash water on your face and you will be all set to take the world by storm.
If you are still suffering from the universal motivational problem, try out one or more of these ways in the coming year. The above tips work for most of the people but you can also come up with fresh ideas to keep yourself motivated. Nothing can stop you from being successful once you feel motivated. So go out and get something important done NOW!
At the end do these short simple activities which would really help you elevate yourself
Do the tough most work first
Stand in front of a mirror and say that you have done great
Act like you are motivated even if you are not
Do the daily things which you did without caring with more care like cleaning tables etc.
Go for a trip down the mountains and valleys. Nature motivates greatly.
Write down your goals and reasons for affording those goals
Do small creative works like crafts and others
Get a partner. Sometimes a good partner helps a lot in motivating you.
Still lacking Motivation to Complete your Assignments? Visit MyAssignmenthelp.com!
MyAssignmenthelp.com is the best academic writing service in UK, USA and Australia, offering help to hundreds of students to enable them to achieve academic excellence. Our assignment writing service is based on some strong ethics and we are passionate about our work. Some of the unique features that make us stand out from other assignment writing services in the industry include:
• 3000+ academic experts
We boast a robust in-house team of 3000+ highly qualified academic experts, most of whom have acquired their PhD degrees from distinguished universities across UK, USA and Australia. We hire the academic writers based on three important parameters – knowledge, experience and creativity.
• Service for all subjects
Whether you are a fresher or are preparing your final year assignment to acquire PhD degree, our academic writers are always ready to offer top-notch professional assistance at any level. They can prepare flawless assignments on any topic in more than hundred subjects.
• On-time delivery
Our writers value time and know the importance of adhering to deadlines while submitting assignments. They take complete responsibility of preparing your assignment within due time, without compromising on the quality of the content to provide top quality assignments. It gives you scope to proofread the paper before making final submission.
• Plagiarism-free work
Plagiarism is a serious offense that can cost you your academic degree too. Our company maintains strict policies against it. Our academic writers use the most authentic plagiarism checker tool, Turnitin.com, to remove any plagiarized content from the write-up.
• Unlimited revisions
Our academicians are always willing to accommodate if you are discontent with the assignment. They provide unlimited revisions till the time your assignment requirements are not met. Each assignment is checked three times – after writing, editing and proofreading. You get 100 percent customized assignments.
• Best pricing policies
We know the sky high expenses of pursuing higher education in foreign countries. Our pricing policies have been set keeping this factor in mind. We have affordable rates that will not burn a hole in your pocket. Our service is worth the time and money you invest.
Our support team is present 24×7 at your convenience. Feel free to contact them anytime to resolve your queries through live chat, phone or email. You can contact us directly at +66261003843 or drop us a mail at [email protected]
Was this article helpful?
YesNo