He was climbing down the stairs. The knock on the door continued at its own pace. He entered the room. The entire room was consumed by impenetrable darkness. When he scanned the room, he found a face pressing against the glass window. As he opened the door to check out the person, the boy fled. He wanted to chase, but could not.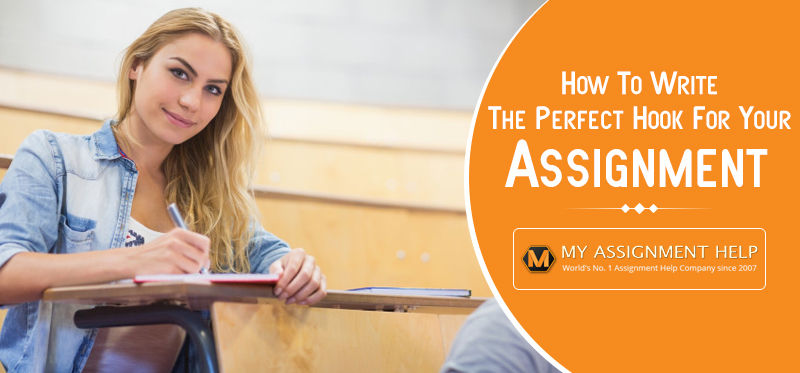 As you read these lines, you feel like knowing what happened next because you are 'hooked' to the story. Similarly, academic assignments also require a 'hook' to seize the attention of the readers. It is generally a sentence or a couple of sentences that provoke the readers' thoughts to go further into the writing. Irrelevant hooks may also get your readers interested, but they generally end up in sheer disappointment when they cannot find any relevancy to the topic. So you have to find the perfect hook that is interesting as well as relevant to the assignment topic.
Given up already?
Wait! Try out these suggestions to write the 'perfect' hook. These have been recommended by experts whom you can approach if you are wondering, 'who can do my assignment?'
A superlative hook should be,
• Eye-catchy
• Thought-provoking
• Incredibly interesting
• Mysterious
It should be all of them or at least one of them. There is no specific rule for writing a hook. It should not follow any formula or order of noun, verbs and adjectives. It should be the product of your creativity and thoughts. Although there are a few 'hook' ideas that students can use in assignment writing, in case, it does not work for you, you can take professional help by typing 'can you write my assignment hook for me'?
Let's begin with the suggestions:
1. Pose a Question '?'
It is always better than a presenting a boring statement. People tend to respond when you ask them something deliberately. Similarly, when the assignment starts with a question, readers actually invest time to find an answer to the posed question.
Remember: Do not use questions that can be answered in simple 'yes' or 'no'.
2. State a common Cliché:
A successful assignment always teaches its readers something new and innovative. If you start your introduction by proving the commonly accepted fact wrong, you instantly get your readers' attention. They will be interested to know more of it.
Remember: Always present sufficient and reliable evidence to prove some beliefs wrong.
3. Include Statistics:
Listing some unusual facts and information can grab the student's attention. When they get to know something interesting about the topic, they desire for more. It lures them to reading the paper further.
Remember: Always include proven facts, not something that has no foundation or base.
4. Write the Thesis:
While analyzing a topic, you generally develop an attitude toward it. So present the thought in the beginning. If you have an interesting take on the subject, the readers will certainly be interested to know about your views.
Remember: The views you put on in the beginning should be the same when concluding the assignment.
5. Set a Dramatic Scene:
People, who have a habit of reading, always create a picture in their heads in order to enjoy the writing. So to impress or more importantly, attract readers, you can help them in imagining things. In order to do so, you can take time to set a detailed scene that makes your readers think about the topic. It works as an effective hook.
Remember: Choose words wisely to express the feeling or expressions in front of the readers.
6. Start with a Bombastic Fact:
People like controversies. It some way excites our lives. So use this strategy in assignment writing. Include an interesting fact that is something you want to discuss in the assignment. When the first sentence is interesting enough or takes the readers by surprise, they want to learn more.
Remember: The fact you are putting on should be interesting enough to allure the readers.
7. Involve a Quote by Famous Personality:
People generally get inspired by words which are said by famous personalities or influential persons. They generally get influenced by famous personalities or take their words seriously. So include quotes from famous people to grab the readers' attention.
Remember: Always include a hook that is relevant to your topic
8. Start with an Anecdote:
You can start the assignment with a funny story to let your readers have a good hearty laugh. Readers will continue to read the paper as they want to explore more of it.
Remember: The hook can be funny, but it does not matter that the assignment has to be entirely funny.
9. Include a Literary Quote:
If you want to showcase your writing skills, this type of hook seems perfect for you. Using a literary quote make your assignment more impactful in front of the readers.
Remember: This type of hook is only appropriate only when the topic is about a book, author, literary piece, story, etc.
10. Harp on Mystery:
It is like touch-and-go-moment. You give your readers enough to get them interested and then leave them in the middle of the course. It will be enough to get them go further into the writing. You need to give some finer details to let your readers' imagination do the work for you.
Remember: Be careful that your readers do not get frustrated due to curiosity and leave the paper in the middle.
How to Craft a Good Hook?
Now when you have settled on the types of hook, it is time to make it shine. Let the words play in your favour. But one last advice is that a good hook makes its way to the readers' minds only when it has right words and expression. So choose the words wisely. In case, you are struggling vigorously to get started with the assignment, you should avail assignment help from professionals.
Now you know all the ingredients that make an assignment interesting and appealing to the readers. Good luck!
MyAssignmenthelp.com assists you in developing Interesting Assignments and Score High!
MyAssignmenthelp.com has been assisting students to excel in their disciplines. With a team of 3000+ experts, we are capable of delivering top-notch assignments within any short deadline. Students, from all corners of the world, prefer our services because we provide inclusive assignment help online to students. Our wide range of services helps students in writing variant types of assignments which are
• Essays
• Term papers
• Research papers
• Dissertations
• Thesis
• Case studies
• Book Reviews
Our experts work round the clock to provide 100 percent original assignment help to students. Each help solution written by our experts is unmatched in quality, unique and plagiarism-free. Moreover, our experts are trained to complete each assignment within given time limit. Hence, students receive 100 percent original help solution right on time. Students only need to download the help solution and go through it to check whether the assignment help solution meets all requirements. If they find anything missing, they can request a free revision.
Still Not Believing? Place an Order with US Now!
Was this article helpful?
YesNo