We are overwhelmed with choices when it comes to high school and business schools. Graduation rates and campus placement statistics reveal how successful a high school and business school is. But numbers don't give the complete picture; you need to assess many things before making your final choice. We will discuss all of these in this article which is divided into two parts. The first part talks about the essential steps you need to take while selecting the right high school and the final part walks you through the process of choosing the best suitable business school.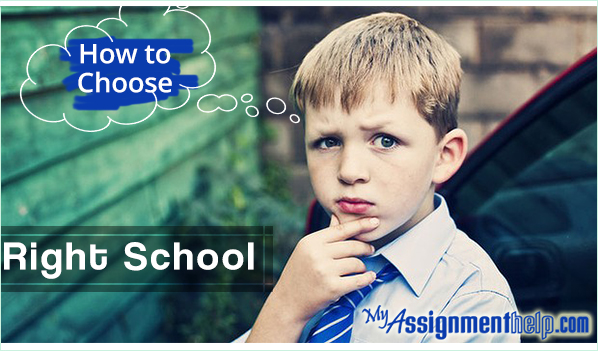 Steps to choose the right high school
Step#1 Know your type while applying
Think about the experiences you want to gather from a school and choose from amongst the following:
Local Public High Schools
It is undoubtedly a good choice for those who are seeking inexpensive option. Many people assume that the quality of education at private schools is better than that at public schools, but surveys suggest that's not true after all. The quality of education depends on that particular school.
For students who are achieving academic excellence in their field, a selective school can be a preferred option. In these schools, you need to sit for a test and often appear for an interview after meeting specific criteria.
Performing Arts/Sports Schools
For those students who boast a special talent in dancing, drama or music, a performing arts high school can be a good choice. Children must fill up the application form and appear for an audition to be accepted in these schools. Sporting high schools can be on your radar if your child is athletically gifted. Such schools can be great for boosting self-esteem as they can excel in their area of expertise while pursuing traditional education.
Needless to say, private schools are expensive, so it is important for you as a student to have all your expenses figured out before making your final decision. The fees are only for the beginning. Afterwards, you must have budgets for tuitions, uniforms and extracurricular activities.
If you have attended religious elementary schools, then religious high schools could be an ideal choice for you. With the emphasis on Christian values, religious schools can offer moral guidance. There are also semi-private religious schools that tend to offer higher levels of infrastructure and teachers.
Choose what is right for you. Some students have talent and interest in a particular field from an early age, but others cruise through their lives. So, talk to people who know you —parents, school teachers and relatives.
Step#2 Find a school with a reputation
To find out the reputation of the school of your interest, you need to ask your friends, neighbors, parents and alumni. After listening to each person's opinion, you can decide whether it is positive and negative. Find out:
Community diversity in school (teachers as well as students)
Are students from diverse backgrounds treated evenly into the schools' cultures and activities?
What is the school's discipline policy? The school should have a printed copy of the policy)
How are students graded? (Ask for a sample report card to know about the gradation system).
Step#3 Questions to ask before visiting high school
On a weekday, attend the school you are interested in, and feel free to ask the following questions:
What are the facilities available?
How many students attend this school and how many students are enrolled in each class?
How is technology utilized here?
Are there any programs for special needs? E.g. slow learners or gifted students.
What kind of extra-curricular activities the schools offer?
What are the school's academic results?
Are specialist teachers available?
Does the school seem well-maintained and inviting?
Step#4 Questions to ask while visiting schools
Are you greeted?
When you are standing in the hallway, watch how teens treat each other. One simple thing to look for is when you are standing against the wall, does anyone come to say hello to you? It is not ridiculous; it is just a truth that confident kids feel very comfortable in their schools. If they see a stranger, they will come up and say hello. Same goes for the teachers.
How are classrooms set up?
There is no right and wrong way to arrange classrooms. While rows of forward facing desks are fine for lecture style class, the desks should be arranged in clusters if the students are expected to work together.
Do teachers listen?
You should take a closer look at teacher-student interaction during lectures, even afterwards. If you see teachers are not actively listening and responding to the students, you should back out immediately. It should be a major red flag for you.
Step#5 Take into consideration the travel time
If distance of the school is too far from the home, it can result in tardiness in attendance records and learning. If you want to find schools near your neighborhood, you can use the School Locator Feature on the CPS.edu website.
Many online portals now help you to calculate commute time to a school of your choice. This way, you can shorten your list by seeing differences of commute time between the schools. CTA trip planner is one option that you can avail for choosing the right school.
Step#6 Compare the financial aid packages
Once you apply to your selected high schools, your nest task is to compare financial aid packages of those schools that you have been accepted to. But first know the types of financial aid that is available in high schools:
Federal Student Aid
State Aid
Institutional Assistance (the money supplied by the school you attend)
Scholarships
Grants
Federal Student Loans
Work Study
Military and Veteran benefits.
What should you do?
After submitting your applications for admission, apply outside scholarships.
Get to know FAFSA
Gather year-end documents for FAFSA
Compare the financial aid awards
Communicate any special circumstances to financial aid office
Research loans offered and other financing options
Find out if you need to file CSS/Financial Aid
Complete the profile
File taxes as soon as possible
Submit FAFSA
Correct early FAFSA with actual tax information
Submit any other institution applications for aid.
Step#7 Make the decision
After assessing everything in your list, it is time to draw curtains on the show. You might have only couple of options in your hands now, and that makes it easier to take the decision now. The sooner you reach the decision, the more you get time for preparation. So do it.
This is all about how to land on a right high school. But what if after graduation you want to pursue your academic career in business. The same dilemma overpowers you, what to choose and how to choose? Here's how you should approach the process of selecting a business school.
Selecting the right B-school
Studying for a MBA program needs a huge amount of time, money and energy, so it is very crucial to ensure that your choice of programs and schools meets your needs properly. You will acquire only one MBA degree in your lifetime, so there is no way to learn from your prior experience. So let's see how to get it done.
Prior research:
To make this research relevant, you need to assess few factors before making a list of your choices.
Does the school boast the degree program you want to pursue? (e.g. MBA, MAcc, EMBA)
Is the tuition fee affordable?
Are the graduates of school successful in landing the types of jobs you want to obtain for yourself? (The Career Service Office will provide you the statistics)
Is the curriculum as broadly and narrowly focused (or as flexible) you'd like?
Do the accommodation (rooms, media centers, libraries, housing facilities etc: you can get overview of those online) meet your requirements accurately?
Now you have a list of business schools in our hand, so what to do with it?
Evaluate a B-school:
Student and alumni network
Look at the students' profile in terms of professional experience, gender and cultural background because seniors can contribute a great deal in learning and forming a part of the network.
Research to find out how active and widespread is the alumni group. The reason is alumni can provide you potential career options and ways to raise funds for your start-up that you have in your mind.
Faculty strength
Find out how diverse and capable the school faculty is. Besides, assess their experience and achievements. Discover whether they are practitioners who can give you in-depth knowledge of a company or industry. You can get this information online or at the official website of school.
Learn which teaching method the school uses such as live case studies, consultancy projects with companies.
Location and costs
If you are planning to study abroad, first thing you should do is to calculate the cost of living in that particular city. Consider few things here,
Do you prefer bustling cities or quiet place? (Large cities happen to be the hub of large companies as well, so you will easily find business leaders and ventures capitalists)
Which school offers you the most short commute time from your accommodation?
Here is a comparative list of assessing the cost of few most prestigious business schools in the world, courtesy: Forbes
Rank and College Name
Location
Fees($)
In-state Cost
Out-State Cost
1. Harvard Business School (Harvard University)
Cambridge
126,576
126,576
2. Sloan School of Management (Massachusetts Institution of Technology)
Cambridge
119, 640
119, 640
3. Stanford Graduate School of Business (Stanford University)
Stanford, California
117, 960
117, 960
4. Booth School of Business (University of Chicago)
Chicago, Illinois
116,969
116,969
5. Pennsylvania (University of Pennsylvania)
Philadelphia
116, 762
116, 762
6. Yale School of Management (Yale University)
New Haven
115, 735
115, 735
Global experience
If you choose to pursue your academic career abroad, you need to assess the employment opportunities there and also check visa regulations. If you want to take a career trip to Australia, you need to fulfill financial and health requirements, appear in English proficiency test and file mandatory visa documents. Various countries have different regulations of visa process.
Reputation
There are various ways to assess a school's reputation. One of the best ways to check it is whether the school is accredited by internationally recognized bodies like AACSB (Association to Advance Collegiate Schools of Business) or Equis (European Quality Improvement System).
Times Global MBA Ranking: Top 10 B-Schools of 2015
| | | |
| --- | --- | --- |
| Rank | Institution Name | Country |
| 1 | Harvard Business School | US |
| 2 | London Business School | UK |
| 3 | University of Pennsylvania | US |
| 4 | Stanford Graduate School of Business | US |
| 5 | INSEAD | France/Singapore |
| 6 | Columbia Business School | US |
| 7 | IESE Business School | Spain |
| 8 | MIT: Sloan | US |
| 9 | University of Chicago: Booth | US |
| 10 | University of California | US |
Program format
There are many options like,
General course
Specialized course
One-year MBA Program
Two-year MBA Program
Joint Program
You want to choose specialized courses only when you are certain you want to work in a single field for the rest of your life. But if you are not, choose general course where you can have transformative experience.
It is essentials to check that the core curriculum and electives meet your requirements. For instance, at Stanford, it is possible to take electives outside the business schools that count towards the degree.
Extra-curricular activities
There are few questions you need to answer while assessing extra-curricular activities of a B-School. Those are:
Can I go on exchange program or study overseas?
London Business School has 30 partner schools in terms of offering exchange program to its students. Other schools offer opportunity to study at their satellite campuses, whereas INSEAD split their course time in two campuses (France and Singapore).
Weekly drinks is what the university offer at business schools around the world. It is a significant time that you can use as an opportunity to catch up with people you have not seen last week. Often students from other programs attend; often faculty members attend as well. So it can be a great place to involve with new and interesting people.
Use these above attributes to assess a B-school; you will definitely choose the right option. Open your mind to choices that come to your during the process.
A piece of advice:
Always stay connected to your priorities and necessities so that you can choose wisely.
MyAssignmenthelp.com: The most reliable option on internet
No matter what course you pursue, MyAssignmenthelp.com's prodigious and experienced experts always make sure you get best-quality assignment help in your subject. On top of it, our pricing policies make sure you get high-quality assignment help services at student-friendly prices. So we are a combination of quality and affordability.
Compared to other writing service companies, we have more than 3000+ professional experts, writers, editors who have expertise in 100+ disciplines.
Creative and skilled writers
Writer, associated with us are holders of minimum master's degrees and highest Ph.D. credentials in their respective fields. They have commendable knowledge and experience in crafting remarkable quality assignments of any types for your needs. You will make life a lot easier when you avail assignment writing services from us. Let our experts take care of your academic complications and you enjoy a stress-free life.
Worried about plagiarism?
As long as you are with MyAssignmenthelp.com, you are free from any allegation of plagiarized assignments. Our experts know plagiarism is a sin in assignment writing and teachers use various software for plagiarism detection. This is why we scan each assignment after completion under the most reputed plagiarism detector to be sure of its originality.
One-stop solution for you
Our vast range of services covers high school students, college/university students as well as Ph.D. level scholars. Whenever you feel struck with your assignment writing or face difficulties with concept, turn to MyAssignmenthelp.com. We have solution for all. We have catered to thousands of students from diverse disciplines, different parts of the world and various levels. Hence, we have created a bank of loyal customers who trust us with their money. If you want to be one of the beneficiaries of our services, you just need to send us your assignments requirements by using our online order form.
Don't waste time, place your order now!
Was this article helpful?
YesNo