Let's start today's blog with a snippet from a rather shocking news story that was broadcast on ABC News in the year 2014:
A Connecticut (USA) man was convicted of churning out fake college degrees to thousands of students in the country. He pleaded guilty court, and it was found out that the man in question had made a fortune of $5 million between the years 2003 and 2012 by selling fake degrees. None of the educational institutions he sold diplomas for were officially recognized by the Department of Education of the country and neither did they have any courses or faculty. In order to make them appear authentic though, the man came up with a fake accrediting body that accorded accreditation to these fake universities.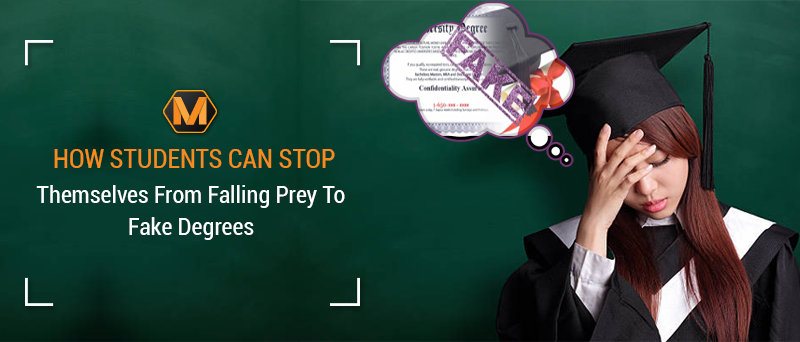 All in all, the man created seven different websites to target gullible students all over the world so that they could be conned into purchasing a fake degree from an institution that seemed "authentic." Different types of degrees carried different price tags too. An Associate Degree on these websites was sold for $475, while a Bachelor's Degree package could be purchased for $495. A Masters Degree could cost a student $525, and a Doctoral degree could be bought for $550.
Now you may be wondering why we're telling you about this when it happened almost 3 years ago. The man was caught after all, and since then bogus degree may have been entirely wiped out off the face of the earth, right? WRONG! Even though there was a crackdown on websites selling fake diplomas, and only recently 40 of them were shut down in the UK (according to a report published on BBC News' site), websites offering bogus degrees still pretty much exist.
In fact, if you ask us, it's pretty damn easy to get a fake degree in this day and age!
You open up your laptop. Get on Google. Type in 'instant degrees' or 'phony diplomas' or other search words along those lines. Get a long list of websites that boldly and gloriously advertise how adept they are at creating highly convincing, genuinely fake degrees. Click on one of these links. Fill up an easy form that won't take you more than five minutes and pay for your degree. And BOOM! You are now a PhD in Afrikaans, the West Germanic language that happens to be the lingua franca of South Africa.
While many students are getting their degrees this way, they are getting caught too and being held responsible for their misdeeds. Jayne Rowley, the director of HEDD (Higher Education Degree Datacheck – the UK organization that is behind busting the fake degree racket and shutting down those 40 websites), said: "Since we went live we've done over 160,000 verification checks, which has obviously thrown up a number of fake certificates, fake websites and queries about bogus universities."
Jayne also goes on to shed light on some pretty disturbing statistics on how these fake degrees have affected employability. She says, "In March this year, the Risk Advisory Group published a report which screened 500 CVs and found major discrepancies with 70 percent of them and of all the discrepancies, 28 percent had issues with educational qualifications."
These numbers are quite alarming indeed and point to an unsettling trend in the education world. Although it does make us wonder –
Why are so many students resorting to such unscrupulous means to get an educational qualification?
Well, there are multiple reasons why students go dark side when it comes to obtaining a college degree.
First, the cost of education in developed countries is way too high. To study in the US, you will have to shell out $11,580 annually (including lodging) for public colleges and $45,370 for private colleges (Source: TopUniversities.com). In UK too, education is very expensive and you to dish out £9250 annually (Source: TopUniversities.com). Since education is this costly, many students feel that they have no choice but to go down the path of fake degrees and save themselves some extra bucks.
The cut-throat competition in today's world is another reason why students feel tempted to purchase their degrees instead of earning them. Companies stress heavily on impressive CVs and students who feel that theirs do not pack a punch often resort to such measures. While this does increase their chances of getting employed, it also puts their entire career at risk as it's only a matter of time before employees find out.
While these are reasons that can still be defended, some students buy fake diplomas online just out of laziness. Yes, many students consider buying fake degrees to be the easy way out and a simple solution for all their woes such as poor academic performance, parental and peer pressure to do well in life etc.
Then on the other side of the grass, there are students have been gulled into believing that these universities are real and can help them achieve the degree of their dreams. That's because not all of these sites openly advertise themselves as masters in serving up bogus degrees. Many of them seem pretty authentic, and to the untrained eye, they can appear to be absolutely harmless. In fact, getting an authentic degree, as a result, has become much more difficult as it is almost too easy to fall prey to the scam and end up with a degree that is of no real value in the practical world.
As students, you must know how to spot bogus degrees from real ones if you want to truly have a bright future!
Fake degrees from diploma mills have certain telltale signs that can help you distinguish them from the real ones. These are the signs you should keep an eye out for.
Google the name of the university
It's quite easy to believe that the diploma mill concerned is not actually a diploma mill but a real institution because of the name it has. Most mills make sure that they have names that sound genuine and try to imitate the names of real universities as closely as possible in this regard. So to know if the university you are applying to is fake or real, you need to Google the name and scan through the results. If Google doesn't show up verifiable results, you know it's fake.
Look up the address
Well, some diploma mills are so good at doing what they do that Googling them may actually show up search results that can convince you that the place is authentic. However, to be absolutely sure that it is a real educational institution rather than a fake, you should look up the address on Google Street View. There are high chances that the given address may show results of a coffee shop or a residential building when you check it on Street View.
Check the seal on the degree
Every degree has an embossed seal on it; at least all the real ones do for sure. If you see that the degree you're getting from the concerned institution does not have a seal, you should treat it as a red signal and lodge a complaint stating you have been duped. That said, there are tricksters out there who will go as far as to even put an authentic looking seal on their degrees so that you can't possibly know if they are real or not. In that case, you should scan the degree for other signs and then make your decision.
Examine the signature
The next thing you need to take a look at are the signatures on the degree certificate. If they are not in ink, and appear as if they have been digitally printed, you can safely assume that the degree is fake. Real degrees are individually signed by the members of the faculty of the educational institution concerned. Moreover, real signatures will not end abruptly, and you will be able to see their trail on a real degree.
Scout for spelling errors
This one is such an obvious mistake that most diploma mills make that you can almost wonder how they are still in business! If you observe carefully, you will find some very obvious spelling mistakes in your diploma certificate. If you're not so sure about the spelling of certain words yourself, run the soft copy of the certificate through an online spell checker to be sure.
Search for watermarks
These may be slightly harder to detect than any of the other signs we have mentioned so far, but the good thing is that you can use them as a stamp of authenticity as diploma mills will not be able to fake this. To look for a watermark, or a hologram, you will have to hold your degree up in very bright light and check for their reflection. In case you don't find one, you can deem the degree as fake.
In the end, the choice is yours. You can still choose to go down the way of a fake degree and think of it as a solution to all your academic problems. But how is that going to do you any good? Companies have now become much wiser and carry out a thorough background check before hiring students who are fresh out of college. Besides, with a fake degree, you don't even get the chance to learn valuable skills that can help you perform at your maximum capacity when you get a job. So our advice is that you save yourself from the rut of fake degrees and go for a genuine one. It might be harder to get an authentic degree, but it will be well worth the price.
MyAssignmenthelp.com Can Make Earning A Genuine Degree Much Easier For You By Providing You With High Quality Assignments
We understand that assignments can deter you from completing your degree, and force you to think of getting a fake one for yourself. Instead of resorting to such dire means, why don't you take assignment help from MyAssignmenthelp.com? Since we can relieve you of the stress that comes with assignments, you will get plenty of time to focus your energy on passing your exams and earning your degree. We promise you; you will get plagiarism-free assignments from us, which will be delivered to you on time. If you want our reasonably priced services to assist you, give us a call on +61-3-4000-0033 today.
Was this article helpful?
YesNo