This fall, Apple can change your academic habits for the better. You will be able to stream your favorite infotainment, news or sports channels through Apple TV, right on your classroom projector. You can do the same at home too on your HDTV and utilize television viewing to speed up your academic work. All this will be possible as Apple TV will launch its online TV streaming service with a bouquet of 25 channels by June 2015.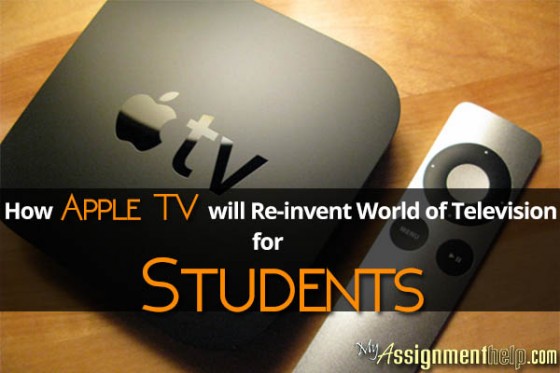 For those of you who haven't switched on to Apple TV yet, it is a digital media player designed and sold by Apple Inc. It is a network appliance through which you can stream digital data like TV shows and movies from various sources. The sources that you can preferably use are iOS devices like the iPhone, iPad and other Apple goodies.
Apple TV can work wonders in classrooms. The following two points explain this clearly.
You can stream academic content for any subject from your iOS device via the AirPlay protocol. AirPlay is nothing but a proprietary protocol suite devised by Apple Inc.
The Apple TV enables you to display your iPad screen's academic content on your classroom projector using the AirPlay Mirroring technique. This technique helps you to stream the content without depending on cables in a compatible manner.
This news will definitely bring a smile on your face. Wall Street Journal has reported that Apple Inc is planning to launch its online TV streaming service priced between $30 to $40 USD per month for selective 25 high-profile TV channels. The CEO of Apple Inc., Tim Cook has assured that Apple TV will re-invent television viewing. It may be the beginning in United States, but Apple TV streaming service will revolutionize TV viewing worldwide in the years to come, he has opined.
As a student, you will be the greatest beneficiary of this revolutionary concept as Apple TV will contribute towards a textbook-free academic environment. Let me explain the reasons why you will reap maximum benefits from Apple TV's online streaming services.
1. Pictorial display of academic work
You will be able to upload your academic work on the Internet through tools like Google Docs. You can then access the work and display it right on the projector screen by connecting it with the iOS device through Apple TV.
2. Access to relevant academic documentaries
You will be able to view academic documentaries that are relevant to your subject on the projector though Apple TV's live streaming. You just need to have the information about the TV channel and program broadcasting details.
3. Access to sports and infotainment channels
You can refer to extra-curricular activities' know-how through sports and infotainment channels. Apple TV live online streaming will make this possible in the days to come.
Apple Inc believes that by September 2015, their Apple TV Streaming service will be released in full swing, expectedly with their new iPhones. So till then, let's keep our fingers crossed.
MyAssignmenthelp.com can help students to write on Apple TV
You can contact the assignment writers at MyAssignmenthelp.com to avail assignment help for any topic related to Apple TV's live streaming service. Our company is strongly backed by a team of talented assignment help writers. Our brand also has writers who can provide authentic assignment help material for any academic subject. They keep themselves updated with all the current affairs topics and news along with complete knowledge of academic subjects and topics. We assure you of top quality assignment help material.
Was this article helpful?
YesNo