Google has announced a path-breaking initiative to enable the American workers and jobseekers with the ability to strengthen their technical skills with the 'Grow with Google' program. The organization has pledged to donate $1 billion over the course of five years for this initiative to carry on seamlessly.
This new move is aimed to build a digital destination for jobseekers to receive efficient training and valuable certificates, and for industries and businesses to develop their services. The ultimate objective is to let anybody with a properly functional internet facility to become adept at technology and nurture their skills for a job in spheres like software development and information technology support.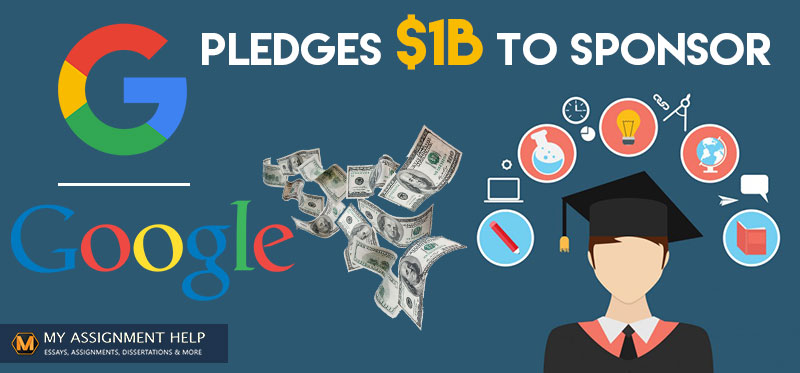 The software giant has further announced that $10 million of this $1 billion grant will be allocated to Goodwill, a non-profit organization that delves into workforce development, to initiate a program called the Goodwill Digital Career Accelerator. Goodwill will be allowed to get the assistance of over 1000 Google employees who plan to make themselves accessible for career counseling and to coach over the next three years.
Around 2600 full scholarships will be offered by Google with the help of non-profit organizations. To make sure that these certificate courses enrich the career prospects and open up opportunities for the applicants, it will be backed by potential employers such as Bank of America, PNC Bank, and Google.
According to a report published in New York Times, Sundar Pichai, CEO of Google was quoted as saying: "We understand there are uncertainty and even concern about the pace of technological change, but we know that technology will be an engine of America's growth for years to come. He further added, "The nature of work is fundamentally changing, and that is shifting the link between education, training, and opportunity."
With this initiative, and through its dedicated online hub, Americans will get the opportunity to unlock a vast array of marketable skills. In addition to that, the tech giant also emphasized on some of the programs that it's creating to make IT a lot more approachable as a career option. It will soon come out with the launch of a distinctive program in IT support, with the IT Professional Support Certificate including hands-on labs to make the IT-aspirants job-ready within 8-12 months.
But the pertinent question that remains to be answered is:
How will this new reform in the sphere of education yield the best results for the numerous aspirants?
It has been reported in a study conducted by the Economist magazine that less than half of 18 to 25-year-olds are of the opinion that their education provides them the adequate knowledge and efficiency they require to get through various job opportunities. That's a huge shortcoming which is only going to get more and more severe. By 2020, one-third of jobs will require knowledge and understanding that aren't usual today.
With the help of 'Grow with Google' initiative, the learners will get access to the tools and training they need to land a job.  While there may be uncertainties, apprehension and even growing concerns about the pace with which technological evolution is taking place. But as has been pointed out by Pichai himself, technology will be a catalyst for development shortly.
With the online assistance hub linked with the particular initiative, job seekers, local business owners, teachers, and developers can obtain efficient training and professional certificates that would add value to their career prospects.
So if you're looking to teach or learn the skills that employers most often admire, you can search for various courses under this initiative. These courses will be focused on the basics of technological applications in the modern era – from spreadsheets to email. And it's now accessible for everybody, and if the community colleges and vocational training institutes adopt this latest development then that automatically produces a breakthrough in the sphere of education.
For individuals who wish to get acquainted with and learn new technological skills, Google has come up with programs to make IT far more feasible as a career option. And for individuals who want to contribute to the ever-widening sphere of technology directly, then there couldn't be a better start than becoming a developer. All these initiatives are accessible with a functional Internet connection and within the comfort of one's homes. Aside from providing online courses, these initiatives will also emphasize that the jobseekers meet other influential people when they're considering to switch careers or move their career prospects towards a new direction.
The 'Grow with Google' initiative also involves partnering with various libraries and community institutions across the nation to host these events. The aspirants will be provided with sufficient career counseling and training for individuals and organizations, even help small businesses with a prominent online presence.
Technology may seem to be quite overwhelming for some people. But it is always comforting to have role models and people right in front of you who can make the journey seem so much simpler. That's the reason why Google has promised to let it's esteemed employees provide valuable counseling and impart their technological knowledge to the job seekers, through the medium of the Grow with Google online hub.
Google.org will utilize its expertise to fund organizations working in three areas: narrowing the education gap in the world, helping people get acquainted with evolving nature of work, and making sure that everyone benefits from these initiatives.
This unified approach will only add to the progress, be it for individual or organizational. What a person decides to do with the resources provided by Google is what matters. Now only time will tell how far-reaching and fruitful the initiative will be in the future. But there's no denying that, this reform will have in motion the much-needed transformation in the otherwise stagnant process of education and learning.
Coping with the pressure of multiple assignments seem too much for you? Seek professional help from the experts at MyAssignmenthelp.com and scale new heights in your academic career!
When you are pursuing higher studies, you cannot afford to take risks with your academic paper. That's why MyAssignmenthelp.com with its world-class academic writing service allows you to keep your academic integrity intact. With various malpractices prevalent in the field of academics, it is comforting for the students to have the assistance of a paper writing service which swears by absolute authenticity in its content.
The experts at Myassignmenthelp.com are highly qualified and efficient in dealing with intricate topics for various types of academic papers. Hence the quality of these papers is never compromised with. Feel free to drop in your queries at our toll-free number any time of the day.
Was this article helpful?
YesNo