To tote or not to tote (read: gun), that is the question.
This question haunts the average American citizen as well as the government on an equal level. While quite a few parents and those who've lost near and dear ones due to shootouts have rallied in support of gun control, there are still many out there who call it a legal right and the perfect weapon of choice for self-defense.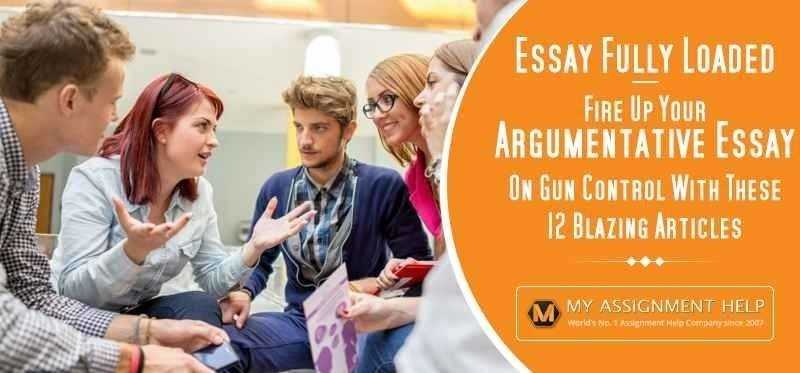 The haunting appeal of guns has had everyone under its spell, and its horrors have not even spared famous celebrities such as Kurt Cobain or Tupac Shakur who have been victims of gunshots. Schools, too, have been under gunfire in America since time immemorial with the first recorded incidence of a shootout in an educational institution in the country dating back to July 26, 1764: a time when America was just a little more than a decade away from becoming a nation to reckon with.
Incidences like these have sparked endless debates on gun control, with the nation divided in half — those who support it and those who don't. Many scholarly articles too have been written in this regard, with some taking a pro-gun stance, while the others are firmly against it.
Now as students, you've been asked to prepare an argumentative essay on gun control. And it doesn't matter which side of the fence you lean on, you need some solid evidence to back up your argument. Here's a list of gun control articles you can make use of in your essay. We've also provided a song suggestion with each article that can help you get in the groove of your essay.
1. What 130 of the Worst Shootings Say About Guns in America – The New York Times 
This jointly written article by Sharon LaFraniere and Emily Palmer opens with the infamous case of Mr Houser who had recklessly opened fire at a movie theater in Lafayette, Louisiana and then goes on to present its analysis of the 130 disastrous shootings that have taken place in the US. The article also puts forward conclusive data on these shootings, taking a rather anti-gun point of view. It also questions the legality of owning a gun and states how easy it is for even convicted felons to get a license to guns in the US.
Suggestion for your playlist: 'Saturday Night Special' by Lynyrd Skynyrd is our pick for this one since the song focuses on how easy it is to obtain a handgun in the US.
2. Study: Some Gun Control Laws Result in More Deaths – The US News
Now, this article takes a completely different angle from the previous one. Written by Kimberley Leonard, a staff writer for the US News, it presents a very curious study, stating that imposing stricter gun control can actually result in more deaths than lesser as is expected. The research was originally published in the British journal known as The Lancet. Students who are against gun control can make use of this article.
Suggestion for your playlist: A song by the artist called Cracker, aptly named 'Can I Take My Gun To Heaven?' justifies the obsession Americans have with guns.
3. Gun Control in America: How We Got Here – CNN Politics
The good thing about this article is that it can be used by both who are writing for and against gun control. Written by Gregory Krieg, the article begins with a shootout on protestors against violence in Dallas in which police officers too lost their lives. It then goes on to observe how gun laws have gone through various reforms through the last 80 years, starting Roosevelt's presidency to Bill Clinton's signing of the Assault Weapons Ban.
Suggestion for your playlist: Can there be a better song than 'I Shot The Sheriff' by Eric Clapton for a scenario in which police officers get killed. Give this one a try.
4. Why Banning Assault Rifles Won't Reduce Gun Violence – Los Angeles Times
Adam Winkler, the author of this article, observes how putting a ban on assault rifles is not going to make a difference in the death toll numbers that are attributed to gun violence. He explains how the nomenclature 'assault weapons' confuses the average American and gives off the idea of machine guns rather than the semi-automatics that are largely sold in the American market. If you're against gun control, make use of this article to make a strong point in your essay.
Suggestion for your playlist: 'Time To Get A Gun' by Fred Eaglesmith presents the how getting a gun becomes a necessity in violent towns where crimes are common. You can even check out the Miranda Lambert cover if you want.
5. The New Politics of Gun Control – The Time Magazine
An analysis of how the political stance on gun control is changing due to the rising anti-gun sentiments among the general public, the author of this article presents ample statistics that state that not only the general public but even presidential elects are now in favor of gun control. It also tries to show that we've come a long way since the days of Al Gore's campaign and that those running for the presidency are no longer afraid to make gun control a part of their campaign.
Suggestion for your playlist: Greenday's rather mournful as well as melancholic '21 Guns' very aptly describes the common sentiment that Americans share regarding the futility of gun wars on the streets.
6. Rifles: 99 Percent of the Gun Control debate, 2 Percent of Murders- Washington Examiner
This article promulgates a rather interesting study, which indicates that despite the focus of most of the political debates in the US on banning assault weapons, these rifles are only responsible for just 2% of the deaths that place in the country due to gun violence. It further goes on to present some informative stats that reveal that handguns are mainly the culprit and that banning them may not be feasible as they can be the best weapon for self-defense due to their compact size.
Suggestion for your playlist: Justin Moore's song 'Guns' is a good ol' fashioned tribute to some good gun-lovin'. Hence, this is our choice for a pro-gun article and essay.
7. Should More Gun Control Laws Be Enacted? – ProCon.org
No matter which side you are on in your argumentative essay, you can make use of this article to take help in essay writing. The article very expertly presents both sides of the coin and provides readers with a lengthy list of both pros as well as cons of gun control. Statistics and cases are also presented both in favor of and against gun control. This article is very rich in information, but it's important that you use it wisely. Don't treat this article as your only reference and do not just lift matter from here. Be sure to interpret the data presented and to give your own views as well.
Suggestion for your playlist: Since this article is balanced in its views, we've chosen a rather neutral number for it. 'Big Iron' by Marty Robbins just paints a very vivid picture of a pistol showdown.
8. The Case for More Guns (and More Gun Control) – The Atlantic
Author Jeffrey Goldberg offers a unique solution to the increasing gun violence in the US – giving Americans more guns. While he does put forward other ways through which gun control can be implemented, he also says that the entire activity would be pointless since it's apparently too late. He attributes this to the number of Americans who have guns in their possession, legally. He also says that the number of gun owners in America seems to be rising each year. It supports claims in favor of gun ownership, arguing that the same gun can be used to disarm or kill attackers who start shootouts.
Suggestion for your playlist: Rodney Atkins' 'Cleaning This Gun' echoes the protective attitude presented in the above article, where having a revolver is a necessity for protecting your family.
9. Why Gun Control is Such a Losing Proposition – The Washington Post
Despite the name of this article, don't take it to an article that is against gun control. This one is a just examination of the reasons why gun control doesn't seem to work in America. The article is an accumulation of various other articles and their authors' views on why gun control just isn't working out in the country. Some argue in favor it, while some argue against it. So even this resource can be used by you to back up whichever standpoint you take in your essay.
Suggestion for your playlist: The poetic 'Grandaddy's Gun' by Aaron Lewis is our choice for this one. The song is a description of an old, useless gun that sits on the mantelpiece, much like the old and useless gun control laws of the nation.
10. Gun Rights v. Gun Control – OpenSecrets.org
Brianna Gurciullo and Viveca Novak wrote this article together presenting the reality of the gun situation in American politics. It reveals how the government's stance keeps on changing, how the Democrats seem to be divided in their views and how the Republicans are openly pro-gun. It also puts on display some very interesting statistics regarding the amounts of funds that flow into government from gun rights groups as well as gun control groups, pitting them against each other and seeing who emerges as the winner.
Suggestion for your playlist: 'I Don't Like Mondays' can be termed as a misnomer for the Boomtown Rats' song that actually tells the story of a teenage girl who goes on a solo gun rampage.
11. Gun Ownership is Not a Human Right- The Guardian
SE Smith very passionately states his opinion that the government cannot just term gun ownership as a human right. He defines what human rights are and what the qualification criterion is for a human right, saying that owning firearms doesn't really fit the bill. The author also states that possession of a pistol cannot even be termed as a civil right, let alone a human right. Guns, according to him are not necessary items for survival and hence, the law shouldn't permit a citizen to own one so easily.
Suggestion for your playlist: 'Machine Gun' by Jimi Hendrix perfectly sums up the spirit of this article as well as the animosity many American citizens have in their heart for the horror and violence these weapons represent.
12. 'It Represents My Liberty': America and the Gun, Then and Now – The Guardian
On the other side of the grass, this article represents the views of real life people as well as shootout survivors who actively support gun ownership and see nothing wrong with it, citing it a necessity to feeling safe and powerful at the same time. Quite a few in the article are also against gun rights and voice their opinion in equal passion as those in favor. This article can prove to be helpful for you if you want to know what the real opinion of the real America is over the hot-button issue of guns.
Suggestion for your playlist: Randy Rogers Band's 'Shotgun' is what we think describes this article best. The song is on keeping your gun with you, just in case, even though the bad times are over.
In conclusion, these gun supporting articles can help you write the perfect argumentative essay on this issue. If you're a feminist, or would like to add a feminist spin to your paper, concentrate on how urban women own more guns than any due to safety issues. And if you still get stuck, you have the songs for inspiration. Happy writing!
Get Expert Help On Argumentative Essays And More At MyAssignmenthelp.com
If writing an argumentative essay is not really thing and if you lack the necessary skills to write one, do not worry. Just call us and we'll provide you with a professionally written essay that can help you impress your teachers. You get plenty of amazing features from us by availing our services. Don't believe us? Take a look at these –
• Over 3000 Ph.D. writers
Our team of in-house writers is composed of 3000+ PhDs who know their business better than anyone else does. You can trust them to know the basics of an excellent essay. They also stick to high quality standards while writing.
• Pocket-friendly deals
We don't charge over the top prices for our services. We've kept our prices reasonable so that you don't even have to think once before spending your money.
• Delivery of solution before deadline
No matter the deadline you provide us, we deliver your paper within the deadline, even before so that you can check personally before submitting it.
• Plagiarism-free solutions
Another hallmark of our best in class services is that we provide you with 100% original papers. We also take the extra measure of passing our paper through plagiarism-checkers before delivering it to you.
• Easy payment methods
Our payment gateway has been designed keeping your convenience in mind, and you can choose to pay through your credit card or debit card as well as net banking or PayPal.
If you still have any doubts, we are available 24×7 to resolve them. Just give us a call +66261003843, and we'll sort out the issues you face.
Was this article helpful?
YesNo