3 Best Ways
A common problem among students is submitting a plagiarized assignment to the university. Almost 80% of students today copy content from the Internet and paste it into the assignments. They hardly realize that what they have done can lead to plagiarism.
Plagiarism is one aspect that needs to be checked when students submit assignments to their examiners or supervisors. This is because it is a punishable offence. Students cannot simply copy other's work and pass it off as their own.
Are you too concerned that your paper might be plagiarized? Asking how to check plagiarism in your content? Well, there are three major ways to check plagiarism. But you must remember that it is best to start the process of checking plagiarism after you have completed the paper and done with editing and proofreading.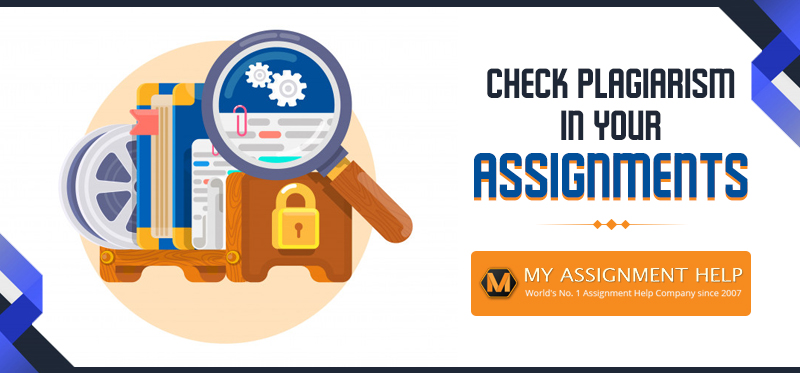 Three ways to check plagiarism
Making a reference list: A reference list is an important part of any assignment paper. Thus, you must always provide a reference list after you have finished an assignment. This reference list must be accurate and have all the sources from where you have gathered information and mentioned them in your paper. 
Most students tend to submit a plagiarized paper because they do not acknowledge the sources and make a proper reference list. Instead, they just paraphrase and write the content. This must be avoided at all cost.
Tips on creating a reference list:
You must note down the information of the sources when you are researching on the topic.
Find out the style of referencing that your university accepts or if they have any rule.
Find examples of referencing from the Internet and learn the style of writing the reference list.
Putting in-text citations: In-text citations are also highly important like a reference list. This means that you must acknowledge the source within the content. This helps the examiners to understand that you have not copied content but have placed it as evidence to support the topic. 
Unfortunately, most students are not aware of this fact at all. They just write the paragraphs or just incorporate quotes, which lead them to write a plagiarized paper. Give importance to in-text citations to avoid plagiarism.
Tips on writing in-text citations
Check if your university has referred a citation style. Follow it while giving the citations.
Never leave citing part after completing the paper. Instead, put them while you are writing your paper.
A checklist is an easy way to see if you have mentioned all the sources from which you have gathered information. Do it.
In-text citations do not need to be elaborate, unlike the reference list. Hence, it is easy, save time and saves your paper from plagiarism too.
Using online plagiarism checking tools: Answering to your question of how to check plagiarism, another best way is to use online tools for this purpose. The Internet has a long list of plagiarism checking tools that are easy to use and give you the expected results. 
An online plagiarism checking tool must be reliable and efficient enough to provide effective results. This is because you are relying on that tool and checking plagiarism which must be avoided at all costs.
Check the Internet, and you will find free tools as well as the paid one. Some tools even have different versions or memberships that are paid. But that does not mean that the tools which come for free are not reliable. What you can do is check with the reputation of the plagiarism checking tool before you use it.
The online tools vary in their characteristics. Each of them is unique in their own way. Let us see a few online plagiarism checking tools here.
Grammarly 
Grammarly has been a trusted companion of students as well as of professors. Even reputed universities trust this online tool for plagiarism check. 
Besides being a plagiarism checker, this tool also acts as a proofreader too. The tool has a huge database of more than 15 billion web pages. It scans and checks any documents within seconds and is more efficient than other software.
It has a reputation for detecting the negligible amount of plagiarism in the content also displays the percentage report. The tool comes for free, and you can also avail the premium version of it.
Dupli Checker: 
This is another effective plagiarism checking tool that you can find on the Internet. This tool comes for free and gets the job properly done. You can use this tools numerous times because there is no restriction.
This tool is very easy to use too. It has a very simple interface with a basic layout. You can either copy-paste content up to 1000 words or upload any file and get the job done.
This tool checks grammatical mistakes too. You can use this tool 50 times to check for plagiarism if you are a registered user. Else you can use this tool only once in a day.
SmallSEOTools
Through this platform, you can get access to several features apart from checking plagiarism. The plagiarism checker in this tool is quite a basic one, and you will find no trouble using it.
All you have to do is copy and paste content in the box. But it is limited to 1000 words. You can also upload documents from your system. The plagiarized portion will be shown in red color, and it takes only a few seconds.
The tool is small but very effective in checking plagiarism. The tool also gives privacy guarantee stating that they delete all data and records automatically. A drawback of this tool is that the free version is not much effective.
Copyleaks 
This tool has a cloud based platform. There are two different sections for education and business purpose. This tool allows you to check about 100 academic papers at once. This helps to save a lot of time.
The best aspect of this online tool is that you can also use its mobile app while having no computer at home. The tool has a huge database that helps to find plagiarized content accurately.
Another best thing about this online tool is that you can also check for self-plagiarism, i.e. if you have written the same content in more than one assignment by mistake. But you can only scan 2500 words per month for free.
Plagiarisma
This is another trusted online plagiarism detection tool. It is a very basic tool and extremely easy to use. Hence, most writers, students and teachers use this tool for a quick check.
You can copy paste content over here. You can also upload content from your computer. The best thing is you can do is check any URL through this online tool.
This tool supports a wide range of extension unlike any other tool in this genre. The scan is fast and takes just seconds to give the needed result. The only drawback is you can access this tool for a limited number of times.
These are few other online plagiarism tools that you can use if you think your paper carries plagiarism. Try to paraphrase the text, which detects as plagiarized on the tools. Focus on the task and be careful while you are doing it.
You must make sure that there are no traces of plagiarism in your content. One method that you can adopt is to put the content through two plagiarism checkers one after another. If you find your paper clean, you can submit it.
Fearful of submitting plagiarized papers to your university?
Get help from Myassignmenthelp.com for 100% original work
MyAssignmenthelp.com is the sole place where you get only plagiarism free papers. We also give you the plagiarism reports to ensure you get 100% authentic paper.
Our writers are our backbone. They support us in giving you plagiarism free papers.
They are subject experts with PhDs degrees. Hence, they have unique ideas even if the topic is repeated.
They have excellent writing skills that help to write authentic papers using their own words and creativity.
They always follow the referencing and in-text citations guidelines. In fact, they know the different citation styles and do them as required.
They go through other's works and take inspiration from the ideas. But they never copy them.
Moreover, they are capable of providing top-quality papers that undoubtedly meet all academic requirements.
Hire MyAssignmenthelp.com when you want to be sure that you get only plagiarism free papers. This is because we have experienced quality analysts, who are highly efficient. They check each paper for quality and plagiarism. Once, they are sure that the paper is plagiarism free and meets all academic standards, we send the papers to you. So order your assignments and attain academic success!
Was this article helpful?
YesNo