A dull essay risks losing the interest of your readers and brings down your grades. A faulty writing style or careless handling of the essay topic can undermine the potential of your essay. If you want your readers to spend more than 30 seconds on your essay, you need to keep their attention. This blog highlights excellent essay writing tips straight from the custom essay writers in Australia.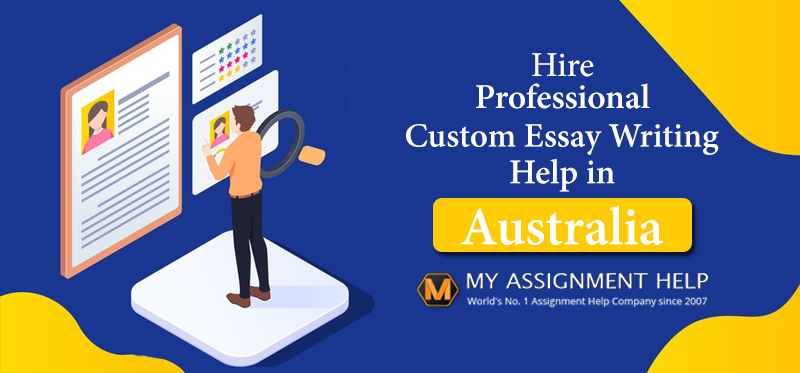 Here are a few amazing tips given by the professional of Australia to write a winning essay:
State all that comes to your mind
Most students panic at the thought of beginning the task of essay writing. Writing an essay will not be difficult if you get into the flow of writing. As the professionals say, you need to get your groove moving and stay in the zone to write a quality essay like the experts. Stay focused on what you mean to write.
Do not let things such as wrongly structured sentences or a few spelling mistakes slow you down. Jodi Picoult rightly said "You can always edit a bad page. You can't edit a blank page." Therefore, first write what comes to your mind just after you look at your essay topic. You can leave the ugly bits for later. Once you finish writing the first draft of the essay, come back to the ugly bits. Keep the proofreading task for the last.
Break down the essay question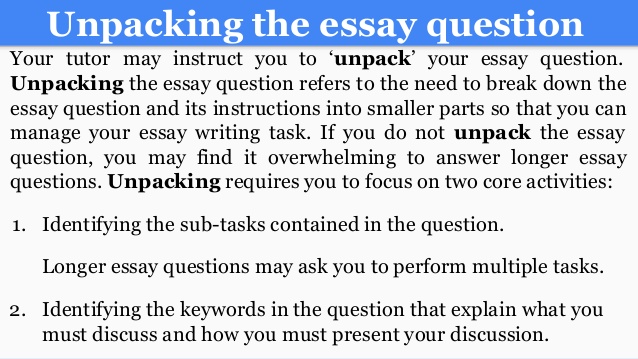 Source: https://www.slideshare.net/thefreeschool/writing-an-a-college-essay-paper
Most of the time students fail to answer the question that is asked. To avoid this mistake, professionals suggest that they should read the questions multiple times and underline the keywords.
Try to look for these three types of keywords:

Source: http://www.usp.ac.fj/studyskills/CFDL/module1/Understand-the-topic/Limiting-words.html
Task keywords– These type of keywords are mostly verbs. It will help you in answering your essay topic. Example – Analyse, contrast, explain, evaluate or define.
Limiting keywords – These type of keywords will help you to narrow down your focus and concentrate on a particular area. These words limit and define the essay in specific areas. For example, in the above sentence 'Examine the changes mobile phones have made to communications in Fiji.' The limiting words are 'Mobile Phones' and 'Fiji'.
Noting down these keywords will help you to answer your essay topic better. Make sure to repeat some of your task keywords and limiting keywords. It will help you to remind your teacher how your essay argument relates directly to your essay question.
Link the ideas
As per the professional writers, essays have a cohesive flow when your ideas and information relate to each other. This is where linking words come in. Linking words help to clarify to the readers how one point of your essay is related to another. Check out the commonly used linking words below.
Take effective notes
Professionals are of the opinion that many students fail to do the research in the correct way. As per custom essay writing professionals, when you skim from one resource to the next, you do not have to write any note. You need to identify the page number and the source title, or anything else that you need to know to find the resource again. Once you identify the page number and the source title, it is time to write the information. Make sure to write what the source is about and include necessary details as per your research.
At the time of writing your essay, it will become easier for you to look into the resources if you maintain a note. Do not commit the mistake of writing every bit of information you collect during your research.
Check the word count at last

Source: https://www.delosinc.com/long-blog-post/
Essay writing professionals in Australia believe that students must over-write and then cut the length of the content down at the end. It might seem like an extra burden, but it is a tested trick. Just imagine that you have written your essay in about 80% of your word limit and still have much to write. You struggle to fluff up the rest. However, if you write about every idea and concept that comes to your mind first and trim them down at the completion, it becomes much easier.
It becomes tough to confine all our thoughts in a limited word count. It can be tougher to find information to go beyond your word count. When you edit your essay in the end, you can delete the unnecessary words or phrases – leaving the important ones behind.
While you write your essay, make sure to ignore the word count. Just keep on writing what comes to your mind. At last, when you will cut down to the actual word count, you will have a concise and perfect essay.
Break the essay into manageable chunks
Professionals suggest that when you create a plan for your essay, make sure that you do not fix it in a long and single theme. Think of it as if you are writing a novel. While writing a novel, you may want to write about your childhood, a few of your past experiences, your achievements, and many more. The same goes with writing an essay. If you write your essay by breaking it into manageable chunks, the writing process becomes much easier.
Writing an essay is not difficult if you follow this pattern. While you write your essay, write a bit about everything. Like, write a bit about A, a bit about B, a bit about C, etc. Break them up with a separate header. Each header must explain a different idea. Make sure that each section connects well with the other section. It must follow a logical flow of events. This will help you to highlight your points thoroughly.
Calculate the word count
Most of the time teachers assign essays with a certain number of marks next to it. This makes students' fumble as they are unable to decide the essay word count. Essay writing professionals have a trick for you.
Suppose you are assigned with a word count of 2500 words, and you have 3 essay questions. The first essay question carries 15 marks, the second question carries 10 marks, and the last question carries 15 marks. What you need to do is take the total number of the marks and divide the sum with the given word count.
Here, the sum of the marks will be 15+10+15 = 40, and you need to divide 2500 with it.
The required calculation will be 2500 ÷ 40 = 62.5
You can take it at 63 approximately. Therefore, you get 63 words per mark. Now, calculate how many words each question will carry.
The first question carries 15 marks. Hence, it will have a word limit of 947.
The second question carries 10 marks. Thus, it will have a word limit of 630.
The third question carries 15 marks. Hence, it will have a word limit of 947.
This calculation will give you a rough guide on how much to write for a given essay question. Though it is not perfect, it will help you to come to a decision.
If you have a question or suggestion in mind, feel free to mention it in the comment section below.
It would be our pleasure to hear from you.
Are you looking for professional custom essay writing help? Hire the experts of MyAssignmenthelp.com
Are you facing challenges in writing essays on different topics? Take essay help from the experts of MyAssignmenthelp.com.
MyAssignmenthelp is a leading academic writing company in Australia. We have a pool of 2839 essay experts who have completed 119839 essay orders. We have a success streak of satisfying more than thousands of students over the decade. Check out the benefits of hiring our professionals.
Unmatched quality of essays – Our experts write all the essays from scratch to maintain its originality.
Experienced essay writers – All our writers are highly qualified, having years of experience in writing quality essays.
Plagiarism free work – Our experts use reliable plagiarism detecting software Turnitin to check the texts.
Essays at pocket-friendly rates – Our students are our priority. Hence, we have kept all our services pocket-friendly, so that any student can avail them.
Timely essay submission – Our essay experts guarantee submission before the deadline.
365 days of live support – We have an active customer support team, which caters to the needs of the students all day round.
100% confidentiality – We ensure 100% confidentiality. We do not share our client's personal details with any third party.
100% money-back guarantee – In case you are not satisfied with the quality of the essays, we assure 100% refund.
What are you waiting for? Hire our custom essay writing professionals and get a winning essay right away!
Was this article helpful?
YesNo