Entry standards or exit levels? Which one should be evaluated to validate the education achievement of universities? Students having access to higher education or the students absorbed into workforce: which section is a better parameter to judge the quality of education system? Australia has not promoted a discussion surrounding this issue yet, but it is high time to start one.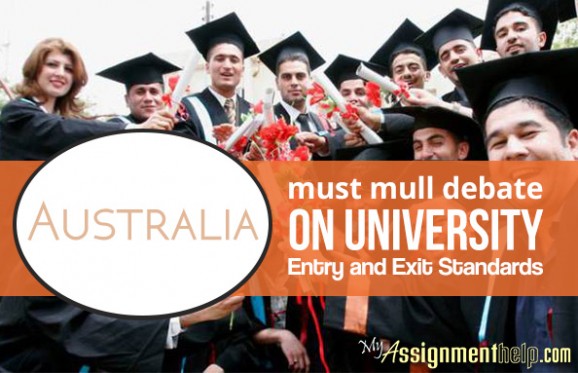 Professional bodies like teacher, nurse and engineer registration boards are less interested to check name, status, location of universities that the students have attended or even numerical rank of students. They are more into reviewing 'output measures' like whether or not the students can carry out professional responsibilities in content knowledge, cope with multi-disciplinary team and have the ability to learn rapidly in global backdrop.
Some students are still obsessed with university entry standards, thinking that it would help them to become a certified member of registration boards. But apparently that is not the case.
So the university should shift its primary attention from accepting students with high scores from secondary school to providing opportunities to wider access to higher education.
The archaic notion of evaluating students' capability based on their secondary school performance should be annihilated immediately because ultimately end results are what matters most – How capable are you to take the professional responsibilities.
But since we do not want lower educational standards, should we allow soft markings to give access to wider range of students?
No, not even on a single occasion.
What universities can do to facilitate success is to promote more support services so that the students develop confident in their abilities.
There should be more restricted guidelines to determine whether or not a teacher is qualified to take the role of a university educator. Most of them still don't know how to teach or engage students in learning. But what is encouraging is that a considerable proportion of them have the intention to learn how to do so. We can use this 'positivity'.
Universities have a role to play. It is seen over years that universities value and reward research over teaching; promotion opportunities often take place in research rather than teaching. But it has to change, the revolution has already started but only in universities which are concerned about their international rankings. Yes, the transition should take place more benignly.
Too bad that our country has been dodging this issue for long now. But this is an ideal time to take related measures to transform the situation into success. This is also true that Australia has a long way to go to shift its focus completely to exit standards.
Avail best quality online assignment help from MyAssignmenthelp.com at unthinkable price rates
Stress, anxiety and sleepless nights become a habit for college students because of the huge burden of academic writing. But you will not counter any of these awkward situations when you are with MyAsisgnmenthelp.com, Australia's most trusted assignment writing service provider.
Unlike other writing service providers, we never make false promises. We only guarantee those things we are capable of providing. Our online assignment help services assure you high quality help material that you could never get from any service provider. This is why we have developed a database of loyal customer all over the world. The reason behind our success is our 3000+ experts who are committed to provide you assignment help with writing any type of assignment.
Contact our 24×7 customer care unit to place your order. Use our chat facility for instant response or you can mail us too.
Was this article helpful?
YesNo