It's safe to say that students in Australia are making a poor choice when it comes to their education. Instead of staying put and finishing all years of college, most of them drop out in the first year itself for many varied reasons.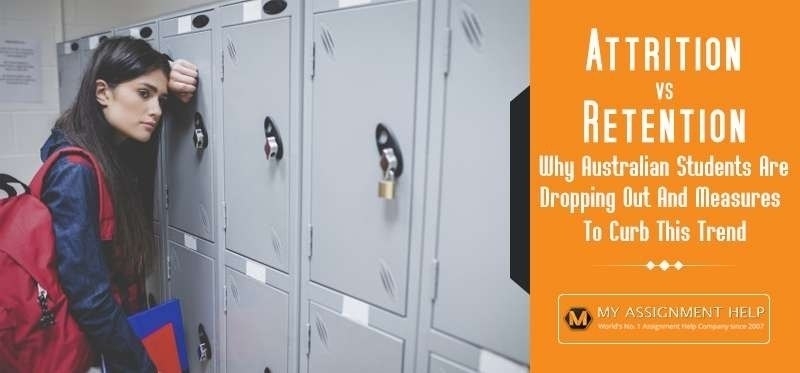 A new report has revealed that presently one in three students in Australia do not complete their university degree. This data was revealed by the Federal Education Department of Australia and puts forth one of the worst dropout rates the nation has ever seen.
These alarming numbers have impelled the government to push students to think about their decision to join college at all before they accept their enrollment letter. The Federal Education Minister of Australia, Mr. Simon Birmingham, released data from the education report, which stated that nearly 33% of students who had enrolled in a six-year course in an Australian university in 2009 had abandoned their course by 2014 – just a whisker away from its completion.
The data released not only presented the overall attrition rate of all universities combined but even presented a list of the worst offenders. The Charles Darwin University of the Northern Territory was deemed as the topper of the list with a course completion rate of a shameful 41.8% only. The Murdoch University, the University of Southern Queensland, the University of New England, the Central Queensland University as well as two regional universities of Queensland made up the bottom five of this list and witnessed less than 50% of their students graduate.
As for universities whose students managed to complete the full duration of their courses, their numbers were few and far between. Out of the 43 universities in the country, only 7 had a course completion rate that went above the 75% mark. Although the best performing universities had almost 88% students complete their studies successfully; but such rates were rare.
The stats also presented a surprise element, revealing that girls were less likely to abandon their course than boys. Around 48% of female students had finished their course, while the same numbers stood at 40.6% for boys.
Given below is a table listing the worst offenders along with their attrition rates. The completion rate has been based on the 2009 cohort.
Serial No.
University Name
Completion Rate
1.
Charles Darwin University
41.8%
2.
Central Queensland University
42.4%
3.
University of Southern Queensland
44.5%
4.
University of New England
49.1%
5.
Murdoch University
49.5%
6.
Federal University Australia
51.2%
7.
Southern Cross University
52.4%
8.
University of the Sunshine Coast
53.2%
9.
Charles Sturt University
53.4%
10.
Edith Cowan University
55.3%
 
 
 
 
Source: Federal Education Department Report
These stats are indeed alarming, to say the least, and they bring us to ponder over a very crucial and burning question:
Why are so many students dropping out?
To cite one reason why several students are choosing the path of an incomplete education is because there is a lack of transparency from the side of the universities, according to Minister Birmingham.
In this regard, Mr. Birmingham was quoted as saying – "We've heard too many stories about students who have changed courses, dropped out because they made the wrong choices about what to study, students who didn't realize there were other entry pathways or who started a course with next to no idea of what they were signing themselves up for."
He firmly believes that in order for situations to improve, universities need to provide students with accurate information concerning the courses on offer, the feedback of ex as well as present students on those courses; the resources the university has on offer, the employment outcomes, etc.
However, universities are not the only culprits behind the worrying dropout rates of the students of the nation. The culture students are exposed to when in high school as well as the mounting pressure from parents to enroll in a university program as soon as school is over are some of the other contributing factors to the high dropout rate. Another thing that can be blamed for this recent phenomenon is the fact there is very little connection left between what is taught at school and what students learn when they enter university and what actually happens when they step into the job world.
As of late, the employment outcomes for students who graduate out of universities is falling steadily, further discouraging them from finishing expensive courses at college, according to the director of the education wing of the Australian Chamber of Commerce and Industry, Jenny Lambert. She said, "When people start their university degree they may have an over-inflated expectation that everyone out of university gets a job." She further added, "There needs to be more effort by the government to promote that information about where the jobs are likely to be."
Another reason why students choose to dropout is because many of them have jobs and children to take care of and hence, no time to finish what they started. Ms. Lambert said that studies have shown that mature and part-time students are more likely to leave their courses unfinished as they have too many responsibilities to shoulder. The Education Department's report supported this fact, mentioning that students who are above the age of 25 are more likely to ditch their courses within the first year itself than students who leave school when they are under 19.
Other factors that influenced completion rates also included the admission scores of students as well as the inconvenient locations of the schools that students got into. Moreover, the growing sector of online education has been another major contributor to this trend. Nearly one in five students drop out within their first year when they study externally compared to one in ten who studied on campus.
What can be done to Convince Students to Complete their Courses and Improve Retention Rate?  
We can all agree that the high dropout rate of students points to a bleak future in the education industry which should be prevented from turning into the present at all costs. The onus of this will fall on the shoulders of colleges and universities alone, and they will have to take several bold steps to ensure that the retention rate is improved upon so that more and more students feel motivated to complete their course. Here are effective strategies that can help colleges in retaining their students for the full term.
Lay the foundation of a shared aim of student success
As mentioned before, students no longer find opportunities for success upon the completion of their degree and hence, decide to drop out midway. This is where educational institutions need to take the maximum initiative and make students believe that the door to a successful career can be opened with the help of a sound education. To achieve this, universities will have to design and implement strategies that are aimed at driving their stakeholders to choose their future employees from the pool of students they have to offer. Establishing a shared aim of student success can motivate pupils to pull through their courses.
Provide second-year students with complete information regarding work and internships in their courses
Laying the foundation is well and good but can be of no use until students get full access to information concerning internship and work opportunities in their chosen field. And these should be provided before the student decides to enroll himself/herself for the second year of their course at least. This can help students apply for useful internships from beforehand. That's not all; educational institutions should also realize that most companies now focus on credit-based internships to hire future employees rather than relying on the traditional interview and screening process. Therefore, institutions must tie up with companies to offer fruitful internships to their students.
Infuse career advancement into the academic curriculum 
Upon entering a university, students turn to their faculty for more than just which courses to pick up. They look for guidance in their career paths and want the faculty to advise them on the best choices available to them in terms of the course they have taken up as well as their own career preferences. They also need counsel regarding the advantages and disadvantages of their career paths and how they can best explore them. Hence, the faculty must arrange for one-on-one sessions where students get the chance to speak out their fears and get counsel in return.
Build strong connections with students and involve them in activities 
From the very first day of the first academic year itself, the faculty should start building connections with their students. They should introduce themselves and tell the students how they can be reached after class. The professors and teachers should also try to learn about individual students as much as they can. They should know their names, their contact details, their strengths and weaknesses as well as a little bit of their background. Students who receive such treatment feel inspired to hang on and complete their course as they believe that the university indeed cares about them. Plus, universities should also endeavor to involve students in activities so that they feel connected.
Host intervention programs for students on the verge of leaving 
One of the most effective ways through which colleges can increase their retention rate is by conducting intervention programs among students. For the teachers and professors of the college, it is easy to spot high-risk students. Such students must be personally contacted by the college so that they can be helped and prevented from dropping out. Several colleges in other countries have referral and intervention programs wherein they attempt to solve the problem the student is facing, which is prompting him/her to leave college. They inform such students of the available college resources that can help them sort out their problems, ranging from financial aid to career opportunities.
Provide alternative courses to students 
Poor grades in the first academic year of students in the course of their choosing can result in them not getting the opportunity to take the same course up in their second year. Such students may end up believing that they have no choice but to drop out since they have no idea of any other option. The institution must provide such students with alternative courses so that they can get the chance to stay and complete one course successfully instead of leaving it midway. Again, transparency on the part of the institution is very important here.
Gather data and utilize it in the best way possible 
Before universities can have a concrete student retention plan in place, they must collect data from their personal records and assess the number of students that join each year, the number that leaves, the courses which have the highest attrition rates as well as the reason why these students leave. These can offer some insight that can help in devising an effective plan. However, if the university already has a retention plan in place, then it must find out of the effectiveness of the program, the resource allocation as well as student achievements. Such data can help institutions to come up with better plans.
Provide all-encompassing campus support to high-risk students 
Universities need to realize that students who are at high-risk clearly need more support than other students. Therefore, educational institutions must make an effort to organize their campus resources efficiently so that they can offer better support and services to students. They must have a student success program in place so that they can empower these students and give them plenty of reasons to stay and finish their course.
Apart from the abovementioned methods, universities should offer students ample prospects for gaining success in their chosen field. They should also poll existing students and find out where they are lacking so that they can improve the situation for the present as well as future generations of students. However, universities should keep in mind that they can only achieve a high retention rate if they utilize all of the resources at their disposal. They also need to make sure that students are taught skills in the classroom that can help them succeed in the job world.
Mounting Assignment Pressure Forcing You To Dropout? Stay In College And Take Assignment Help From MyAssignmenthelp.com 
Increasing academic pressure can crack even the hardiest of students and make them call it quits. However, you don't have to cave in and leave your course midway as MyAssignmenthelp.com is here to save you. We can reduce the pressure you face significantly by taking up your assignments and doing them from head to toe for you. We have more than 4000 PhD writers in our team to assist you with the most complex topics and the most demanding deadlines. We only offer plagiarism-free copies, and you can get our services at the cheapest rates. So if you want to elevate your grades, give us a call on +61-3-4000-0033 right away.
Was this article helpful?
YesNo