Do you dread returning to class after every term? Do the new courses and the handbooks do nothing to excite that inner learner inside you? Do you fear having to lag behind the rest of the class, all thanks to your slow learning abilities? Do not let the world get you down, for there are plenty of ways to overcome this problem.
Make the tables turn by using your weakness as an advantage. As a slow learner, if you take things at your own pace, that gives you more time to plan and prepare for assignments and quizzes than the rest of your classmates. And slowly, but surely, you will reach the top, if you are determined to keep working towards improvement, just like this brilliant (and slow) guy!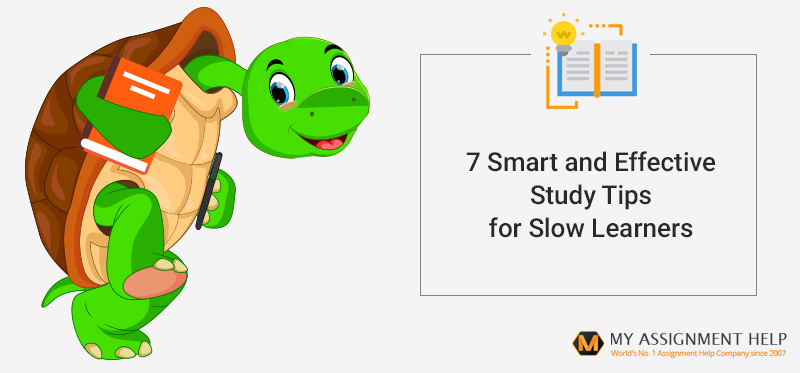 Do not sign in for the frenzy that follows right after your professor asks you to write an assignment. There's no need to hit the library and look up scholarly articles just yet. Instead, go through this post to find out how you can champion slow learning issues with the following 7 tips. Read on, and you will know how to switch up your study style according to your learning pattern. Implement them in your studies, and you can score better in all upcoming quizzes and assignments!
7 Study Tips for Slow Learners to Pick Up The Pace
Team up with a buddy
Try getting a friend to tutor you. Collaborate with people you like, and put together a study group to get help with tricky concepts. Since not everyone in the class gets to learn at the same pace, throwing together a bunch of friends for studying can actually help.
If you are a slow learner and cannot seem to wrap your head around tricky concepts and ideas, a study group can be just the break you need. Studies show that friendly banter and encouraging words from peers have a positive impact on learners. So, get your gang together (or just tag your bestie along if you are not much of a people's person) and start with study group today!
Take your time to prepare
The more you take it as a race, the worse are your chances of coming out on top. If you are a slow learner, taking things at your own pace is pretty okay, as long as you have a study pattern to fall back on. Do not be too hard on yourself if you see your peers making progress. Not all peas in a pod are the same, so don't feel bad if you find yourself grasping things a bit slower than others.
Plan and draw out a schedule for each of your courses, and devote more time to the topics you find hard to comprehend in class. Stick to your schedule, and be confident enough about reaching the goal at the end of the term.
Go digital with your study tools
We live in a digital age. So, making use of the resources available to us through the web is a wise move indeed. In fact, the Internet has quite a few tools to help slow learners pick up the pace with their studies. From digital flash cards to class-note organisation tools, the web can be your best friend if you know how to use it as a resource.
Interactive books and STEM tools can help you out if you are looking to switch up your study style (read more to find how doing that can help you learn faster). Make Google Scholar your friend, and you can access a hoard of fantastic journals and academic writings at your disposal.
Ask for help from tutors or mentors
Whenever you find yourself in a pickle, do not hesitate to call out to your academic mentors. Be politely persistent in your approach. Get talking to them about your difficulties with their course openly.
Most academicians who have a passion for teaching would love to help you out. Seek out the positive vibes of your educational community, and learn from it. Explain your situation to them patiently, and heed their advice on overcoming the specific obstacles of the course. Your literary appreciation professor, for example, might give you a list of readings that bring back motivation towards finishing that pending reflective essay.
Find your own study style (and stick to it)
For some, researching over a week while preparing for an essay works out perfectly. Others may find it to be too detailed a plan for the sake on a three-pager. Whatever your rhythm of studying is, the first step towards improvement is embracing it. Try to identify a pattern in the way you study. Focus on the time you take to accomplish each task. That way, you will know the next time you need to prepare a roadmap for your next assignment.
Check what works out for you, and stick to it. Some may find mnemonics an easy way to remember things, while others may prefer the Pomodoro technique.
Explain your lessons to a potted plant
However ridiculous this may seem, doing this will take away half the stress from your studying tasks. Making you get a firmer grip on tricky concepts and ideas, this technique helps you process knowledge faster.
When you read a new definition or a tricky concept, try jotting down the crucial points at first. Next, analyse the topic using your own words. Pick an inanimate object of your choice, ranging from the lamp on your study table to a potted plant by the window. Then go on to explain the concept to said object using your analytical skills. This way, you will find yourself learning difficult topics in no time at all!
Seek professional help with tricky assignments
If all else fails when you are trying to compose an assignment, then avail online help or live tutoring. However, before you reach out to them, ensure that you understand the topic and have all the guidelines in mind. Sure, they can help you with taking your assignment game to a new level. But they won't be able to make you mug up stuff quickly before a test.
You need to seek their help for the written assignments while you use the free time in your schedule to plan and prepare for quizzes, tests and presentations. Ensure superb grades with your assignments by opting for online assignment help. Get ahead on that reading list in your free time. Win-win for all!
Parting words
Picking up the pace of learning does not happen overnight. You have to be patient and stay positive for the tips to work out in your favour. Eliminate self-doubt from your mind at first. Approach the tasks with confidence. Prepare a schedule that leaves rooms for plenty of breaks and revisions, and you will be good to go.
Keep an all-subject journal handy to jot down your queries when in class. You can later look them up and resolve each at your own time. Go over the lessons carefully, and pick the most important parts that you need to revise more than the other bits. Follow the seven tips shared in this post, and you will manage to overcome your slow learning situation in no time at all!
Worry not if you have mounds of assignments pending submission. MyAssignmenthelp.com can give you a hand with those right away!
We have a team of over 5000 qualified academic experts at MyAssignmenthelp.com. We can come to your aid whenever you need us – at any time of the day or night! Stuck with an argumentative essay? We got your back! Need structuring help with a critical research paper? Help will be soon on its way! Fretting over formatting a term paper? We can do it in a jiffy!
With a team of 5000+ experts, we appreciate a few challenges at MyAssignmenthelp.com. Our group of scholars has customised answers for each of your assignment problems. Coming to your aid swiftly in times of distress, we are the ones who can provide flawless papers on an urgent basis.
Turn in error-free assignments from MyAssignmenthelp.com, and watch your grades climb higher and higher. Having completed 920,000+ tailor-made assignments, you can safely assume that we are simply the best in town. Here are a few of the benefits that you enjoy by availing our impressive academic writing services.
100% plagiarism-free content
Utterly customised assignment solutions
Insights from 5000+ PhD-qualified scholars
In-depth referencing and citations
Multiple rework and revisions
Free alerts and updates through SMS
Attractive prices and yearlong discounts
Round-the-clock online customer support
There's no need to hit that panic button just yet. Simply log on to MyAssignmenthelp.com if you are stressed out over assignments that need to be turned in. Get in touch with us, and we can take your grades to a whole new level right away!
Was this article helpful?
YesNo