Presenting an excellent synthesis essay requires you to browse through a huge number of source materials and information and organize it in a concise manner. Now the process of writing the essay becomes more intricate as you move ahead in your academic pursuits. This is where the trouble begins for most of you.
What is a synthesis essay?
A synthesis is a written piece that draws conclusions about the topic, from various sources. The sources may be different books, journals, papers or e-papers etc.  This form of essay paper highlights a unique perspective about a central idea or theory. The essay often requires you to derive relevant information from multiple credible sources of opposing views. You need to select a pertinent topic, make a solid claim, collect and compile the sources to put together the paper.
According to the aforementioned synthesis essay definition, the essay ideally comes with three vital elements, which are-
Synthesising source materials
Presenting a claim or thesis
Formatting and editing the essay paper
" Synthesis Essay- I got sugar and flour  from shop, warm water from home, yeast powder from chemist. I knew I could make whole flour bread with these. Just wait a minute, proofreading the slices and editing the burnt edges to get your morning breakfast"
For example, if I am to write a synthesis essay on an interesting topic
"How do social media change the everyday life of a student?"
I source various materials like books, journals and papers and confirm few resources apt for my topic ( Ex: https://www.ijbmi.org/papers/Vol(5)4/version-2/D050402022029.pdf, https://globaljournals.org/GJHSS_Volume16/1-The-Impact-of-Social.pdf etc.)
In this case, some of the resources may be internet archives, papers, dissertation etc. Supporting my claim with evidence from these papers , I create a conclusion addressing the topic.
The conclusion may have both positives and negatives like
Many students who feel neglected in life may get recognition through social media
It would allow students to share what they learn from each other.
Or
Students are missing academic excellence because they are glued to social media
Finally , I format the paper to get a well-written essay.
Gain clarity on the concept of synthesis essay format
The objective of this form of essay is to connect the parts of a work, or multiple works to present and support a claim about a topic. In simple terms, when you conduct research on a particular topic, you will look for the association which can be turned into a proper perspective on a topic.
Now let's proceed to describe the types of synthesis essays.
Explanatory/background synthesis: This type of paper provides insights into a particular topic by classifying the facts. It doesn't support any specific idea. Certain relevant examples of explanatory synthesis essay are available from the University of Arkansas, Sam M Walton College of Business ( Ref: https://walton.uark.edu/business-communication-lab/comp1essay2.pdf)
Argument synthesis: This form of essay comes with an impactful thesis statement that emphasises on the writer's perspective primarily. It involves the process of compiling crucial details. The information is presented in a rational order, with the help of precise research. Check out the argumentative synthesis essay example presented by the online database of the University of Arkansas.
Find a hard-hitting topic for your synthesis essay structure
The topic you decide to work with should be broad. That way it's easier to combine the multiple sources together. However, it shouldn't be too broad because it will bring starkly dissimilar sources together.
If you've been presented a topic in class, always ensure you go through the prompt carefully. Also, if you have a free rein in this case, indulging in some preliminary reading will allow you to decide what to write about.
Now, the following synthesis essay topics may help you get inspired,
Does chatting or texting have an adverse impact on an individual's overall literacy?
Is religious fanaticism the greatest cause of terrorism?
Should new technologies be integrated into schools immediately?
Create an impactful thesis statement for your synthesis essay structure
Your synthesis essay structure is incomplete without a pertinent thesis statement. Once you go through the source materials, you are required to form an opinion on your topic. Your thesis statement will be the primary idea presented in the paper. It should cover the topic and elucidate on your perspective on the topic. It has to be presented in a complete sentence. Depending on the type of synthesis essay outline, your thesis statement can be the opening sentence of the paper or the concluding sentence of the first paragraph.
Here are some examples of an appropriate thesis statement from North Seattle College.
Examples of thesis statements that you may have seen:
"1.  When these essays are examined together, we find that both show that on the way to discovering oneself, there should be a focus on not only ourselves and our actions, but also a focus on understanding the nature of the world around us.
Both authors argue that by taking a path of greater resistance, people can make a difference against injustice which exists in society: in Bless Me, Ultima, the characters of Antonio and Ultima challenge the choice of taking a path of least resistance, as introduced by Johnson in Privilege, Power, and Difference, by standing up against injustices.
While the backgrounds of these two authors differ significantly, both discuss these two opposing types of education; Freire defines the concepts and Anyon illustrates them with her research. [I'm not as crazy about this one. I am left asking: what's the point? What's the bigger picture?] ."
For more, visit the link
Prepare a well-defined synthesis essay structure
If you are writing this paper for the AP test, know that the graders will be looking for a specific structure.
Illustration/examples: This method involves presenting a detailed summary, or a direct quote from the source that backs your perspective. You can include multiple examples or illustrations if your paper demands.
Concession: When you follow this kind of structure, you'd have to acknowledge the viability of the counter-argument while emphasising the actual argument. This structure is ideal for presenting papers to readers who harbour contradictory perspectives.
Compare and contrast: As the name suggests, this structure compares similarities and points out the differences between two subjects or sources. Following this outline demands a thorough reading of your source materials to detect both subtle and major points of difference and similarity. This kind of structure can offer its arguments source-by-source or by highlighting the similarity or dissimilarity.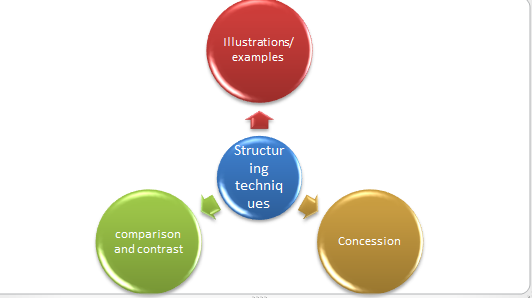 Figure 4, different structuring methods
Craft an appealing introduction
The introduction should briefly elaborate on what you are going to discuss in your essay paper as you proceed. However, you don't have to elucidate on all of your sources. Nonetheless, if a few sources have a significant role to play in your essay, you should emphasise on them. Remember the following pointers.
Always be specific in elucidating your thesis. The thesis statement will show your readers what exactly you are describing in the essay. It is not simply a statement that describes your topic.
Create a blueprint of your essay paper, which focuses on the points you will present in support of your thesis statement.
Adorn the body paragraph with arguments and examples
Each of the paragraphs in the main body should begin with a topic sentence. The topic sentences should be tied to your thesis statement. In addition, the essay should not be based on the sources but around your main paragraphs. Use this section of the paper to present your opinion and arguments coherently. Also, remember to use relevant evidence to back your claim.
Claim of Fact: This allows you to identify and evaluate the factors, implications and outcomes within the main body of the essay.
Claim of Policy: This involves presenting a recommendation within the body paragraph elaborating on whether some aspects of the topic should be changed or not.
Claim of Value: This allows you to present the arguments for and against the stance, you've taken on your topic.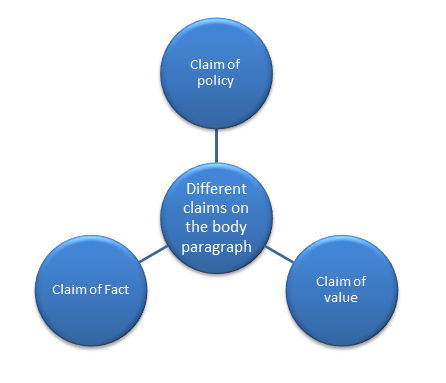 Figure 5, Types of claims presented on the body paragraph
Parting thoughts,
While it's true that synthesis essay paper may seem quite intricate to deal with at first, however, once you decipher the pertinent ways to write the paper, you will never have to settle for mediocre grades. Rather your papers will be admired by your professors in class.
Crafting a well-written essay seems too troublesome? Hire skilled experts from MyAssignmenthelp.com to work on your paper.
When you are pursuing higher studies, you may come across different types of essays. A synthesis essay is one such distinct type that you must be familiar with. Now even when you are acquainted with this type of paper, it's still possible to make mistakes. However, you can eliminate mistakes and produce a flawless paper when you hire credible experts from MyAssignmenthelp.com.
When you decide to avail our services, our experts ensure you gain absolute clarity on how to start a synthesis paper. They will customise your essay paper exactly according to the specifications you provide. They eliminate the possibility of any inconsistency or errors. So, the final product you get is always impeccable.
Moreover, we have a team of editors and proofreaders, who crosscheck every academic paper with their undivided attention. They also ensure your papers are accurately referenced. Our services are created to take care of every little step in the process of writing a synthesis essay.
We also extend our expertise on diverse subjects. Some of those subjects are stated below.
Finance
Biotechnology
Marketing
Nursing
Math
So, place an order immediately and receive 100% satisfaction for getting your tasks done by our experts.
Was this article helpful?
YesNo