According to a report by The Centre for Universal Education, there is a huge gap between the developing country and the developed countries, both in terms of accessing school education and the number of years spent in the institutes. At present, the developing nations are lagging 100 years behind the developed countries.
With poorer countries having average standards of education as compared to that of the developed countries, a global academic disparity might just end up ruining the progress of an entire generation. Apparently, adults in the developed nations are said to spend an average of twelve years in education. On the other hand, developing countries spend an average of
6.5 years
in academics with low-income countries spending just
5 years
.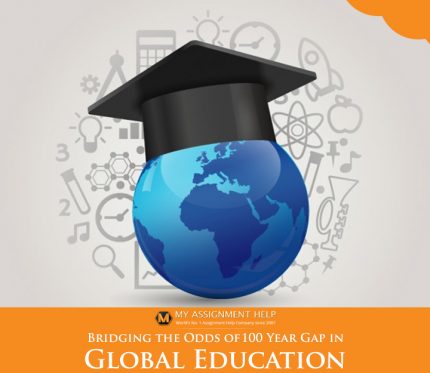 The stats are alarming and highlight the dire state of global education at present. Does that hit you hard? We can always think of exploring and discussing various effective ways that can bridge the gap, making
education
accessible to one and all. Here's a brief insight on how things can be transformed with a developed infrastructure for a better tomorrow in terms of global knowledge and learning among the students.
Educators from the developed countries have a major role to play
It goes without saying that someone who is already resourceful can always think of putting in efforts to help others in need. Same goes with the educators from the developed countries. The government can think of taking initiatives in order to foster constructive learning, with resourceful academicians putting a step forward to initiate interactive learning programs for the developing countries.
This, as a result, can help the education-deprived students from developing nations to get easier access to advanced learning and adaptation of all the latest educational trends prevalent in various parts of the world. Sustainability, sharing and combined effort put together by the who's who of the global education industry can supposedly bring the much-needed change.
Moreover, experts are of the opinion that building behavioral change into learning programs is critical to ensuring academic development, encouraging interactive learning and integrated activities among the students. Education is a rapid change that occurs gradually. You got to invest time, effort and dedication in order to bring such changes.
Educating the students before introducing digitization
It's time that we realize the fact that merely introducing a concept or forcing a group of people to embrace a sudden change is not going to help in the long term. There are countries that have already adapted to the changes brought forth by digitization, and then there are countries that are still lagging behind with lesser or no digital resources made accessible to them.
While one may consider introducing digitization in a developing country is the key to bridging the gap in the global education standard, overlooking the aspect of educating students regarding digitization in education is a big NO-NO.
First things first, one must consider introducing the concept of digital learning among students from developing nations, along with the provision of a hands-on experience for the learners. For example, merely introducing the concept of e-learning among the students is not enough to grab the knowledge and embrace the change. It is equally essential to train the students to ensure that they can make the most of technology.
Rather, being constructive in this matter and taking an initiative of helping the students to learn to use digital academic resources with live demonstrations and interactive discussions can help the situation improve significantly. When it comes to global education, a structured initiative towards facilitating advanced education for all should be the primary concern. This makes it essential to educate the students with digital advancements in academics prior to introducing the same.
Creating academically challenging and multicultural learning environment
The idea is to create an atmosphere of challenges, quick adaptability and competition among students. If you are planning to foster global education among all students across the globe, bridging the 100-year gap by introducing a more academically challenging and multicultural learning environment might just help to fill the void.
This should not be taken reluctantly with inadequate attention paid to the progress of all the developing nations. It is only when the students will learn how to remain competitive, focused and consistent with their individual academic courses, a globally developed academic advancement will emerge.
Talking of a multicultural learning environment, it is to be mentioned that with each passing day, the realm of academics is only expanding. This, as a result, has fostered the participation of students in attending several education fairs, interactive seminars and other events beyond cultural boundaries.
Thus, it calls for a structured strategy and an initiative that can facilitate multicultural education for all students across the globe. The flow of knowledge should not be restricted by cultural boundaries. One must be able to learn about the African culture, sitting back at his/her hometown, somewhere in South Asia.
Similarly, someone from UAE must be able to learn about the cultural history and geographical insights regarding the country of Egypt. A globally amalgamated process of teaching the students to develop multicultural knowledge worldwide might just bridge the gap and gift us an academically sustainable tomorrow.
To Wrap It Up,
Did you know there are around 150 million children engaged in child labor worldwide? Moreover, 75 million children aged 3 to 18 years are from countries that face war and violence. They are in need of educational support. Global education is a revolution that can only be brought by paying attention to each and every conflicting factor.
Social evils like child labor and destructions brought forth by war and violence are certainly some of the most alarming issues every authoritarian body must consider resolving at the earliest. Now that you have read through the blog and got introduced to the limitations that are restricting a global advancement in the field of education, would you like to take an initiative to change the world for better?
Are you looking for ways to improve assignment grades? The experts of MyAssignmenthelp.com are at your service
Composing a perfect academic assignment might turn out to be a challenge for students struggling to manage time, develop a thorough knowledge of a particular subject matter or combating ill health. In case you are struggling to score well in your class, feel free to get in touch with us. Being one of the leading global education assistance providers, MyAssignmenthelp is all set to help students achieve the ultimate academic excellence. It doesn't matter if you are looking for dissertation help or coursework assistance, we have a comprehensive range of services to cover you up. Here's a snippet of the same:
Online Dissertation Help
Online Coursework Help
Online Thesis Help
Online Homework Help
Online Research Paper Help
Online Essay Help
We have a lot more in store. Place an order and specify all academic assignment requirements that you have. Allow us to craft your paper in a technically accurate and grammatically flawless way. Our professionals will craft a flawless paper and help you to score the best grades in your class.
Was this article helpful?
YesNo