When you are a student, there are many problems you will face. Some teachers/professors will turn out to be extremely nutty, studying for exams will be a constant pain and managing your personal and academic life would just seem impossible! However, one of the biggest problems that can eclipse you all would be assignments. And out of these assignments, the problem and solution essay can be, well, particularly problematic!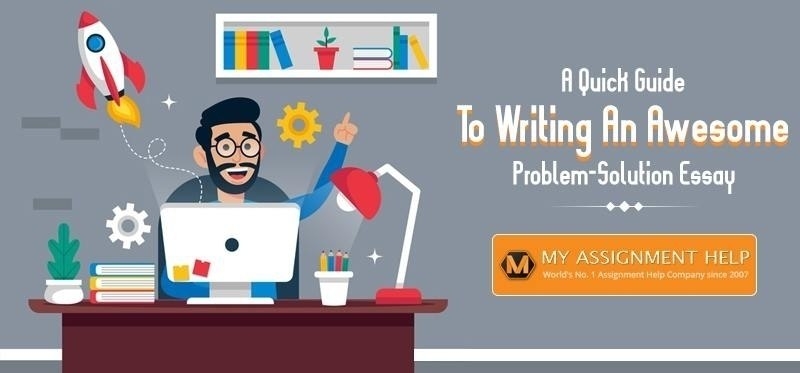 The good news is that we have the solution to your problem – the problem and solution essay! Wait a minute. That sounded too confusing. What we mean to say is that our essay help experts have composed the most comprehensive guide for you that can help you compose a problem and solution essay that in turn will just bowl your teachers over!
The Structure Of A Problem And Solution Essay
We are sure that one of the first things that strike you about the problem and solution essay and send you into panic mode is how are you supposed to structure this type of essay. To be honest, its structure is not much different from your average essay. It follows the same three-part division of introduction, main body and conclusion. The difference lies in only what you include in each of the said portions of your essay. Let us elaborate the structure of a problem and solution essay for you so that you get a better idea. We'll list down all the elements that each section should include for the sake of clarity.
The Introduction
Hook: a rhetorical question, fact or quote that helps in attracting the reader
Connecting link: background information to introduce the problem
Thesis statement: clear statement of the problem and its nature as well as a reference to the proposed solution
The Main Body Paragraph 1
Topic statement that presents the problem concerned
Brief description of the problem
Mention of concrete reasons which make the problem important
Description of how the said problem affects the lives of the people
The Main Body Paragraph 2
Topic statement that presents the solution of the problem on an individual level
Brief explanation of the particular solution is a wise choice
Inclusion of steps for the implementation of the problem
Presentation of how the solution fixes the concerned problem
The Main Body Paragraph 3
Topic statement that presents the solution of the problem on a community level
Mention why this solution is most appropriate
Give steps on the ways to implement the solution
Present how the solution remedies the problem on a larger scale
Conclusion
Restatement of the thesis statement
Brief summary of the main points
Description of how the solution can make lives better
Final words
Even if you write just about a line or two on each of the sub-sections of the different paragraphs in your essay, you will easily be able to manage 250-300 words without putting in much effort! It's more than enough for you to discuss just one single problem and its solution in your essay. However, if you want to address more problems, you can always ask your assessor and proceed if he gives the green signal. Although we would advise you against this as it can lead to a lot of confusion and chaos in your paper.
Tips to help you compose a brilliant problem and solution essay
Our essay help experts of UK have some amazing tips and tricks up their sleeve, which they would like to share with you so that you can compose a truly impressive problem and solution essay that fits well into the structure we have listed above. You'll find these tips to be extremely useful.
Take a walk to find a suitable topic
Don't know what the topic of your problem and solution essay should be? Well, one thing it shouldn't be for sure is your personal problems. An appreciation-worthy problem and solution essay is one that focuses on a real-world problem. However, it should still not center on large-scale problems such as national threats or world peace as the scope of these problems is just to be vast to be covered in an essay. What you need to do is to focus on ground level problems that affect the daily lives of the common people. You will be able to find multiple such problems by just taking a walk down the street.
Build your proposal
If you have found out the topic you want to work on, the next step would be to build up your proposal. You will have to analyze your topic from different angles for this. This will also help you in ascertaining the validity of your topic. Questions you need to take into account include why do you think the problem you have picked matters, how this is a problem and how can it be solved. You will also have to dig deep and find out what you know about the problem as well as determine what you need to know about it in order to address it better. So make sure you do your research.
Do not form a solution right at the start 
Let's say, that your problem is the litter on city streets. Now you might be thoroughly convinced from the start that the only solution to this is that a large community waste disposal complex needs to be constructed in every area, but there might be other, more cost-effective ways too. So shun the know-it-all attitude and don't rush to judgment. By fixating on a particular solution to your topic, you would be limiting your understanding of the nature of the problem and as well as other possible solutions to it. In short, you will not get a good grade on your assignment. So wait before you jump to conclusions.
Research in depth
Problem and solution essays might be quite short, but that doesn't mean you do not conduct in-depth research for them. And this holds true even if you know a lot about the topic you have picked as there will be so much out there that you don't know yet. You will have to read up on your topic extensively to find up statistical information that can help present a solid argument in favor of the problem as well as your solution for it. And if there's lack of data you have chosen due to its narrow scope (like a particular problem in your school), you should conduct your own research and surveys to come up with sound arguments.
Write the problem section of your paper before anything else
Don't start with the introduction or the solution even though you are sure that you have found the right one. Start with the problem as it is the most logical as well as the easiest place to commence the writing process of your essay. Also, this section is probably going to be the longest with the maximum information so getting it out of the way is only going to help you finish your paper faster. You already know what to include in this section of your essay, just don't forget to mention the scope and the future repercussions of the problem as well.
Present the middle ground 
The transition from the problem can be difficult for you and jarring for your readers if not done right. This is why, before you proceed from the problem to the solution, make sure that you establish a middle ground. You can do this putting forward the viewpoints as well as the general concern of the public on your topic. You can also address contradictory arguments as well as raise the questions on the minds of your audience. Also before you proceed to your one specific solution, make sure you touch upon other alternatives first.
Put forward a plan of action 
It's not enough to tell your readers that this is the solution that can fix this problem. Rather than just stating the 'what,' you have to present the 'how' as well. Describe the solution you intend to present in as clear terms as possible so that your readers can imagine it vividly. Present the opposing arguments to your solution too so that it can be established as a logical one without contest. Also, create an elaborate plan of action to demonstrate how this solution can be implemented.
Wrap it up with a call to action
Just like any other essay, in the conclusion of this one too, you will have to give a brief summary of your entire essay to wrap things up. However, instead of just tying loose ends and reiterating your central argument, encourage your audience to accept your solution plan as well as to participate in it. You can convince them to do this by telling them of the consequence of not accepting the solution you have put forward. Make use of the 'call to action' technique to get them to join on your fight.
Mistakes you should avoid while Writing your Problem and Solution Essay
Despite making all the right moves, you may still end up making certain mistakes while composing your problem and solution essay. This is highly likely if you don't know what you should avoid in order to compose a flawless paper! In this section of the blog, we will tell you about the mistakes you should avoid at all costs. Our essay writing experts of USA, UK and Australia suggest you steer clear of them.
Do not make the mistake of not expanding your ideas. Your essay is not supposed to be a mere list of problems and solutions. That's not what your examiner is looking for. What your examiner wants is that you pick up one or two major problems and direct your focus on them, so that you can expand them with the help of explanations and examples.
Do not write mismatched problems and solutions that do not have anything to do with your topic. You need to be on-point when writing a problem and solution essay as this type of essay is very specific in its approach. So being generic here will just not do. If you are confused about how exactly you should address the question, you should consult with your teachers. They will be able to guide you.
Do not pick up a problem, which you cannot find a solution to. Even if the problem you have picked up is really interesting and one that hasn't been touched before, you still need to make sure that they are viable solutions present for it or the effort you have made will become null and void.
Do not omit the inclusion of statistics in your copy. This is a problem and solution essay. The need for concrete evidence in it is very high in order for your readers to be thoroughly convinced. If you cannot find any facts and figures, conduct your own original research and mention it that it is yours in your paper.
Final thoughts…
A problem and solution essay may seem very challenging at first, but we are sure that with the guide we have prepared for you, it will seem like an easy task. However, just make sure that before you submit your essay to your paper, you check it for all kinds of mistakes by proofreading and editing it. Bear in mind to also follow all formatting rules that your teachers prescribe. You should also reference your paper accurately. If you follow all of these rules, you will be well on your way to composing a brilliant problem and solution essay.
Is your essay giving you a nightmare? MyAssignmenthelp.com can do it for you
All said and done; it is still quite possible that you doing your problem and solution essay might not be your cup of tea. If that is the case with you, you have simply nothing at all to worry about. The experts at MyAssignmenthelp.com would be waiting to do your essay for you. Not only can they help you out with problem and solution essays but all other kinds of essays and assignments too. You can trust the quality of our solutions as they will be plagiarism-free as well as reasonably priced. If you want our writers to work on your essay, connect with us now by dialing the number +61-3-4000-0033.
Was this article helpful?
YesNo