It's been happening to you every now and then – you are nearing your programming assignment deadline and you don't have anything ready but an error message (hours of hard work going down the drain). Time is ticking away, adding up to the misery. You don't have anyone around who can tell you what is going wrong with your programming assignment. Naturally, panic sets in and leaves you on the verge of a breakdown. But you don't have to feel 'abandoned' or even 'needy'. Our programming assignment experts had experienced exactly the same when they were students. They are aware of the bad times that programming students invariably fall into. This is the reason our skilled and experienced experts have come up with the secret of writing a truly brilliant programming assignment.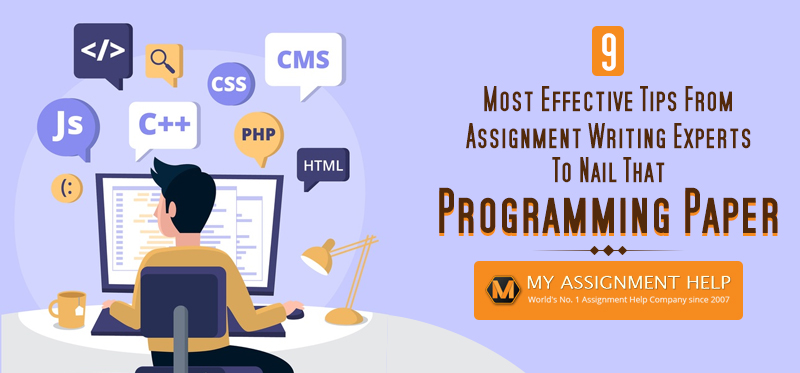 How to nail a Programming Assignment?
The programming experts, associated with us, here share their accounts of dealing with assignment writing problems and equip students with appropriate tools to overcome these academic issues.
1. Do not use Pen and Paper
Do you feel safe or creative when you have a pen and paper in your hands? Stop kidding! You are coding to build a program, not writing a story. One of our programming experts, James Orland, Master in Computer Science from La Trobe University, faced the same dilemma in his college years. "I used to write codes on a piece of paper using a pen; it used to make me feel more productive. But it takes more time than you can imagine. So I gradually had to overcome this habit."
2. Giving up Easily Should not be your Attitude
Tell that to a student who has spent a whole day on churning out the codes, but nothing good came out. "Only a programmer can understand the hardship of getting a program right in first few attempts," our programming expert Justin Tart, a former programmer at a multinational company, underwent the same situation in the past. "Once, I spent a whole day to understand an error message. It was maddening. I left the job out of sheer irritation. But as the deadline was nearing, I gave it a last try after an hour. It worked. So my advice to novices is, 'Leave the task if you have a dead end, but come back to it after an hour or so.'"
3. Don't waste Time on Something Impossible
Programmers proudly say, 'nothing is impossible in coding'. Not really. Things get tougher when you have a sword of deadline dangling on your head. You try to compile the program as soon as you can and run the testing. If you get lucky, the program runs well without generating an error message, otherwise, you are likely to stare at error codes or messages in order to understand them. Our programming assignment writing expert, Joshua Evans, master in programming, comments: "One of my senior advised me not to take the risk of fixing programs, which seem to be off the track. This piece of advice has saved me from a lot of suffering."
4. Do some Random Stuff
Coding is a methodological process of writing a program. In coding, there is no place of random actions or stuff. But our expert Patrick Knight has a different perspective, "I got rid of numerous bugs by simply writing the same code in different ways or making some random changes in the coding. It makes the bugs disappear by itself." Students, who want to debug the program, can try this trick. If it does not help, they have to understand what caused it and take necessary actions regarding it.
5. Do as your Professors Say
First, it is important that you as a student understand what is expected of you. Professors generally want students to write comments to explain the significance of taken actions. On the other hand, professional programmers do not document the program because they think there is no point documenting a program that does not exist One of our most efficient programming experts Jonathan Watss remark on this issue, "I always explain my actions while writing a program so that students can understand the process of coding the program. Students should do it because it helps the program become self-explanatory for the audience."
6. Go and Call out for Help
If there's something you can't do or have a query or simply lost the battle of coding, ask for help. One of our experts suggests, "I used to feel like an idiot while asking obvious things to my professors, but gradually I overcome this stigma. I suggest the same to newbies. It does not matter what your classmates think. It is about your personal development." Students should ask questions during the lectures if they struggle to understand something or they don't know something.
7. Never ever Leave all for the Last Minute
You may thing that you have all time in the world to make the assignment happen. But when you jump into the task, you suddenly realize how little time is left for submission. "I was much of a procrastinator in my university days. I used to take on a task when there was no way I can complete it within the time. It was quite a messy for me. But thankfully, I got past this stage," one of our experts Joshua says. Undoubtedly, it feels great when you breathe free while work gets on piling up gradually. But you cannot continuously ignore warnings and telltale signs. So it is wise that you divide time equally for each stage of academic writing. You don't need to be pro time manager, but have a plan ready.
8. Don't just Admit you are Wrong, but Show
Upon the failure of completing the task, students merely state that the program did not work. But they do not mention what went wrong or how they met this situation. "I used to make appointments with my professors in order to let them check the details of the assignment or investigate the faults of the programs. It helped me tremendously. I learned many things that I could not during the lectures," says one of our most popular programming experts Denise George. If you also want to improve your skills and expand your area of knowledge, you should apply this trick.
9. Do not Cheat on your Assignments
You might be tempted to copy already existing programs in order to avoid hours of toiling and fear of failure. You might also think, your professors have hundreds of programs to grades, he or she would not notice a copied programming assignment among them. You are wrong. As plagiarism has become an alarming issue in academics, professors and evaluators take enough measures to spot plagiarized text. Phillips O'Connor, a programming expert at MyAssignmenthelp.com, shares his bit of experience on plagiarism. "One of my friends got expelled for it. It was a horrifying experience for me. My suggestions would be don't fall into the clutches of plagiarism." So there's no short cut to success. You have to take a long way.
Get a plan!
At the beginning of the term, write all important due dates. When you have two programming assignments in a week, it is ideal if you don't go clubbing the day before the submission date or miss the class in order to extend the deadline. The path would be easier if you use the above mentioned tips suggested by our programming experts. If students need personalized assistance, they can always talk to our professional programmers.
Take Expert help from MyAssignmenthelp.com to Draft an Impeccable Programming Assignment in no Time
MyAssignmenthelp.com has been fulfilling the students' academic needs for over a decade now. With a talented team of programming experts, we are capable of helping students in the best possible manner. No matter what academic problem students face, MyAssignmenthelp.com remains at their disposal just a few clicks away.
• Qualified and Experienced Experts:
We have assembled a team of experts for easing students' academic stress. They work day and night to prepare programming help solutions for students. Owing to their knowledge and qualification, they deal with all types of programming assignments regardless of its complexity and levels.
• Industry Experience:
Many of our experts are former professional programmers. They know how to handle the intricacies of coding and how to overcome them. Their professional experience helps them to craft top-notch quality academic papers on programming.
• Excellent Writing Skills:
Each member of our expert team possesses excellent writing and researching skills. They are capable of expressing their thoughts in a manner that make sense to readers. As they have years of experience in this industry, they have access to most authentic sources that help them to craft 100 percent original help solutions.
Students, who struggle to write programming assignments, can talk to our experts through our customer support team. In the case of a query, they can easily start a live chat with the customer care executives.
Our Guarantees:
• 100 percent plagiarism-free assignment
• Round the clock help
• Top quality help solutions written by experienced and knowledgeable writers
• Unlimited revisions
• Best price in the market
• Additional offers and discounts.
Place your order with us and see noticeable changes in your academic career!
Was this article helpful?
YesNo