If you thought that studying your course and getting all your assignments done on time was a difficult part, then you are in for a surprise. The quest for an internship or a summer job in Australia to earn a satisfactory paycheck is harder.
There are several points that you must consider if you want to stay ahead in the rat race. The most important step in this process is to learn how to write a great cover letter template for your resume. Before you apply for an internship, you must master the art of writing the perfect resume and cover letter.
It is just not about a summer job or an internship! A student resume template and a cover letter template are essential for your college scholarship applications as well.
Why is a good resume and an apt cover letter template important?
There are more than thousand applicants for a designation on offer. It is nearly impossible for a company to interview all the candidates. The cover letter template of your resume will ensure that you get a call from the company you have applied for.
Since the cover letter serves as the preamble to your application letter template, it makes the first impression. Your potential employers can access your eligibility through your cover letter. Therefore, it becomes imperative that you follow a professional cover letter template to draw attention towards your resume.
What are the essentials of an ideal cover letter template? Let us have a look!
8 ELEMENTS OF A STELLAR COVER LETTER TEMPLATE
Are you wondering what makes a perfect cover letter template? Here are a few tips that can help you write the perfect cover letter for your resume:
1.Write short and crisp content
A cover letter is like the foundation of a student's resume that gives an introduction of the candidate. If you go through the best cover letter templates followed in Australia, you will find one similarity between all of them – they are short and crisp. An ideal cover letter template should not be more than 200 to 250 words. You must ensure that you do not leave out any important information to fit into the word count. Use short sentences and include necessary details.
2. Be very specific
You need to be very specific when you write a cover letter for your resume. In almost every resume template in Australia, you will see that the name of the candidate is in capital letters right at the top of the cover letter template. You could also do the same. You can include the company's name that you are applying for and address it to the right person. Including a line like "To whom it may concern" can make your cover letter look less professional. So, try to find out the name of the person in the designation to whom you are required to address your cover letter. This will give your employer the sense of priority and prove that you have made an effort to secure a job in the company.
Have a look at the free resume template below. It has the name of the company, i.e. XYZ Company along with the complete address. The writer has mentioned the name of the person (Ms Katherine Bloomstein) who serves as the Head of Marketing.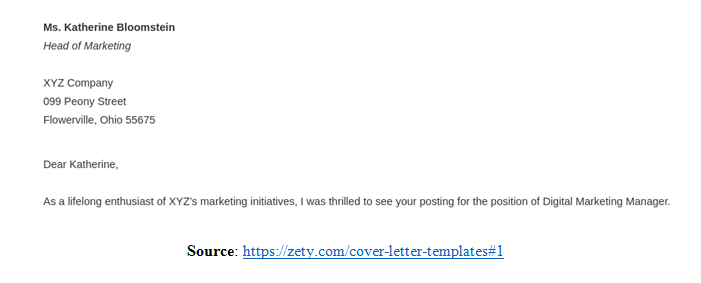 3. Provide contact details
A vital element of a free cover letter template is the complete list of the contact details of the candidate. The Australian cover letter templates follow the left-side rule where the name of the candidate along with the necessary contact details is written in the top left corner of the cover letter. Make sure that your contact details include correct information along with your complete address. This will allow the employer to reach you through email or via phone call.
Take a look at the sample below where the candidate Peter Swan has stated his mobile number, the email ID along with the complete address.
Source: https://www.seek.com.au/career-advice/cover-letters-the-good-and-the-bad
4. Highlight your skills
Use your cover letter as the opportunity to highlight your skills that are relevant to the designation on offer. Include information that you think is appropriate for the role you are applying for. For example, if you are applying for a job in the finance sector, then your experience of a part-time job as a sales executive is not going to help in any way. While highlighting your skill set, put them in bullet points (as shown in the illustration below). This will immediately draw the attention of the employer to your qualities.

5. Include relevant information only
Since a cover letter should fit within one page, you must weed the critical and relevant information from the unnecessary ones. Instead of writing long sentences, use bullet points to point out your qualifications and experiences. Learn to weigh in the importance of your qualifications and mention them in the right order.
6. Make it readable
An ideal cover letter template is short, yet rich in information. You have to focus on the presentation so that that the reader can glean all the crucial aspects. How do you make it readable enough? Use simple fonts to make the information easy to read. Try to use pointers in areas that you want to highlight. You can also use features like italics and bold within long sentences to draw attention.
7. Include 'call to action'
The end of a cover letter can help you get your interview call. It is essential that you write a confident paragraph that will convince the employer that you are the best candidate for the position. An ideal cover letter template must end with a polite sentence that asks the reader to take action. Do not conclude your cover letter saying that you will get in touch with them. Instead, let the reader know that you will wait for their response.
Below is an illustration that can help you do it the right way!

Source: https://www.seek.com.au/career-advice/free-cover-letter-template
8. Make it error-free
Writing the perfect cover letter for your resume goes beyond listing your skills and qualifications. You need to write the content for your cover letter using flawless grammar and correct English. Make sure that you follow the best resume templates in Australia and do not end up copying the literature from an existing source. Plagiarism and grammatical mistakes can create a wrong impression on the employer. Go through the copy of your cover letter several times before you submit it.
Cover letters can make or break your career. Do not make the mistake of neglecting your cover letter and delay the editing for the last minute. Instead, use online cover letter templates and resume samples for reference. Follow the above-mentioned suggestions to write the perfect cover letter that can compel employers to hire you.
Looking for the best cover letter templates in Australia?
Visit MyAssignmenthelp.com
If you are looking for professional help to structure your cover letter, then MyAssignmenthelp.com is the right place for you. Our experts have a success streak of delivering appealing and informative cover letter templates. Our writers can take your requirements and deliver a perfect cover letter for your resume that will ensure that you land up with the job. You can also check resume templates and cover letter templates that are available on our website and use them for reference.
Other than professional CV writing, we also extend help for different types of assignments. To hire our premium quality services, you can directly call us, or you can also drop us an email. Our customer care executives will get back to you in no time.
Was this article helpful?
YesNo