College education has changed radically over the past few years where your grades decide your career path. As the academic world is becoming more and more competitive, students can hardly afford any time to procrastinate or relax.
Yes, it is harsh but true!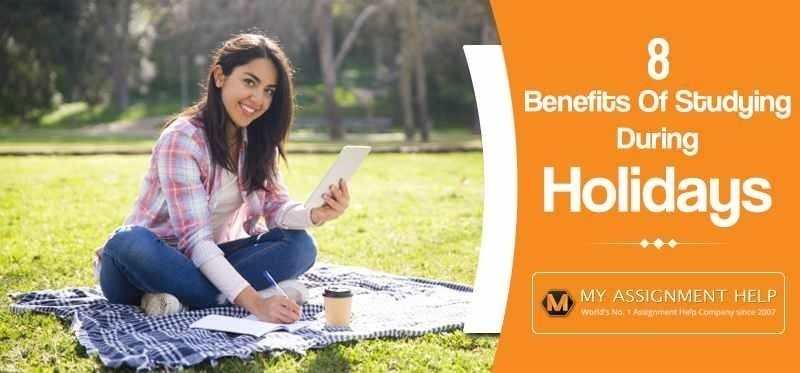 Every student looks forward to summer holidays and winter vacations when they can spend their time with their family, friends and relatives. They wish to spend this time by engrossing in other exuberant activities which would help them to regain their energy, confidence and vitality that are necessary to tackle the tough academic life.
But experts state that students should not spend the whole holiday enjoying, completely detached from their books and studies. It is important to maintain the habit of studying regularly even when you are spending your time with your family.
But what are the advantages of studying in the holidays?
Why should you study during the vacation?
Here are the reasons.
To keep your learning fresh
Just as a half-eaten pizza, knowledge can become a bit stale when left in open. Research shows that all the students start forgetting what they have learned within two to three days when they do not revise it again. As you will always try to eat the whole pizza when it's fresh and hot, it is also necessary to revisit all those chapters and notes that you have learned during the last semester in the holidays. It will help you to recollect all the information that you have studied earlier. After the holidays, when your new semester starts, you will find it easier to maintain your study skills.
To prepare yourself
When the academic year starts, all students get to know about the scope of their syllabus that they are going to study in the following semesters. So, when you go for your holidays, you will have a substantial idea what your professors are going to teach when the college re-opens. During the holidays, you can spend the time reading those new chapters and theories of your discipline. In this way, you can get yourself prepared and you can grasp the concepts better when your instructor will teach them in the class after the vacation.
To mitigate academic pressure
Most of the tertiary level institutions assign practical coursework and research projects to the students which are intended to be completed within the vacation. Apart from these assignments, the students also need to prepare themselves for the upcoming examinations. The holidays provide a golden opportunity to get yourself prepared and complete all the pending tasks. A fast approaching deadline will always make you feel helpless and deteriorate the quality of your work. Instead use this vacation to complete all the assignments and feel relieved!
To analyze your position
Multiple assignments, weekly tests, regular extracurricular activities, rushing from one class to another and other duties keep all the students busy during the college days. They get hardly any time to review their position or assess their overall growth. In these situations, the vacation is a welcome opportunity which will give you the chance to sit and identify your weaknesses and the areas in which you can improve. It can also happen – though you are performing well in your studies, still you may stray away from your personal goal. These personal sessions with yourself will help you to remain focused and rejuvenate your thinking.
For fewer distractions
At the campus or at the dorm, a majority of the students find it hard to concentrate on their studies. Friends, roommates and the professional distractions always hamper and disrupt the preparations. Back home during the holidays you can study without being disturbed by these distractions. Yes, a home full of family members can be a little invasive but they will always cooperate with you when you want to concentrate on your studies. On the other hand, their influence will always encourage you to prepare well making the holidays the perfect time to concentrate on the studies.
To catch up
Some students use the holidays to get ahead while some others use this time to prepare themselves strongly when they are lagging behind when compared to their classmates. As a student, you must be aspiring to procure the highest grades; then you should utilize this one month time for your preparations. The holidays provide you the chance to completely reset yourself, find a relevant strategy and motivate yourself to study. When you have an objective and a goal in front of you, it is not very hard to invigorate yourself.
Get support from parents
Moral support and encouragement always help a person to perform better. As a student you too require motivation and inspiration which will boost you towards your work. When you will have your parents beside you, no trouble can make you feel dejected or disturb your determination. Parents also help with the studies by extending their support with the research projects or simple guidance on how to manage this acute academic pressure. Their presence will always lighten your academic load!
To try out new mediums
Education remains incomplete without practical experience. Therefore, on many occasions, the students are taken on educational excursions by the college authority or by the respective department. The holidays will give you ample chance to try new mediums and make your grip over the subject stronger. If you are studying management, visit the nearby supermarket and try to analyze how it functions. If you are studying history, visit the museum. If you are studying literature, reading some relevant books or watching plays will definitely help you. Trying these new mediums to study will not only assist you with the subject but also help to make studies more interesting by avoiding tediousness.
So, it becomes obvious that studying during the holidays has varied advantages. As the summer holidays are going to start within a few weeks time, you must prepare yourself mentally how you are going to utilize this one month time. But firstly, a precise arrangement is necessary when to sit to study.
How to do it?
Here are some suggestions.
Prepare your semester calendar and make a few copies of it. You can also get it from your college. In the calendar, mark all the important dates that you need to remember like assignment due dates, exam dates and important lecture dates etc. Now accordingly devise your strategy
Get your subject guide printed with the reading list and references. Make sure that you have all the necessary books, notes and other resources that are important for your thorough preparation
Buy some folders in which you can organize all these notes according to the subject, importance or your personal preference. Add a sticky note on the cover of every folder and mark it for quick identification
Buy pens, notepad and exercise books
Visit the library once before you leave the college for holidays as you may get some extra reference books from there. Don't forget to borrow them!
Sometimes the students get confused which strategy to take while studying during the holidays that would be effective as well as needs the least time. If you too are clueless then you can find this technique interesting that you can employ while studying a new chapter.
Firstly, quickly glance through the whole chapter to get an overview (Time Taken: 5-10 minutes)
Give a quick read through the whole chapter (Time Taken – 30 minutes)
Now, study the notes and the references that you have with you on that particular subject (Time Taken: 45 minutes – 1 hour)
If you are keen and wish to know more about the subject then search in the internet and study authentic sources (Time Taken: 20 minutes)
Take an exercise book and write down what you have learnt (Time Taken: 20 minutes).
Within two and half hours, you can effectively learn one chapter and develop strong knowledge in it. If you find this strategy interesting, you can utilize it in your holidays!
Finally, holidays are for fun, frolic and relaxation! But don't forget your studies! Put up a little more effort during the vacation and see the change in your grades.
MyAssignmenthelp.com – the ideal academic help service during your holidays!
Most of the time, the students do not feel motivated to study or complete their assignments during the holidays. Sometimes they also need to prepare for the examinations that are going to start just after the vacation. They cannot afford to lose time in making an assignment which will take away healthy time.
If you too face the same issue or problem, then you have a solution. Reach MyAssignmenthelp.com to get relieved from these worries. MyAssignmenthelp.com is an online academic assistance portal consisting of 3000+ academic experts who can help you with your assignment writing tasks in any subject.
You will get an authentic assignment with plagiarism report (by paying only $2) within the deadline set by you. The customer support is online 24×7 to take orders or to notify you about the progress of your work. You can also contact them to get your queries cleared. All these services are available at affordable prices much lower than the other service providers.
It provides assistance globally specializing in UK, USA and Australian mediums. Along with assignment help, you will also get assistance with your essays, dissertations, case studies, term papers and many more.
Next time, you are assigned a coursework, do not feel dejected! Just login to MyAssignmenthelp.com and place your order!
Was this article helpful?
YesNo