December marks the month of festivities and joyous cheer all over the globe as the Christmas and New Year countdowns begin. Roasting marshmallows by the fire and sipping on warm mulled wine or spiced apple cider, it is that time of the year when study and work worries take a backseat and days go by in the warm glow of the pleasant company of near ones.
Illuminated winter wonderlands are admittedly one of the best gifts that the season of snow brings to the world and hold a special place in the hearts of the young and the old alike. In tune with the rest of the world, counties, towns, and city squares in the UK too, deck up for dazzling light shows accompanied by much pomp and fanfare, ushering in winter and Christmas with cheerful festivities.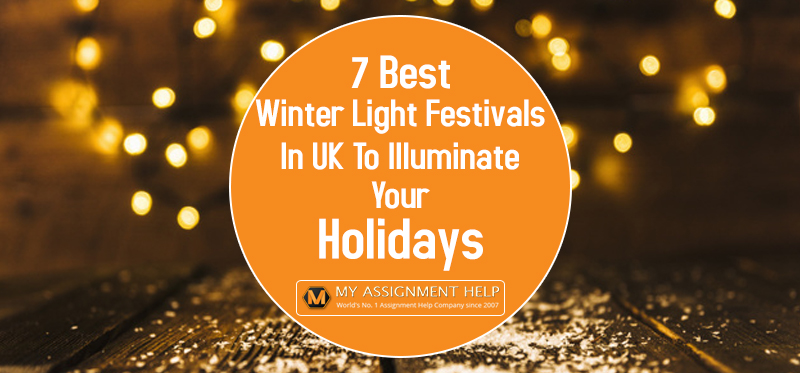 We bring to you a list of the eight best winter light festivals held all across the UK that you could attend this holiday season with your friends and family. While some are free, you might have to shell out a few pounds to visit the rest, but all of the following hold many a promise to make your visit an unforgettable one to glow and gleam among your fond memories for many winters to come.
Festival of Light and Sound, Eden Project
Eden Project in Cornwall returns with the much-celebrated Festival of Light and Sound that transforms the entire place into a glorious combination of light design, laser shows and symphonic soundscapes. Nature comes to life by the darkness with splendid illuminations in the light design installations along with synchronised light and sound shows at the biomes that give Eden an otherworldly feel. A popular destination for the winter crowds, Eden Project promises dazzling light design and enchanting soundscapes this year featuring the designs and installations of renowned artists like Chris Levine, Robert Del Naja & Euan Dickinson, Dave Clayton, Marco Perry, and Nick Mulvey. Taking in the wonderful view of the lush landscape of Eden illuminated in lights of all shades and colours, you can also sip on some mulled wine and snack on lip-smacking savouries available at the bar inside the Mediterranean Biome. What's more, Eden Project will also be gifting a £250 Eden Shop voucher to the visitor who tweets or Instagrams the most splendid picture of the light and sound show using the hashtag '#xmaslasercomp'. Head out for some fun amid nature with a show of magnificent lights coupled with an ensnaring soundscape at Eden Project this winter.
When: 8-10, 15-23 and 27-30 December 2017 (5 to 8 PM)
Where: Eden Project, Cornwall
Prices: Free, no pre-booking required
Waddesdon Manor Winter Light Festival
One of the best attractions in Buckinghamshire, the Waddesdon Manor transforms into a winter wonderland straight out of the fairytales every year in the months of winter. Take a tour around the house decorated with a Christmas feel or walk the grounds while admiring the beautiful light design and illumination techniques spread all across the sprawling estate. Famous light artist Anna Whetstone's works feature in this year's collection alongside willow lanterns crafted by local schoolchildren all along the woodland walk inside the manor grounds. Soak in the Christmassy affair at the Waddesdon Imaginarium with light decorations that bring festive cheer to the air. To make your visit even more memorable, post your pictures on Instagram with the hashtag '#WMXmas' to get them featured on the official website of the Waddesdon Manor. Christmas shopping for stocking fillers, wine and antique gifts takes an enjoyable turn at the Glow Pop-Up Shop, Christmas Shop, Manor Shop, and Wine Shop located on the estate. Delectable festive snacks and sweets, as well as wine and drinks, are available at the Wigwam Café and Manor Shop for ringing in the festivities in the Yuletide spirit at the much-favoured tourist destination.
When: Wednesdays through Sundays from 11 November 2017 to 2 January 2018 (closed on 24 and 25 December 2017)
Where:  Waddesdon Manor, Buckinghamshire
Prices:
Manor Grounds: Children – £5, Adults – £10, Family – £25
Manor House and Grounds: Children – £12.50, Adults – £25, Family – £62.50 (All House tickets must be pre-booked)
Christmas at Kew
The Royal Botanic Gardens at Kew is perhaps the most famous Christmas destination for Londoners and outsiders alike, for it offers a wonderfully illuminated after-dark experience suited to the Christmas festivities. One million twinkling lights form a massive illumination game all around Kew, lighting up the trees, trails and heritage buildings in a magical and cheerful glow. As darkness falls, Kew turns into a fairyland with illuminated pathways, laser shows, synchronised fountains of myriad colours, and Christmas characters brought to life through innovative light design. Take a twirl on the carousel, walk the prettily lit up trail, and indulge in roasted chestnuts and mulled wine while you toast some marshmallows at the open pits to put in your hot chocolate mugs. Christmas-themed hot snacks and meals are available at the White Peaks Café and Victoria Plaza Café. Santa and his elves await you at the North Pole village as the Palm House and Fire Garden transform into magically illuminated areas with festive décor, a kaleidoscope of laser and lights, and giant baubles with ribbons hanging from the slender trees at Kew. The social media hashtag for sharing pictures taken at the light festival at Kew is '#christmasatkew'.
When: 22 November 2017 to 1 January 2018 from 5 to 10 PM (last entry at 7:40 PM)
Where: Kew Gardens, London
Prices: Prices are variable, depending on the date of visit. The tickets start at £16 for adults.
Festival of Light
The estate of Longleat, home to the Marquesses of Bath, welcomes visitors from all over the world from November to January every year for the splendid winter carnival amid the flora and fauna that the safari park offers. The Festival of Light at Longleat presents an unforgettable and magical winter experience that can be enjoyed with friends and family. Attracting visitors of all ages from every walk of life, the entire estate of Longleat is brightly decorated with Christmas lights, admirable installations, and is home to a fun fair for children throughout the duration of the festival. Some of the popular attractions at the Festival of Light in Longleat are a Chinese lantern trail, the gorgeous Christmas decorations at Longleat House, a winter safari drive-through, and the Enchanted Christmas Tree show at the Main Square Area. Animals in the Jungle Kingdom join the fun in the winter safari, and you can board the Santa Train for ringing in Christmas in style.
When: 10 November 2017 to 2 January 2018
Where: Longleat House & Safari and Adventure Park, Wiltshire
Prices: Children (3 to 15 years) – £22.90, Adults (16 years and above) – £30.55 (Advance booking is recommended to avoid peak timings at the gates and for availing the advance booking concession of 10% if booked online)
Lumiere London
Lumiere London is a vibrant light art festival to be held in London this winter for the second time. A huge success back in 2016 when it attracted over 40 million visitors in the four days of the festival, Lumiere London's second gig promises to be bigger, brighter and even better than the last time. Amazing artists, with the help of dazzling installations, fascinating light decorations, and festive artwork will transform six areas in London into a massive outdoor exhibition area. Celebrating the cosmopolitan culture of one of the most beautiful cities in the world, the festival promises to be filled with astonishing artwork and light installations galore. Feast your eyes on the magnificent festive designs and decorations as the six public areas are pedestrianised and turned into a glowing, gleaming and pulsating outdoor exhibition space. Revel in the much-celebrated winter light festival with a modern take on London's culture as breathtaking light shows captivate you.
When: 18 to 21 January 2018
Where: Mayfair, Westminster & Victoria, West End, South Bank & Waterloo, Fitzrovia, and King's Cross, London
Prices: Free
Tunnel of Light
A winter wonderland that is truly one-of-a-kind, Norwich is home to a spectacular Tunnel of Light in its second edition this year. A magnificent 45-metre-long, 4 metre-high and 6 metre-wide tunnel of more than 50,000 flickering, glowing and pulsating LED lights create a mesmerising vision that will leave you in awe. A fabulous place to take some of the best festive snaps, upload your photos on social media using the hashtag '#MyTunnelofLight' – the last edition of the Tunnel of Light was every bit popular with Instagrammers as it should be. Such is the aura of the LED lights that transport you to a dream-come-true land, you will never get enough of walking up and down this tunnel of bright and colourful illumination. It was thus a welcome news to the locals and visitors at Norwich when the 2017 version of the Tunnel of Light was announced, bringing cheers from all and sundry. A gloriously beautiful display of LED illumination, the Tunnel of Light is thus among one of the must-visit winter light festivals in the country.
When: 16 November 2017 (7:30 PM) to 5 January 2018 (5 PM)
Where: The Forum, Millennium Plain, Norwich
Prices: Free
Winter Lights
Artists from all over the world get together to celebrate lights, winter, festive spirit, merrymaking and bonhomie through the installation of stunning artwork and lights throughout the posh business district in London. Transforming the entire area into a giant display of vivid colours and state-of-the-art illumination wonders, Canary Wharf is where you should be headed this winter for a breathtaking view of the marvellous illuminations. Interactive spaces offer a plethora of activities that you can enjoy with your friends and family, including building a fort out of large lit-up LED cubes, enjoying light graffiti, walking through a tunnel of light and sound that adjusts the music and colour to match the wavelength of your brain through an EEG headgear, and many more. Mundane buildings shine brightly in a display of wonderful light architecture designed by the best light artists from all corners of the globe. Do not miss this year's special attraction, 'Dazzling Dodecahedron' – a 3D light installation that you can enter to be immersed in a gush of colourful lights.
When: 16 to 27 January 2018, from 5 PM to 10 PM
Where: Canary Wharf, London
Prices: Free
In a glorious mix of tradition and modernity, winter light festivals held all across the UK celebrate togetherness, art and the joy something as simple as twinkling lights can bring to your lives. Take part in the festivities this winter along with your near ones and be sure to attend some, if not all, of the winter light festivals in the UK to bask in the warmth of sharing festivals and great days with the ones who matter the most.
Are submission deadlines ruining your holidays? Hate to miss out on that winter carnival with friends? We are here to take care of all your assignment woes!
Trudging through assignments in the season of merrymaking is troublesome indeed, and we understand if you wish to take a break from your studies. MyAssignmenthelp.com is here to solve all your assignment woes in a jiffy so you can go out to town with your friends without a worry about submitting assignments the next day. We offer impressive academic writing services on a plethora of topics and specializations as per your instructions and guidelines. Thousands of students studying in reputed universities in multiple disciplines trust our stellar services for all kinds of assignments – case studies, dissertations, thesis, research papers, homework, term paper, coursework, essays and many more. With our highly qualified in-house experts, we are able to provide the best when it comes to composing well-referenced and impeccably written assignments for your college or university subjects. Here are some of the unique features that set us apart from the rest and make us the leading name in the realm of academic writing services.
We guarantee top-notch quality in every assignment that we deliver. Going through countless revision processes, all of our assignments are carefully triple-checked by the team of subject matter experts and scholars at MyAssignmenthelp to ensure that there is no grammatical, factual or typographical error in any of them.
Expertise in multiple disciplines
We have over 4000 qualified experts in multiple subjects and disciplines. Most of them are scholars and PhDs from esteemed institutions all over the world and are well versed in the academic standards and requirements for universities with international repute. Their expertise and knowledge go behind composing every assignment that we deliver. The experts leave no stone unturned to ensure that the format and structure for all the assignments are accurate as per your requirements.
We know how deadlines can be real headaches at times and to do away with such pangs, we always ensure to deliver the assignments well before the time that you mention while placing an order.
Zero plagiarism: guaranteed
We have very strict policies against plagiarism and make sure all the assignments that we deliver are 100% original in content.
You will be astonished when you go through our price list for the impeccably composed assignments. Offering the best price range in the industry, we provide our excellent services at rates that do not burn a hole in your pocket.
The user-friendly portal at My Assignment help helps you navigate through the site with ease and lets you place your order along with all the assignment specifications such as word count, referencing style, topic, deadline, etc. with just a few clicks on the mouse and a few taps on the keyboard that saves a hell lot of your valuable time and effort.
We know how important the safety of your money is, so we have a secure payment gateway that is devoid of too many hassles during payment for your impressively written assignment. Through our safe payment gateway, you can pay for your stellar assignment via online banking, debit or credit card or your PayPal account.
Round-the-clock online support
Our online support is there for you 24*7 should you have any issues or problems regarding your assignment. They will lend you a patient ear and provide you with prompt and practical solutions for any sort of assignment help.
Do not waste another minute pondering over tricky assignment topics. Place an order with MyAssignmenthelp.com today to bid a fond farewell to all of your assignment troubles forever!
Was this article helpful?
YesNo