In the race called "life", every person in this world is running to reach somewhere; to achieve their goals; to become something which they've always desired. Well, you may not see people literally running on the streets every day, but whether you notice it or not, every person is hustling to come out as a winner. With each passing day, the competition is growing tougher and bolder, and whether it is academics or the professional field, you need to stay one step ahead of your competitors to sustain in this competitive environment.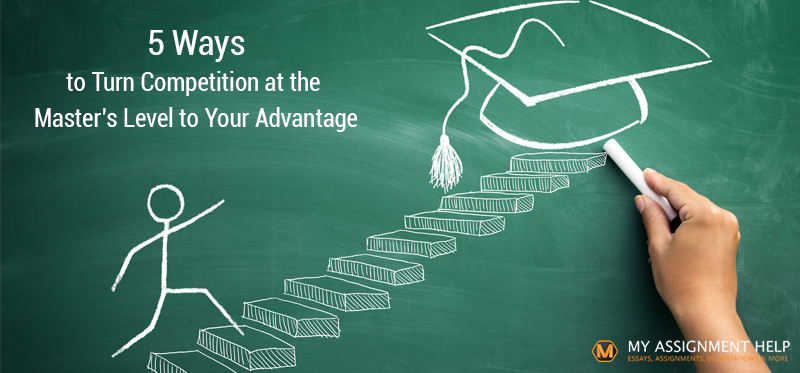 So you can understand how competitive the life is. It has always been the survival of the fittest. And if you don't hustle, you are not going to survive in the race for long. Take academics for instance. In order to achieve higher grades and to stand out in the crowd, you need to work hard. In fact, academics is one of the major areas where you face the competition on a large scale, especially in the higher levels of education.
The competition at master's level has become quite intense in the past few years, and as a student, it can be really difficult for you to focus on the crucial areas of your study (such as learning) if you are constantly a getting tough competition from your classmates. Healthy competition can certainly bring out the best in you, but if the peer pressure is overwhelming, it can have some negative effects on you. There is a very good reason why the competition at master's level is extreme.
As mentioned earlier, everyone wants to come out as a winner in the race, and when it comes to landing a job, the performance at the master's matters a lot. There are plenty of students who believe that they must try their best to beat their competition, which often makes them treat their competitors (other students in this context) negatively. So if you are experiencing the heat of competition in your class, here are some useful suggestions that can help you handle the competition and turn things around in your favor.
Understand the psyche of your classmates:
In your master's program, you may meet students from various cultural backgrounds. So you need to learn how to deal with different types of people. Chances are there may not be any major difference among the student because of ethnicity, but you should learn how to deal with each individual as everyone has a different persona. As mentioned before, a healthy competition can be beneficial to you. So keep the competition limited to the academics. You don't want to get on the wrong foot with your classmates.
Instead of engaging in a cold war with your classmates, try to be friends with them. The structure of the classes provides enough opportunity to the students to interact with each other. By communicating with the other students in the class, you can actually know about their unique skills. In fact, you can learn how they prepare their papers or how do they approach a convoluted problem, by engaging in a diversified interaction with them. This can help you improve your skills and be more competent in the contest.
Develop and improve certain skills:
Though it is crucial to be friends with your classmates, you shouldn't forget that they are still your competitors. And in order to deal with such competitors, you need to gain experience in areas like logical analysis, moral reasoning and awareness of social responsibility. It is also important to learn a thing or two about teamwork as well since more often than not you will have to work in groups, rather than working independently.
It may seem convenient to work alone, but in certain situations, you will require the help of others. So even if you are willing to become a freelancer, consulting with others and getting their opinions on the issue can be useful at times. In fact, you can collaborate with those people on large projects which are difficult for an individual to handle alone.
Learn from your mistakes:
In the professional field, people have very low tolerance for mistakes. In fact, there are consequences for every mistake you make as a professional. The objective of most of the study programs is to prepare you for the professional world, and those programs offer enough opportunities to learn from your mistakes. Since most of the students tend to start their professional career after finishing their master's course, there is no better time to recognize and learn from your mistakes than while pursuing a master's program.
Students usually start targeting their career goals while finishing their master's program. So you can also start working on small projects focusing on the area of your study and gather some experience before starting your career as a professional. Remember, the competition in the professional field is tougher than what you face in your master's. And if you can learn from your mistakes and improve your skills accordingly, you'll be able to face the competition in the professional front more effectively.
Don't compromise on your grades:
As mentioned before, your performance at master's level often determines what kind of job you are going to land. The competition at the master's level can be surprisingly overwhelming, but that should not keep you from fulfilling your objective, which is to pass with excellent grades. Attend the classes regularly, and prepare every assignment papers with extra effort. You can work as a group to prepare for the exams. That way, you can learn a few tricks about studying from your friends.
Also, maintain a good relationship with your professor. In tough situations, your professor can help you with his/her precious guidance. In addition, being in your professors A-list can be beneficial at times. You not only get useful suggestions from your professor, but you can also count on him/her when you feel the competition is getting on your nerves. Remember, the grades should be your first priority. So take all the necessary measures to ensure you receive amazing grades.
Make the best out of your situation:
You have already learned how the competitors at master's level can help you improve your skills. Well, that was not all. If you have people from different parts of the world in your class, you can blend with them and try to improve the understanding of how people from various parts of the world think and behave. As a professional, your job may send you to some different part of the world, but if you are comfortable at mingling with people from various culture and ethnicity, it won't be a difficult task for you.
Also when you breed a friendly environment in the class, it generates positivity and helps you reduce the unspoken tension among the classmates. The competition will still be there, but at least you'll be learning from it and getting the best out of it. Lastly, don't involve in a feud with a fellow classmate. It is only going to make things worse. A competitive environment may nurture an aggressive attitude in you. It is your duty to channelize it in a positive way.
Master's is probably the final chapter of your student life, so instead of treating your classmates like your enemies, try to be friends with each other. You can be competitors in the academic field, but that should not change who you are. Every year, due to peer pressure, a great number of students slide into depression and other mental illnesses. The competition will always be there. It is up to us, how we deal with this. These afore-mentioned suggestions can be really useful in handing intense competition at the master's level for any student. Besides, knowing how to handle competition can be surprisingly effective in the professional field in future.
Can't cope with the academic pressure at the master's level? Stop worrying and avail professional academic solutions from the experts at MyAssignmenthelp.com.
MyAssignmenthelp.com is one of the top online academic solution providers which posses a high rate of client satisfaction. Here, we have a team of experienced writers who possess in-depth knowledge of various subject areas. Whether you are pursuing a master's degree program or finding your way through research to get a PhD, our team of experts can provide useful assistance on any topic at any level. Having PhD graduates in the team empowers us to deal with even the most convoluted topics with ease. MyAssignmenthelp.com has been in the business for almost a decade, and it continues to provide a helping hand whenever a student seeks help.
Some of our popular services include assignment writing assistance, assignment proofreading and editing assistance, assignment formatting assistance and paraphrasing assistance to eliminate plagiarism from the paper. Our in-house writers are quite effective in solving all sorts of academic problems, and our state-of-the-art infrastructure allows them to provide accurate results that can help you boost your grades. There are several exciting features of our services that have made us the most preferred academic solution provider on the internet. Some of the highlighting qualities of our services include:
Quality assistance
Affordable prices
Timely delivery
Proper formatting
Accurate citations
In-house PhD writers
Easy order submission
Safe payment methods
100% privacy
Zero-plagiarism
24×7 Online support
So, why are you still waiting? Visit MyAssignmenthelp.com and get acquainted with our amazing services today!
Was this article helpful?
YesNo