Do you know how to give a stellar marketing presentation? Well, first try and understand what presentation really means. It is the style of display. The importance of presentation in marketing is huge because it gives you a chance to introduce products and services to your potential clients and develop brand awareness.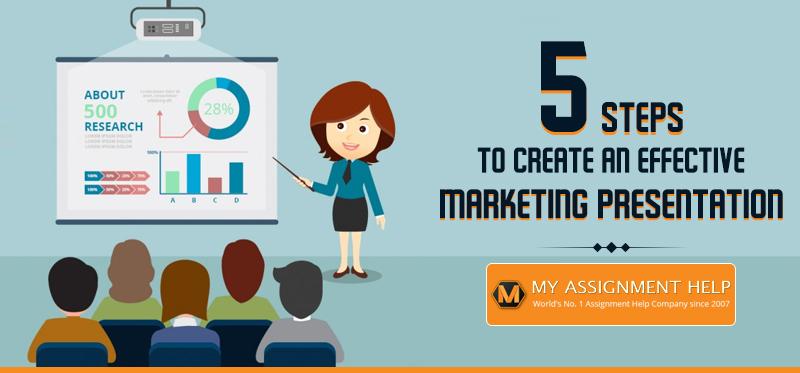 Essential elements of marketing presentation
Strong design
Appropriate branding
Concise content
Well-placed visuals
Proofread copy
These elements can easily make or break your digital marketing campaign.
Steps to make marketing presentation
Let us learn to make a solid and engaging marketing presentation
Step 1 Outline the presentation
Before getting down to actually making the presentation, it is advisable that you plan your presentation first. It has two benefits — it makes the presentation seems fresh and helps you to remind the details that you want to include in your speech.
Presentation planning tips:
Decide the purpose of the presentation
Find out the target audience
Draw out the sketching of slides on the paper first
Decide the ascending order of your slides.
Step 2 Start the presentation
Begin with the multimedia software (PowerPoint) and open a fresh and blank presentation. Now you can insert a new slide and type a new title, i.e. 'Intel Advertising Campaign'.
Presentation style tips:
Natural style can be a comfortable option for engaging audience more. You can easily work with three-dimensional space if you feel constraint in two-dimensional space, but remember that your audience is the ultimate deciding factor of your presentation. So don't take them outer space unless you need to.
If you are dealing with PowerPoint, it is not wise to use all tools that you have in hands. For example, professional should never use PPT's action sound. So be creative with your ideas.
Step 3 Fill the presentation with necessary information
After gathering information, you can make notes out of them if necessary. After you are done with collection of data, move to reviewing of notes and then introduce your strategy in the presentation. When you are building a presentation, you must fulfill the purpose of creating a presentation.
Presentation process tips:
You may face a problem of changing font styles during the presentation. The solution is save your PowerPoint file by clicking on the option of 'Save As', then select the 'Embed True Type' and press OK. Hence, your presentation will keep the same font when you move your computers.
PowerPoint gives you the opportunity to link your presentation either to video/audio files externally or to embed the media directly in your presentation. It is better to embed the files if you can.
PowerPoint can give you trouble during the presentation. So be ready with your right hardware that you need to always use in your own PC.
You can use Presenter View option in PowerPoint to create more natural presentation. You can find this option in the Slide Show tab of PowerPoint 2010 (or 2011 for Mac). With presenter view, your presentation will never look as stack of notes.
Step 4 Check the design
After putting text and pictures in the slides, be sure that your design is suitable for your slides.
Presentation design tips:
You can utilize format menus that allow implementing adjustments smoothly. You easily handle the format option by right clicking on the object and selecting 'Format' option. By doing so, you can fine-tune shadows; adjust shape measurements, create reflections and many more.
Use diagrams and flow charts to make your presentation more alive. These tools are especially valuable when you consider the PowerPoint is a visual medium.
Go beyond the traditional options like rectangle, oval and rounded rectangle patterns. You can create custom shapes by right clicking on the object and pressing on the editing points. Combine two shapes together to fit your needs, select two objects, and then right click and go to the Grouping sub-menu to see a variety of options.
If you wish to show a website in your presentation, you can use Liveweb option. In Liveweb, you create a link to the page and prompt a browser to open. In this, way, your presentation will not be interrupted.
Step 5 Approach the presentation room
After completing with the presentation, it is time to demonstrate it in front of your audience. Here you can find some useful tips on how to handle the presentation with efficient hands
Presentation tips:
Approach the room with a confident stride.
Make eye contact with random members of the audience to make sure that the audience is paying attention to your speech.
Remember to breathe at least after each sentence to keep a good tempo. If you don't breathe periodically, you begin rush your words as you run out of breath while speaking.
Take a pause at each question; face your audience and see if anyone wants to raise any question.
Once the presentation is over, answer all questions that come in the way, and offer to answer any other questions after presentation.
Make your presentation effective
Marketing presentation must be memorable without being offensive and controversial. Making an effective presentation allows you to grab the attention from people who have short attention spans, little time and overloaded schedule.
How MyAssignmenthelp.com can help students in marketing assignment?
MyAssignmenthelp.com ensures quality solutions to marketing assignments with deadline guarantee. Our assignment experts include writers, researchers, editors and advisors who can help you get good grades in marketing assignments. The writers are committed to offering world-class help on every topic of marketing. If you want to increase your learning in assignment writing, you can refer to free sample assignments available on our site. Our professional writers do not plagiarize, so you will get 100 percent authentic, informative and well-researched content. Contact our customer support executive to order your copy in three simple steps.
Was this article helpful?
YesNo