When you are managing a team or working within a team for a project, you may come across different personalities with various traits. As a team member or a leader, your first responsibility is to deal with relational difficulties. There are people who are difficult to handle, they slack off the pace of work or are bad in their behaviors.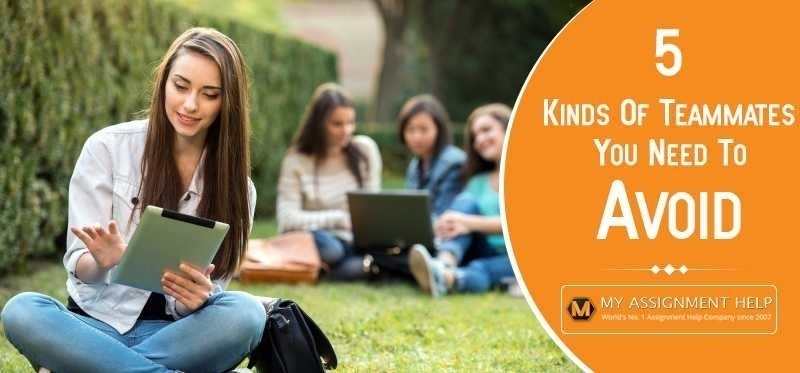 5 stereotype teammates you don't want to work with
Let us understand the types of teammates you need to shun and also the possible solutions if you are forced to work with them for the sake of your project.
Arrogant:
Arrogance is a defense mechanism used by the subconscious mind to prevent further criticism. Arrogant people usually think that they are superior to others; this is how their minds work. For example, when you ask a person to give you something, he just ignores you, thinking that you are beneath him. This nature can easily ruin the work atmosphere around you.
How to deal with arrogance?
Dealing with an arrogant person is much easier than you think. You just treat them as if they are not superior and are like other normal person. This will bring them down to earth and they will start behaving fine.
Stubborn:
Stubbornness is obstinate refusal to consider new ideas and methods that can be a major problem in a team. Stubborn people also refuse to give clear explanation or reason for their resistance. For example, Napoleon once told a defeated opponent, "I will tell you the mistake you are always making. You draw up you plans the day before battle, when you do not yet know your adversary's movements." Stubborn team members can destroy the cohesiveness of the team by refusing to consider new ideas and concepts.
How to deal with stubbornness?
When you are working with a new idea, you need to do the work carefully because you are aware that it will be difficult. Make it clear to your team members that you are not questioning their eligibility but rather a particular idea. Don't keep pushing on your opinion, be flexible.
Narcissist:
Self-centered or narcissist care more than one's self than other. This nature is actually responsible for damaging the interests of everyone in the team.
For example, when you are functioning in group work towards a common interest, self-centeredness or selfishness causes a team spinster. When everybody works towards one goal, selfish people see only their own interests. This nature ceases the function of a cohesive unit.
How to deal with narcissism?
If you have a narcissist in team, you can show them how much you care for them and their goals. Hence, you will convince them that they don't need to defend their own interests.
Lazy:
Working with lazy people can be very frustrating. This nature can lower the productivity morale of everyone else in the team. For example, when you are working team, lazy person can easily decrease the efficiency of your team. This is the nature responsible for discouraging co-team members.
How to deal with laziness?
First, talk to them, because people are sometimes reluctant to admit their faults. If you approach them with positivity, they can take it as motivational wake-up call.
Unreliable:
Competition is healthy in team environment, but too much competition can destroy the ability of the team as a unit. For example, if your teammates are too competitive, this will spread distrust. As a result, no one in the team can rely on each other. With this nature, a team cannot accomplish nearly as much as it could have.
How to deal with unreliable person?
As a first step, you can call a team meeting to discuss the problems. Then you can set a difficult short-term goal that needs the expertise of all members in the team.
If you handle these stereotype personalities, there's no doubt that your team will achieve any success in effectively.
Are you looking for Assignment Help with 100% accuracy, Myssaignmenthelp.com have 3000+ Professional Writers are here to help with your Assignment Writing & also provide 24×7 Online Support.
How MyAssignmenthelp.com can help you in writing?
MyAssignmenthelp.com possesses a professional team of experts to write your assignment, essays, dissertations, thesis, coursework and term-paper from scratch on any topic and subject. The professional writers make sure your requirements are met promptly and the work delivered before deadline. All you need to do is contact our customer support executives via phone call, e-mail or live chat.
Was this article helpful?
YesNo