"Stagnation is self-abdication."  ― Ryan Talbot
It is believed that if you stay in the same place for too long, it makes you dead inside. Perfection becomes a distant dream if you fail to evolve with time. But professionals and students continue to live in stagnancy as it's a popular belief that academic writing doesn't witness frequent changes. The tone of academic writing usually is very formal, and the language and writing style straightforward. Creative styling is apparently unnecessary because academic writing is only about conveying the particulars and information. Minimalistic features are heightened in academic writing.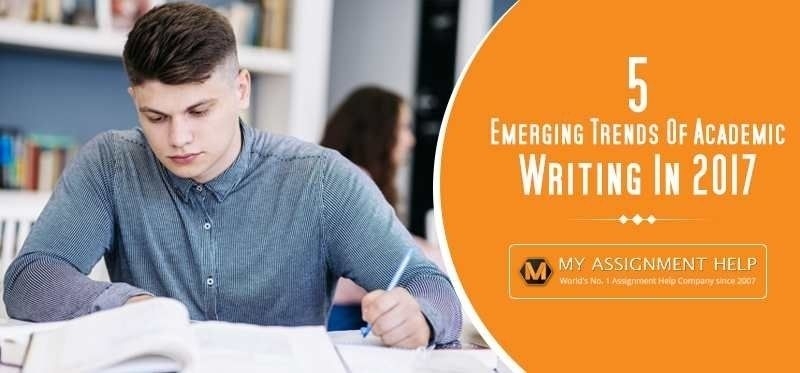 We all are aware of these facts, right? So was Tim Kaine.
Kaine, an English Major student at University of Oxford, wrote the assignment while maintaining a formal tone. He referred to proper facts and figures and mentioned the sources, and further did in-depth research which he thought was necessary for producing quality content. He even managed to submit the assignment before the speculated deadline. But when the final grades were announced, he was in for a shock; he had received C grade. So where did he miss out? The answer can be little confusing for many of us because when it comes to academic writing, we have a pre-conceived notion, and we follow the same trend for years.
But maybe it's time now to change our style of assignment writing for good.
Some progressing drifts of academic writing have started coming into picture. With the onset of 2017, it's expected that we are going to see some major transformation in the trend of academic writing. Read on to know some drastic changes which are likely to modify the way we perceive academic writing.
1. Being Informal
It might come as a shockwave to you. An informal tone is the new form that academic writing is adapting to. According to a study by scholar Ken Hyland (Chair of Applied Linguistics and Head of the Centre for Applied English Studies, The University of Hong Kong) on upcoming trends in academic writing, informality is expected to be one of the principal trends of this year. Now the question is how much informality will be allowed? This research assumes that a broad range of written domain is increasingly following an informal trend and academic writing is also following the development. Although at the end of the study, findings suggest that the degree informality depends on the context. The academic writing is adapting an informal tone but only by a small margin and also the range of simplicity depends on the discipline and features.
As English language is constantly evolving, it can be readily observed that a startling amount of simple language is getting accepted by regular English users. The trend is shifting just because informal language is easier to understand and it's simpler to conceptualize anything in informal language. Obviously, if you are someone who loves classic literature then you can take the opportunity to decry the damage of the English literature. But we don't need to see it in that way. Languages always undergo various changes and adapt new forms. Slangs don't necessarily mean something bad; it's just shortened words. And when it's making the communication easier why not take a chance with adapting an informal tone?
2. Error-free Digital Writing
With the ever-increasing number of error checking software and platforms in the digital world, the age of error-free content is here. In 2017, the academic writing will see more development in the trend of technically correct writing. And experts are also expecting the amount of content on the internet to increase in 2017. The increasing number of error-free content on the internet will form a vast pool of quality material available on the web.
3. High Demand for Quality
If you have correctly followed the second point, then you already know that error-free content is all that matters now. Quality content is always in the trend, and 2017 is no exception. Due to immense competition and increase of professionalism, the writer will need to produce high quality assignment papers. As the error-free content is becoming more available on the internet, the academic writers need to provide high quality and well researched contents in order to sustain the competition.
4. Increasing Use of Deductive Reasoning
Academic writing is based on in-depth analysis. It also involves the process of breaking down ideas. It works toward increasing the understanding and conceptualization of vague ideas in a clearer way. Academic writers mainly use deductive reasoning and third person point of view while explaining any particular matter. The reason why writers need to take up the increased use of deductive reasoning is the rise in information and well written sources available on the internet.
5. Argumentative Writing
It can be easily assumed that with the upsurge of error-free content on the internet, students are going to demand something that will not be available on the web. Generating error-free writing is easy but producing a write-up with human touch can be tough. And writing assignment not always demands accumulation of facts and figures, but it also demands argument and logical presentation of facts which requires the perception of a human. With the increasing number of error-free contents, the demand for argumentative content will be on a rise and academic writers will be required to change their writing style by incorporating more argument in their writing to add that human factor.
When it comes to writing Academic Literature Projects, more Summaries and Paraphrasing need to be Included
Academic writing incorporates paraphrases and quotes. This one is always in trend, no matter what year it is. The summaries and explanations increase the credibility of the writing. Another important fact that is becoming more prominent with each passing year is the citation factor. Citing sources and authors' names increase the credibility of the write-up. If academic writers are unable to track down the source, then he or she can mention about the author who has done some research on the topic.
Why taking help from Online Academic writing Services is beneficial for Students?
Other than these trends, there is another trend which is soaring for some years now. It is academic writing services. Nowadays, if any students get stuck with overloading tasks or simply aren't creative enough to compose a nicely-curated assignment, then they can easily take assistance of any reputed academic help provider. These services providers offer top quality Assignment help including English coursework help.
It's quite obvious for students to have limited vocabulary and face time crunch in doing a thorough research for writing assignments. In a situation like this, they are required to take help from expert writers. Reputed writing service providers have skilled writers to help students with their assignments, and the quality write-ups which they create are, of course, unmatched. Plus, these writing services provide original copies which means contents aren't plagiarized.
Taking help from academic writing service is incredibly stress reducing and can benefit students in numerous ways. But being over dependent on such services can restrict your thinking process. While all the service providers claim to be trustworthy, many of them make false promises and students end up with a poorly done assignment. So if you are a student and you are reading this, then finding a reputed service provider, is the first thing that you need to do if you are serious about taking help from writing services. With these writing trends in the picture now; while choosing the service, make sure that the service provider is going to follow these trends. While selecting the service provider, you also need to check some facts like if the service provider is offering revision, editing, re-work or if they have refund facility available.
How MyAssignmenthelp.com can help Students in getting New, Improved and Excellent Write-Ups?
At, MyAssignmnethelp.com, we are continuously developing and transforming our writing style, and when we do that we make sure our service is as per the latest trends of the industry. We have more than 3000 specialized writers who are continuously trying to render error-free and top quality assignment. We try our best to help students stuck with a tight deadline and pending assignments.
Writing assignment on your own isn't always possible because of multiple issues like time crunch, clashing assignments and obviously because of some sudden emergency. When you are facing a situation like this, you need a dependable service provider who can assist you to complete your assignment. By adapting new writing styles, at MyAssignmenthelp.com, we try to meet all your expectations. We have Maestro writers who have years of expertise as academic writers and who can provide the right guidance to ensure top quality assignments.
We not only create information-rich write-ups but also make it sure that the produced content is original and has desired quality which can guarantee good grades for you. More than any other facts, our expert academic writers are versatile which make us capable of writing any type of essay and assignment, even English Coursework writing. Our services are cost-effective and don't put a hole in your pocket, thus making us students' favorite service provider.
At MyAssignmenthelp.com, the team of expert academic content writers strives for the ultimate satisfaction of students. And that it why our writers try to create a total customized solution. To make the customization possible, the writers do extensive and repeated revisions. Our cost-free editing service on delivered work makes our service more in sync with the demand of students. To retain our reputation, we are determined to provide every student quality work.
So if some pending tasks are making you super uncomfortable, you can trust us with your assignment or any other unfinished academic task. Get in touch with us on +61-2-6100-3843 or visit our website to know more.
Was this article helpful?
YesNo