No matter whether you are a freshmen or sophomore, a shiver runs down your spine whenever you see an assignment writing task coming your way. And the jittery feeling does not leave even after you submit the assignment because you spend a considerable time worrying about the marks. So, in short, the worries begin with the nightmare of scouting through meticulous data and end with a sigh of not getting satisfactory marks again. We know this is extremely stressful for students. But if you identify the common problems that students usually face while assignment writing and became aware of the solutions, this may help you to get over your worries soon.
Problems That Students Face While Writing Assignments
Problem 1: Not believing in your skills
Students usually do this whenever they are asked to write another assignment just after completing one. They start doubting themselves as to whether they can actually complete the assignment successfully within the given time period.  Even if they try to relax and think logically, they end up concluding that they simply cannot to do it. Doubting yourself is the worst thing you can do while writing an assignment.
Quick Fix
Preparing yourself is the only way to survive in this situation. Revise the study material and lecture notes whenever you get time and make yourself well-aware of the chapters that you need to learn in this semester. This way, you will feel confident and will not doubt your skills.
Problem 2: Read more than they you can absorb
You are about to read a pile of books you have fetched from the library. This is the story of every other student. Students have a lot of reading to do apart from their usual text books. Sometimes, students start reading early in the hope of finishing the assignment on time. But they simply forget what they earlier read by the time they start writing the assignment. At the same time, when they start reading late, they have to rush through the tasks, skim through the data without understanding it properly. Taking notes add misery to this situation. Even after taking notes, they sometimes fail to make sense out of it.
Quick Fix
Only an effective note-taking method can put an end to this misery. There are endless choices available to you when it comes to note-taking methods. Outline Method (summarize and retain information only), Mind Mapping Method (write core ideas and connect them) and Question and Answer Method (write questions you want to ask in the left and their answers in the right in your words) are few among them. Use any of them according to your understanding. While reading a book, make a note of the core ideas that the author wants to convey to you in your own words rather than copying it from the source.  This will help you to absorb the idea and keep the record for later use.
Problem 3: Leaving your work for the last minute
Students take more notes and convince themselves that they will go through them at the end of the day or week, but in reality, the notes remain untouched until the students are given the assignment to write. That's when the students panic and try to escape the situation. When you leave everything to the last minute, everything piles up and you feel overwhelmed that you have a lot to do. It becomes difficult to handle and start a new task.
Quick Fix
Let's start with obvious one, start early with your work. You should create your own time-table to get into a routine. Go through the reading list and revise the lecture daily or, at least, on alternative days. You can also maintain a daily to-do-list by writing the day's agenda on it, and tick off those which you achieve by the end of the day.
Problem 4: Judging your own work constantly and restraining yourself from performing
This is the worst habit you can pick up. There are enough critics out there to judge your work; you really don't want another one. But sometimes, students cannot help it. They start judging themselves thinking that they are not prepared to start the work or every sentence they are writing is not up to the mark, resulting in restarting again and again. It happens to many students. First, they start writing, then there is the stage where they question the entire work. Similarly, they arrive at a conclusion that they are doing well, but after finishing it, they believe they have compiled a piece of rubbish.
Quick Fix
You've had a bad day, and it is natural to play and re-play the events in your mind and analyze them in your head. But repeatedly reminding yourself of that embarrassing situation again and again will not give you any relief. Rather telling yourself, 'don't think about it', engage yourself in an activity like going for a walk, organizing your desk or talking to someone about a completely different subject.
Problem 5: Making yourself more competitive than necessary
Competitive nature is good enough to bring the best in you. But over competitive nature can lead you into trouble. It is perfectly fine to study together and help each other at the needed moment. Comparing your work to others eventually gives you unwanted stress – you start thinking that everyone has done a good job and you have done it completely wrong. It will make you feel a lot worse in the process. You may find few people who are 'competition freaks', who have to be the winner at everything they do. If you are one of them, stop it now.
Quick Fix
Instead of comparing yourself with others, discover who you really are. Always remind yourself you are an individual and people around you will make an impression of you based on your actions, not the way you compare yourself with everybody else. If you want to be the best, you have to make the goals balanced for winning. It will not happen if you continue to compare yourself to your peers. Remember one thing, true competition is about doing personal best.
The list of problems is never-ending; you may have several other problems to add to this list. But these are few prominent ones that bother students the most. Hope you have taken something from this article and will employ it in your future academic life. It will be a lot easier if you start seeing your problems not just as problems, but as a way to learn something new in life.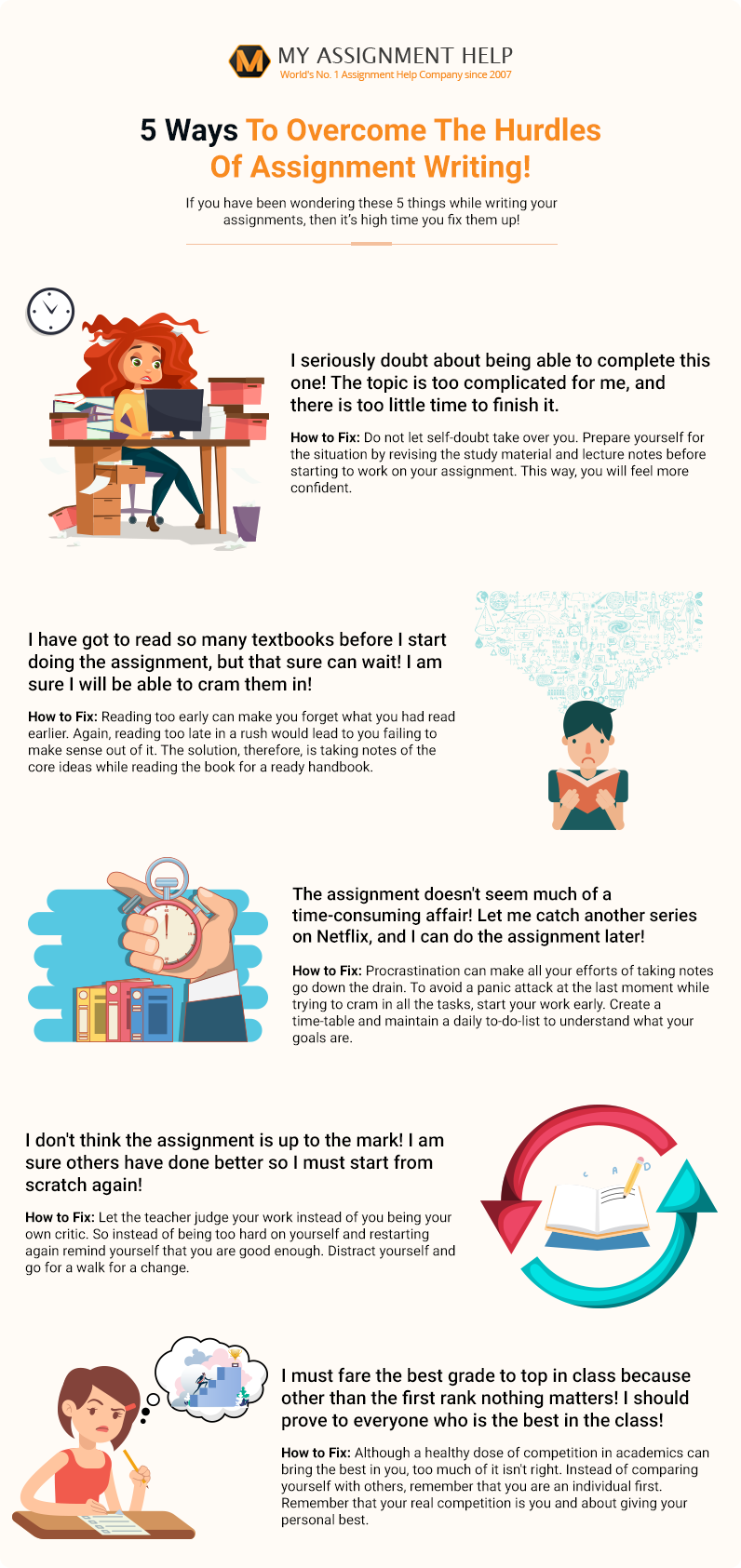 Visit MyAssignmenthelp.com to resolve any problem related to assignment writing
MyAssignmenthelp.com is premier quality online assignment help provider working with students for over a decade now. We boast a wide range of services that ranges from assignment help online, help with assignment writing, complete assignment solution by qualified experts and free blog resources to help students expand their knowledge pool.
Our team
We have picked experts, researchers, assignment writers very carefully from different disciplines ranging from the most popular subjects to little-known disciplines. They are completely aware of the academic requirements of different universities as they have acquired their degrees from the reputed universities in the world. They have undergone a rigorous training process to perfect their writing, formatting and referencing skills. With the help of 3000+ experts, we provide assignment writing help in over 100 disciplines.
Our services
We are a one-stop solution for providing online assignment help. Our wide range of services satisfies the students' individual needs completely. They are as follows,
You will always receive high-quality content from our services. So book your order now and witness notable changes in your academic career. Enjoy free time from not writing boring assignments anymore.
Hurry now, use our online form to convey your assignment writing requirements!
Was this article helpful?
YesNo