The most important responsibility of every manager is to make his/her team the most effective. The effectiveness and productivity of the employees are directly related to the goals of the company. However, many managers struggle to achieve the objective. Successful managers have their own guide to easily improve the effectiveness of his/her team. If you are looking for ways to improve the effectiveness of your team, this post can surely help you out.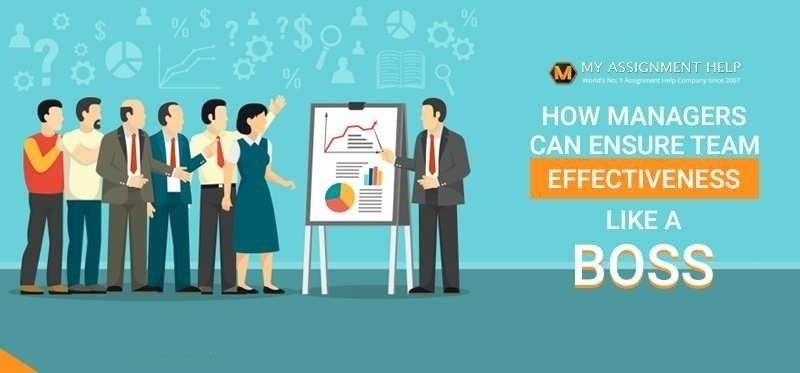 Given below are a few successful ways to improve the effectiveness of your team:
Encourage communication– It is widely agreed that 'communication is the key'. Clear and consistent communication is mandatory when it comes to making one's team more effective. It is the responsibility of the manager to effectively convey information to the team, and assist in building clear communication between multiple teams.
In addition, it is also essential to listen to each team member. Good communication is also important because all the employees need to be kept informed about the goals, projects, and deadlines which are in progress. Thus, as a manager, you must inform your team about all the things that are currently taking place inside the company. Good communication will also make the employees open up to you and share crucial information with you.
Obtain feedback- Giving constructive feedback can help to make your team more effective. Feedbacks will help the employees to understand how they are performing, the areas in which they are lacking, the steps to improve their efficiency, and the ways to boost their performance. Also, it is essential for you to give your team multiple opportunities and derive feedback on various things, be it related to the work, other employees, management, etc.
Set an example- Your team is guided by your efforts and follows you through the thick and thin. Hence, it is important for you to set motivating objectives for your team. Depending on the standard set by you, your team will be able to find out how they should act responsibly in the organisation. The more you will inspire your team, the more will be the scope for innovations.
To turn into a better leader, you must have clear goals, defined roles, and transparent mission objectives for your team. Along with this, you should also be ready to take risks and have a clear vision of the objectives. As you work more on your leadership skills, you will become capable of enhancing the effectiveness of your team.
Appreciate hard work- The job of a manager is not only to criticise employees whenever they do something wrong, but also to encourage them. If a team member does a good job, don't forget to acknowledge it or give positive feedback regarding the same. This will help in making them more confident and encourage them to become more productive. Also, acknowledge the effort, hard work, and creativity that the employees are putting into the work. This will again set an example of what the organisation expects of them and will motivate other employees to work hard.
Promote cooperation and trust- Teamwork is the ultimate thing that you need to generate in order to make your team more effective. Try to facilitate trust among them and build cooperation. This way, team bonding will improve. You should also encourage collaboration to achieve better teamwork. If you look closely at your team, you will find individuals with various set of skills, all of which can contribute to the success of a project.
If you encourage collaboration, your team members will get into collaborations and acquire skills of great value. You can always use a collaborative task management tool which can help in sharing all the tasks assigned to each employee with the rest of the team.
Assign the right task to the right people- It is extremely crucial for every manager to know the abilities of the team members. He/she should be aware of their strengths and accordingly assign the right task to the right employee. When you do this, the productivity and effectiveness of the team members increase. If an individual is assigned with a task which allows him/her to employ the skills, he/she will become more engaged in the task and perform better.
In times of crisis or when challenges appear, the creative people, the problem-solvers and the go-getters need to be encouraged. You can also give them new roles to increase their contribution to the team.
Focus on Socio-Emotional bonding- There are many team building activities which can help you to explore and create a new relationship with your team members. Building new bonding among the team will add to the effectiveness. Establishing a socio-emotional relationship among team-members will also help in breaking small groupings in the team, and everybody will be working with a common goal in mind.
Make use of incentives and rewards- Giving rewards for good works always help in making people more productive. Providing incentives will also motivate the team members to work hard. You should regularly monitor and measure the performance of the team members. The rules and regulations related to the incentive should be clearly communicated to the team members. This way, healthy competition will drive the team members.
Recognising the effort given by the team and making the whole organisation aware of the success achieved by your team can go a long way. You can also hold a final team meeting and thank the team for their hard work and inform them about the importance of their contribution. This will definitely make the team members more responsible and motivate them to serve the organization with increased efficiency.
Now that you know the tips to make your team more effective, employ the same and develop a strategy that will definitely work for your department. By making the most of the points mentioned above, you will be able to establish feelings of trust and accountability that will go a long way and add to the achievements of your company.
Do You Need Help with Your Management Assignment? Opt for the Affordable Services of MyAssignmenthelp
Writing a good assignment on management requires a lot of effort and time. That's why students struggle to draft a paper that lives up to the expectations of the professors. If you face this problem quite often, you must take the assistance of the experts of MyAssignmenthelp. Place your trust in us and receive all the help you need to submit an impressive paper.
We have helped thousands of management students to achieve success. You can get ahead of your peers and score the best grades. We have specially designed our services to help you with all kind of issues that might arise while writing a management assignment. For example, we can assist you to understand the topic, help you with the information that should be included in the paper, enable you to complete the paper on time, etc.
Whether you are specialising in marketing, finance or HR, we can assist you to write the perfect paper on it. Our professional writers can help you with any type of assignment ranging from a case study, research paper, essay, thesis paper, dissertation, etc.
So, don't wait anymore. Get in touch with our customer support executives and receive best-in-class academic assistance.
Was this article helpful?
YesNo