The Big Apple is known to be one of the most exciting cities in the world, and the educational courses it offers through one of its eminent universities are not far behind when it comes to keeping you on your toes. Yes, the New York University, known more popularly as NYU, is the place to be at if you want to break free from the monotony of the regular 8 am classes and study something crazy!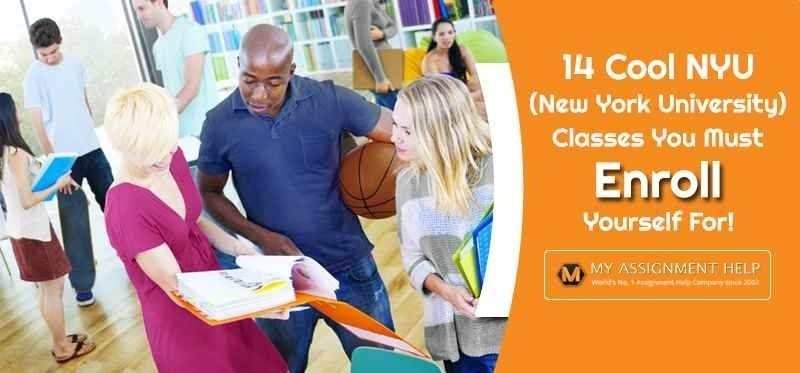 At NYU, you can take your pick from elective classes that sound too good to be true. And guess what? This esteemed university even gives you the option to create your own major! Gallatin, NYU's only 'make your own major' college can make your student life one worth remembering fondly. So if you've already enrolled yourself for a major at NYU and can't figure out which electives to take up, we suggest these super cool 14 classes that you must try!
1. Love Actually
Love Actually is not a movie. We mean, yes, of course, it is one of the best holiday season rom-coms of all time, but it is not just a movie. It's one of the best psychology classes in the entire campus! And why shouldn't it be? After all, it's on the universal theme of love. But this is not the only class that's named after a movie. However, this is undoubtedly the best. In this class, you will get the chance to discuss love as a psychological facet of your life rather than just an emotional, abstract experience that cannot be clearly defined in words. This class, albeit interesting, can also be very difficult. But don't worry, because it's totally worth it.
2. The Science of Happiness
This course is so popular that every student on campus knows about it even if they haven't ever taken it! The USP of this course is that it is open to every single student of NYU, irrespective of your major, and is a part of the 'Core Curriculum.' What is it about? Well, the name is pretty much a giveaway. You will be taught the science that lies behind happiness, bliss, contentment, joy and other such positive feelings of life. The essence of this class has made it the favorite of many students on campus.
3. Feminism & Theatre
If you've been an active voice of feminism throughout your school life and even have a penchant for acting, this course is the one for you. Once you enroll yourself, you will be studying plays written by women playwrights, as well as the origin and history of female theatre. You will get a glimpse into various 'behind the scene' concepts such as lesbian aesthetics, strategies to affirm different images of women on stage, rejection of realism and class and race. What makes this class so interesting is that it is not just on feminism. Its focus is on the products of feminism. With this class, you will glean in-depth knowledge of feminist literature and will even get the chance to shape your own thoughts on the concept.
4. Enlightenment Literature & Philosophy
Even if you are not majoring in English, you should still opt for this class that is taught by Professor Wendy Lee. Although so far it's only been taught once, it's still one of our top recommendations as through this class you will learn how to read and interpret literary and philosophical texts of the epoch of Enlightenment. Plus, you will also be taught how 18th-century philosophers display their knowledge through their texts and how can use it. Full of serious discussions and profound questions, this course will make wiser and more philosophical by the end of it.
5. Couture/Culture: Fashion and Globalization
This class is for the nattier ones, the fashionistas and the shopaholics, the prom queens and kings! NYU more than makes up for not having fashion majors and colleges in its curriculum by offering several classes on the evergreen concept of fashion. And this particular class takes an interesting spin on haute couture by putting fashion in the perspective of globalization. So what you end up learning, in the end, is how fashion trends develop all over the world.
6. TwentySomething
Sounds intriguing and exciting at the same time, doesn't it? That's because TwentySomething is really one heck of an interesting class that is (how can we put this mildly) ALL ABOUT YOU! This class explores how the years from adolescence through adulthood, discovering how the foundation of the behavior of the people in their 20s is laid during these wonder years. If you attend this class, you will be able to get a deeper insight into your feelings and actions, which can help decipher the enigma that you are to a great extent.
7. Clive Davis Masterclass Series
Named after the living legend and famous American record producer, Clive Davis, the Clive Davis Masterclass Series is something you should attend if you are passionate about music. Through this class, you will get a peek into how the music industry works right from producing and mixing to album art covers and photography. Luminaries from the music industry will be conducting this class such as label manager Kevin Liles, DJ Rekha and photographer Mick Rock.
8. Graphic Storytelling: Introduction to Comics Writing
Calling all comic-loving nerds! Here's your chance to explore and give wings to your inner comic artist with the help of NYU's Graphic Storytelling class! In this class, you will learn how to draw your original cartoons. However, if drawing is not your cup of tea and you are more into storytelling, you will get the chance to explore that side of you too. For creative souls, this class can prove to be a blessing.
9. Monsters in Popular Culture: Invented, Awakened, Invading
This may sound like one of those make-believe courses that Harry Potter and his gangs of witches and wizards studied at Hogwarts, but it's pretty much a reality at NYU. In fact, it may even feature Voldemort, one of the most widely hated monsters in literature! Offered by the Gallatin College of NYU, you will get an introduction to all sorts of monsters here, from Frankenstein to Godzilla. Monsters from folklore to popular literature and movies will be covered here as the course delves deeper into how these monsters have evolved over the years.
10. Journalism and Society: Minorities in the Media
While this elective might be a compulsion for students of journalism that should not stop you from taking advantage of this course. In this class, you will come across in-depth discussions on the forever hot-button issues of gender, race and sexuality. Stereotypes that mire these concepts are also discussed at length, and the professor of this class even encourages students to actively come up with ideas that can help in fighting the existing prejudices.
11. Blaxploitation
Quite interestingly titled, Blaxploitation is a Cinema Studies course whose focus is on the rise and fall of the very specific movie genre of Hollywood that goes by the same name. This course charts on sensitive territory by diverting its attention to the exploitation of Blacks in the media through the lens of 'Black identity and liberation.' Students who have previously studied this course have let it leak that professors even talk about Beyonce as powerful figure who has been both exploited and is exploiting. We bet that little tidbit caught your interest!
12. German Cinema: Man, Monster, Machine
If Blaxploitation did not quench your thirst for the movies, you can opt for an additional course on German Cinema. The centre of attention of this class is the origin, evolution and analysis of German cinema in the light of its themes and portrayal of culture. This course is almost the mini equivalent of going on a 'Eurotrip' to get some 'culture.'
13. Human Sexuality
This course is nothing like you have ever heard of, seen or taken before. The class on Human Sexuality is designed to delve deeper and deeper into the way sexuality forms one of the core elements of humanity. Once you take this class, your entire perception of sex might change, although in a good way. It's a very enlightening course as it dares to eliminate the taboo surrounding sexuality by discussing those very things that society puts a thick veil over. Moreover, this class is not just about the physical aspect of sex. It also explores other areas such as theories related to sex, sexual dysfunction, benefits of sex and more.
14. Food Photography
Love putting labels of 'Bon Appétit' on the pictures you click of scrumptious dishes? This Food Studies course will teach you all the techniques as well as trick of the trade that will help you in capturing that perfect shot of lip-smacking treats every time you take your DSLR in your hand. Plus, you will be taught all the basic steps so that you can gradually move on to the advanced levels and turn into a professional food photographer. Nothing is better than a career where you get swarm around food like a bee with a camera!
No matter which of these opt for, one thing is guaranteed for sure – endless doses of fun as you study and grow! One of the major plus points of all of these electives is that they will help you in earning credits and will also add to your CV. So don't waste this summer and enroll yourself in one of these classes today!
Enjoy Your Classes At NYU And Leave The Headache Of Your Assignments To MyAssignmenthelp.com
Go ahead and get the most out of your fun classes at NYU and focus on learning new things rather than wasting your time on your assignment! Now with MyAssignmenthelp.com, you can give all of your attention to all of your classes without stress as we will do your assignments for you. Leading professionals of the industry are writers in our team who possess the ability to compose assignments that simply wow! From our end, you will receive plagiarism-free, top quality assignment solutions at affordable prices. So pick up your phone and give us a call now on +61-3-4000-0033 today to place your assignment order!
Was this article helpful?
YesNo