"I am interested in mathematics only as a creative art"
— Godfrey Harold Hardy (Mathematician)
Math, a creative art? Is the guy talking sense? Tell that to the students who are about to face a math test. Panic, helplessness, numbness and partial memory loss are few forms of anxiety disorder that the students experience before, during and after the math exam. But don't worry! You can overcome all these forms of anxiety by following few short yet effective techniques.
But before we work on the techniques to overcome mathematics test anxiety, let's see whether you really have anxiety or you are having an illusion of being anxious.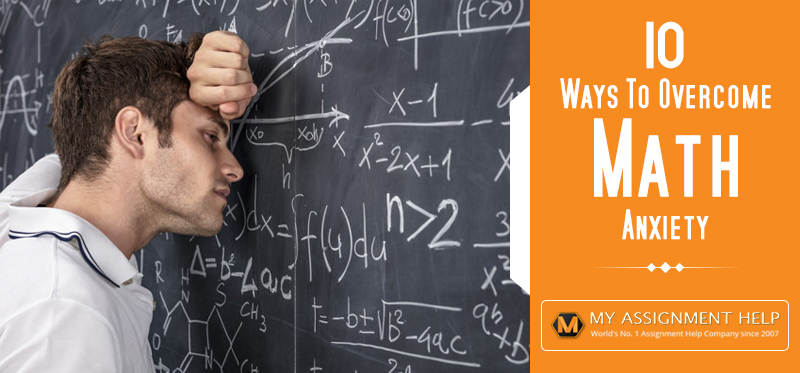 Do you have anxiety? Take the test to confirm it
Rate the following questions on a scale of 1 to 5. Then add them to get the final score and subsequent result.
Fully Disagree
Partially Disagree
Somewhat Agree
Partially Agree
Fully Agree
| | |
| --- | --- |
| 1.    I feel horrified when I have to go to the math class | 1 2   3 4 5 |
| 2.    I feel uncomfortable when I am asked to come to the board in a math class | 1 2   3 4 5 |
| 3.    I am afraid to ask questions in math class | 1 2   3 4 5 |
| 4.    I understand it now, but I am sure it is going to be difficult afterwards | 1 2   3 4 5 |
| 5.    I tend to get lost in math class | 1 2   3 4 5 |
| 6.    I fear math test more than any other test | 1 2   3 4 5 |
| 7.    I cannot concentrate when I have to study for math test | 1 2   3 4 5 |
| 8.    When I am in classroom, I understand what the tutor teaches, but when I get back home, it is like I was never there | 1 2   3 4 5 |
| 9.    I am afraid that I won't be able to keep up with the rest of the class. | 1 2   3 4 5 |
Check out the results:
40 – 50: Don't be disheartened, but you do have math anxiety!
30 – 39: You are not anxious but nervous about math
20 – 29: You are hanging between confidence and nervousness
10 – 19: Wow, you can relax. You are confident and have no traces of anxiety!
So, for those who tend to freeze up in the name of math test, we present 10 techniques. These tips will help you to change your attitude and motivate you to overcome math anxiety.
1. Learn the test type
Talk to your teacher and inquire what types of questions you can expect in the upcoming math exam. When you know what to expect in the exam, you feel less nervous. But when your mind encounters an unknown problem, it can turn completely blank. So ask for a test study guide to help you prepare for the test.
2. Start small
Keep the problem-solving session short at first when you practice math at home – no more than 25 to 30 minutes. When you begin to enjoy these sessions, occasionally include longer and complex problems that require more time to solve.
3. Solve in a group
Cooperative learning strategies add an element of fun and stimulate higher-level thinking. So find or create a group with whom you can discuss, share and work on your mathematics problems. Decide a certain time and huddle together at a certain place. Think about the problem independently before discussing with the rest of the team.
4. Learn stress management and relaxation techniques
Techniques such as deep breathing and meditation help you to relax your mind and think clearly in stressful situations. It will be very helpful when you deal with nervousness and tension that are very common in math examination. Take out 10 minutes of a day to practice these relaxation techniques and see the results.
5. Fight negative thinking
Lack of confidence can be a major impediment for those students who are suffering from math anxiety. Replace those negative thoughts i.e. 'I can't do this', 'I have never been good at math' and 'I won't finish in time' with positive sentences like 'I know this', 'I am prepared' and 'I can do this'. You can hang these confident affirmations before you so that it can inspire you.
6. Do not memorize
The first thing your mind does under stress is to forget important things (memory loss). This is one of the main reasons why you need to understand math concepts properly rather than memorizing the set of rules. If you understand the reason behind the rules, you will remember the concept better and be able to apply them in different situations.
7. Start early
If you try to study the material too quickly, you are likely to forget it quickly as well. If you practice math problems over a period of time, you will gain a better understanding of the concepts and are less likely to forget it under pressure.
8. Visualize yourself succeeding
Imagine yourself being relaxed while solving math problems during the test. Think that you are doing great in the math test. This visualization technique is used by professional athletes to prepare for major competitions. It will positively help you to tackle tough math problems.
9. Don't forget to take a break
When you trail in math preparation, you may over study to compensate. This may worsen the situation. The longer you study, the more nervous you become. So take breaks. The best way to do it is to have set routine – study for an hour and take 10 minutes snack break. Give you mind the chance to absorb the material you have learned just now. The best advice is to learn the concepts slowly. Practice the formulas after learning it for best results.
10. Get help from math tutor or counselor
After practicing math problems regularly, if you still have trouble understanding certain mathematical concepts, you should consult your problems with math tutors. These tutors are in better position to make you comfortable on the test day. Sometimes little outside help is needed to overcome the math test anxiety.
So hopefully, with the help of the above-mentioned techniques, you will be confident enough to solve the problems and ace the math test.
MyAssignmenthelp.com's math experts are here to help you
MyAssignmenthelp.com gives you the unique opportunity to buy comprehensively researched and meticulously written papers at cheap rates.
To remain in the race for academic excellence, a student needs to invest at least 10 to 12 hours to learn the subject concepts and be able to apply them in do my assignment writing. Sometimes, it is physically impossible for the students to study for that long. In addition, they have to accomplish certain number of academic writing tasks within the given time limit. In this situation, we not only help you by providing assignment writing services, but also help you understand the complex concepts.
MyAssignmenthelp.com can end all your worries regarding assignment writing, be it a short essay, 30-page long thesis, complex case study or even term paper writing at the end of the term. Our experienced writers are committed to provide the best content to students. Our writers' potentials and willingness to work under pressure makes us confident to deliver the completed work within stringent deadlines.
Exclusive benefits from MyAssignmenthelp.com
100 percent customer satisfaction
Each order with a money back guarantee
Completed work within deadline
Non-plagiarized content
Assurance of custom written paper according to exact specifications of the clients.
So, place your order with us now and enjoy lucrative offers and discount deals on your first order.
Was this article helpful?
YesNo