Essays generally come with a specified word count, meeting which gets tough, especially if you're going back and forth between multiple essay papers. In this case, a common practice among students is to increase the margin width or make their font size bigger than usual.
And even though such tricks do increase the page length, there are more efficient (and smarter) ways to make your essay longer and better. So increasing the length of your paper shouldn't have to be a grueling process, and you can still make the paper lengthy while at the same time maintaining its clarity and depth with these tips.
Review your introduction and conclusion
Ideas tend to evolve as we write. So if the introductory part is what you started with, then you can take another look at the introduction again. That's how you might discover that you forgot to add certain key details that make your argument more valid and legible. You can consult with an expert to understand how to write an essay stand out.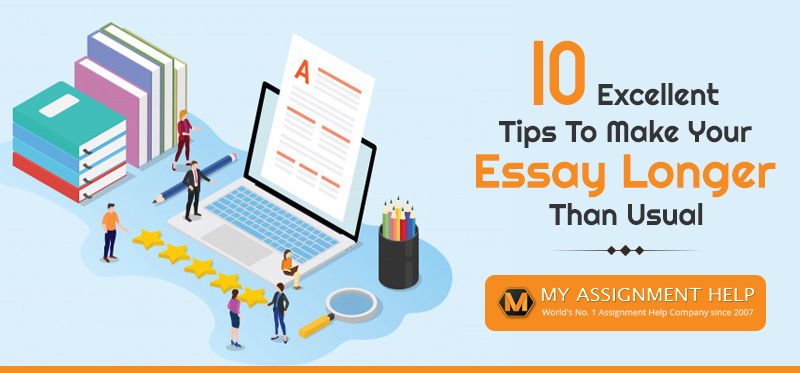 Similarly, while going through the conclusion part, make sure you've compressed it and offered your reader with a proper outcome. So carry out a thorough revision if you haven't done that already.
Get someone to proofread your papers
Even if you're on tight schedule to present your essay papers, ask your friends or acquaintances to read through your paper for detecting inconsistencies, particularly the parts they find confusing. So having someone else to look over your paper can be a nice way to ensure that you haven't skipped any significant bit of information. If you are still clueless about how to make an essay look longer, then you can delegate your task to a professional writer.
Use Quotations
Quotations are an excellent way to establish your argument while also raising the word count for your essays, but don't add quotes without any particular context. If you're short on words, give your source materials a once over again to see if there are any more useful quotes that you can include. You can also perform a kind of research to find out if there are any other sources you can add in the papers.
Check the structure you have prepared
Did you consider making a proper structure for the things you want to include in the essay when you first began writing? Also, after you write the paper, read through that initial structure and determine whether you've incorporated all the required information or not.
It may happen that you leave out a crucial piece of your information that would both shoot up your word count and will also make your essay compelling. So it's always advised to look through the structure of the essay paper.
Incorporating plenty of transitional terms and phrases
While checking your assignment papers, examiners often search for traditional terms which connect sentences to each other, for instance  'even though', 'therefore', and 'on the contrary'.
Go through your essay minutely and see whether the sentences have a logical progression, from one to another. And if the sentences seem unrelated, then evaluate the paper from the beginning and include the transitional phrases like the ones mentioned above. This way your write-up will be intelligible, and you'll be able to achieve the minimum page requirement as well.
Read your essay thoroughly and loudly
This might sound childish, but reading your essay paper loudly actually works, as it makes you aware of any grammatical and spelling issues that may persist within the paper.
Now when you rectify these errors by editing your sentences, the word count for the paper may also increase. Also while reading your essay paper aloud, you may also discover that you didn't provide adequate information within a specific paragraph. This is when you can add more phrases and words to increase length.
Take a break from all the writing and brainstorming
It's probably been hours since you have been sitting in front of your computer and working on your essay, trying to put together a stellar piece of essay. Then it's probably time that you should consider taking a break. You can go for a walk, eat a snack or talk to a friend about random things.
This way when you get back to writing the essay, you can include a fresh perspective, and new ideas may pop up in your mind after you spend some time away from the essay paper.
Consult with your professor for insights
Most teachers and professors are always willing to offer their help on the papers for students. So don't hesitate to ask them if you can make an appointment to see them and consult with them regarding what better they can do with your essay topic. You can trust your professors, to come up with valuable insights on the essay, and this may increase the word count of the essay paper.
Use numerous evidence to support your statements
If you've only added one evidence or anecdote to substantiate a specific point, then it's always suggested that you look for more evidence to solidify your arguments further. This technique will allow you to increase the length of your essay while also offering further assistance to establish your argument.
Check whether you can prove yourself wrong or not
Ponder over the arguments you've presented within the essay, and then consider how the thesis fits with those arguments, and then see to it that you've touched upon those points. Sure, you have prepared a solid argument for your essay. But have you considered the opposing views? And how would you defend your stance? Ensuring that your ideas are already added in your paper is an excellent way to present every aspect of your topic, and an appropriate way to elevate the length if your paper is a little shorter on the word count.
So making an essay paper lengthy isn't all that difficult a task if you know the right methods of how to finish an Essay.
Not being able to put together a long and compelling essay paper? This is your chance to get it written by your experts
One of the many reasons why your essay is probably not coming across as brilliant is because you failed to add a nice length to your essay. For those pursuing higher studies, the academic conventions itself suggest that students should be able to produce elaborate and descriptive academic papers.
Now while many of you may not know how to type an essay paper, and that's why seeking the advice of the experts of MyAssignmenthelp.com always turns out to be a wise choice. With the guidance of our experts, producing a long and relevant essay paper is extremely simple.
The website has a host of services that you can avail when you need help with essay papers, and you can always be sure that the paper will turn out perfect. The experts from our website pay undivided attention to the quality of papers so that you can submit a flawless essay. So don't delay in opting for our essay writing services.
Was this article helpful?
YesNo